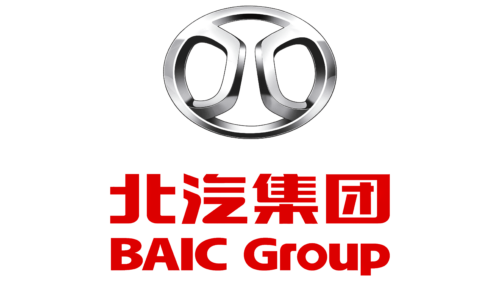 BAIC Group Logo PNG
The BAIC Group logo presents an amalgamation of languages and shapes that echo the brand's global appeal. The design incorporates Chinese and English inscriptions, allowing the brand to cater to its diverse audience. The company name occupies two lines, perfectly aligned to the right and left edges, creating an aesthetically balanced representation.
Despite the disparity in character count, both parts of the text maintain harmony. This is achieved through meticulous typography adjustment: by enlarging the glyphs, typographers have overcome compatibility issues and established a pleasing uniformity. The letters and ideograms are smoothly rendered, uppercased, and colored in bold red. This vibrant hue draws attention and signifies passion, energy, and determination.
Sitting above these inscriptions is an oval shape incorporated with chrome elements. The design is not just a flat representation; it is made to appear three-dimensional with the help of wide side sections, shadows, and bright highlights. This conveys a sense of depth and substance, suggesting the brand's commitment to providing well-rounded, quality services to its clients.
The logo's oval shape symbolizes unity and wholeness, reflecting the company's global reach and its aim to provide comprehensive solutions in the automotive industry. The chrome elements enhance the logo's modern appeal, signifying the brand's focus on technology and innovation.
The logo's bilingual approach helps bridge linguistic gaps, symbolizing the company's effort to reach a broad audience and asserting its presence in international markets. The harmonious blend of English and Chinese script is an aesthetically pleasing choice and signifies the brand's commitment to cultural inclusivity.
The BAIC Group logo uses a thoughtful blend of typography, color, and form to convey the brand's values and vision. The harmonious fusion of English and Chinese inscriptions, the bold red color, and the three-dimensional chrome oval shape communicate the brand's global reach, passion for the industry, and commitment to innovation.
BAIC Group: Brand overview
| | |
| --- | --- |
| Founded: | 1958 |
| Founder: | Beijing Municipal Government |
| Headquarters: | Beijing, China |
| Website: | baicgroup.com.cn |
Founded in 1958, BAIC Group, also known as Beijing Automotive Industry Holding Co Ltd, is a state-owned Chinese automaker headquartered in Beijing. The company began its operations by producing trucks and buses under the Beijing brand, making it one of China's pioneering automobile manufacturers.
Over time, BAIC Group broadened its production line to incorporate passenger vehicles and, in doing so, created partnerships with renowned international automobile brands such as Hyundai, Daimler, and DAF. The brands currently manufactured by BAIC Group include Beijing, Senova, BJEV (Beijing Electric Vehicle), and, more recently, Arcfox, a brand devoted solely to electric vehicles.
BAIC has augmented its offerings through mergers and acquisitions, providing an extensive range of commercial and passenger vehicles. In 2021, BAIC's robust product line led to the sale of over 1.7 million vehicles. Today, the company employs over 130,000 individuals and operates research, development, and manufacturing facilities all over China, making it its 6th largest automaker.
In alignment with the global transition towards sustainable transportation, BAIC Group has made significant investments in electric vehicle technology, chiefly through its brands Arcfox and BJEV. As BAIC Group continues to evolve its homegrown brands and international alliances, it remains a key figure in the Chinese automobile industry.
Meaning and History