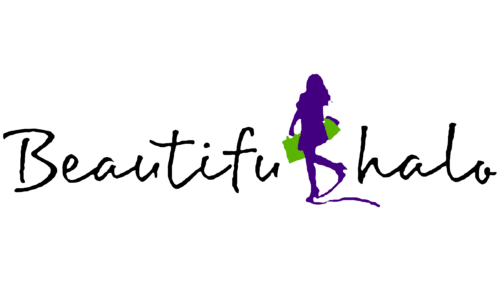 Beautiful Halo Logo PNG
The Beautiful Halo logo epitomizes playfulness, resonating well with the brand's extensive range of lighting solutions, from wall sconces to chandeliers. The emblem predominantly features the brand name in a singular line of text, spelled out in slender, lowercase letters—except for the initial character. The font emits a casual atmosphere, its glyphs imitating a handwritten style and being semi-connected, as not all are joined. At the center of the line, a female figure painted in dark purple holds green bags.
The selection of a lowercase, semi-connected font sets the tone for an informal, easy-going experience. This approachability resonates with customers who seek a relaxed shopping environment. The handwritten style implies a personalized touch, emphasizing the brand's focus on individualized customer service and unique product offerings.
Dark purple and green, the colors used for the female figure and the bags, respectively, carry symbolic weight. Dark purple traditionally represents creativity and luxury, fitting for a brand specializing in lighting that often serves as the focal point of interior design. Green typically symbolizes renewal and growth, which, in this context, signifies the continually expanding range of products.
Beautiful Halo employs a female figure in its logo, a design choice that communicates a sense of elegance and sophistication. The figure, engrossed in shopping, directly relates to the consumer activity that the brand encourages. Her presence not only breaks the monotony of the text but also adds a layer of narrative to the emblem. The bags in her hands further solidify this concept, indicating that the platform is a destination for fulfilling shopping needs, particularly in home lighting.
Every component of the logo—from its casual, handwritten font to the strategically chosen colors and the female figure—works in tandem to convey a cohesive message. The emblem effectively communicates the brand's commitment to quality, range, and customer-centricity. This symbiotic relationship between various elements ensures the logo remains memorable and impactful, encapsulating the brand's ethos of providing stylish, high-quality lighting solutions for diverse consumer needs.
Beautiful Halo: Brand overview
| | |
| --- | --- |
| Founded: | 2014 |
| Headquarters: | China |
| Website: | beautifulhalo.com |
Originating in 2014, Beautiful Halo was the brainchild of the dynamic Chinese businesswoman Lisa Wang. Establishing its corporate roots in the vibrant city of Hong Kong, it initially embarked on its journey catering to the young, fashion-forward Chinese women, offering them stylish yet budget-friendly attire.
During its nascent stage, the company predominantly offered women-centric products, such as dresses, tops, and accessories, frequently refreshing its line-up in tune with fast-fashion dynamics. However, it wasn't long before Beautiful Halo broadened its horizons. A few years into its journey, it diversified into men's apparel, footwear, and jewelry and ventured into home décor. This expansion was further amplified as the company transitioned to a cross-border e-commerce strategy, ensuring its products reached customers globally.
By the time the calendar marked 2018, Beautiful Halo's success narrative was evident, boasting a staggering annual revenue surpassing $100 million. This meteoric rise was often attributed to its adept digital marketing maneuvers and efficient supply chain mechanism. The following year saw the company's ambitions scale even higher as they dipped their toes into varied lifestyle sectors encompassing lighting, pet essentials, and fitness gear. Marking their commitment to global outreach, they inaugurated an office in the bustling city of Los Angeles.
In its present form, Beautiful Halo stands as a testament to global e-commerce excellence, delivering products to over 200 nations. Recognized as one of the pivotal online platforms promoting Chinese fast fashion to a worldwide audience, the company takes pride in its ever-expanding workforce of over a thousand members. Anchored by its core principle of delivering chic, high-quality goods at wallet-friendly rates, Beautiful Halo continues its mission to redefine affordable fashion.
Meaning and History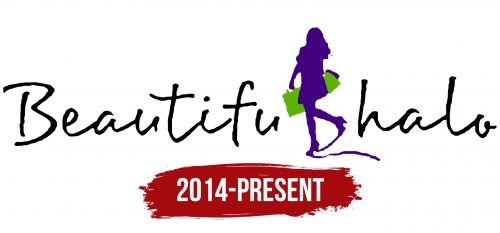 What is Beautiful Halo?

Beautiful Halo, a Chinese online platform launched in 2014, specializes in providing a wide range of products at affordable prices for the wallet, including fashion, shoes, accessories, and lighting solutions. It offers an extensive collection of fashionable and high-quality apparel in China at competitive prices.
Beautiful Halo color codes
Indigo

Hex color:
#420080
RGB:
66 0 128
CMYK:
48 100 0 50
Pantone:
PMS Medium Purple C
Kelly Green

Hex color:
#5ab400
RGB:
90 180 0
CMYK:
50 0 100 29
Pantone:
PMS 802 C
Black

Hex color:
#000000
RGB:
0 0 0
CMYK:
0 0 0 100
Pantone:
PMS Process Black C