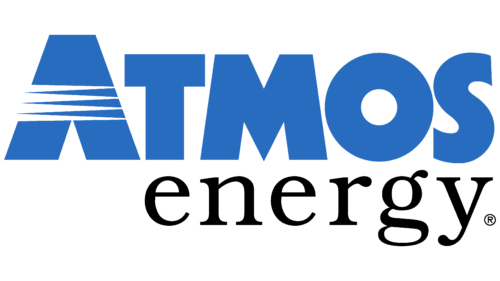 Atmos Energy Logo PNG
Atmos Energy: Brand overview
Atmos Energy Corporation has had an amazing journey of growth and transformation since its humble beginnings. The company has grown from a small natural gas distributor to one of the largest players in the U.S. energy industry.
Atmos Energy's roots go back to 1906 when Claude E. Deering founded the Pioneer Fuel Gas Company in Palestine, Texas. Starting as a modest natural gas company, the company has experienced tremendous growth and evolution over the past century.
In 1983, Pioneer Fuel Gas Company underwent a transformational rebranding and was transformed into Atmos Energy Corporation.
Atmos Energy has embarked on an amazing journey of growth and innovation. The company has been at the forefront of shaping a clean and sustainable energy future, from the introduction of smart meters to better monitor energy use and improve efficiency to the adoption of renewable natural gas and sustainability initiatives to reduce its carbon footprint.
Through strategic partnerships with local organizations, the company implements educational programs, conservation, and community development activities, leaving an indelible and positive mark on the lives of many.
Atmos Energy remains at the forefront of energy development, developing innovative technologies and sustainable solutions to ensure a bright future for all.
Meaning and History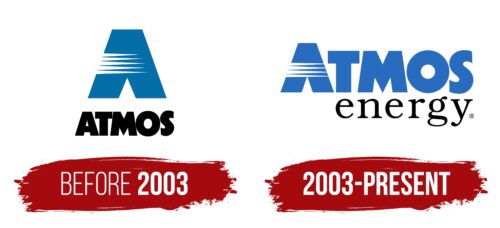 before 2003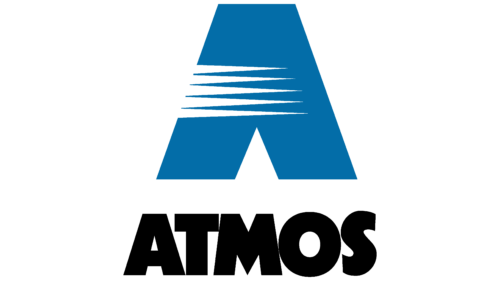 2003 – today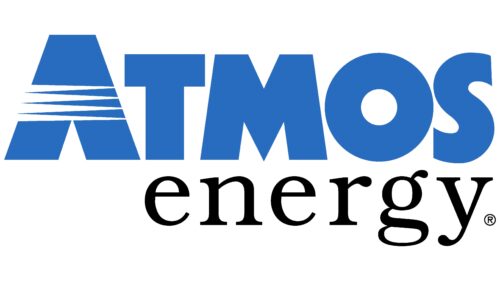 A leading gas distributor in the United States uses a text logo. The lettering is divided and occupies two lines. The first part is the largest, blocky, with sharp elements and lots of angles. All letters are uppercase, colored in soft blue. They are located close to each other. In the letter "A," instead of the classic crossbar, there are horizontal stripes with sharp ends: four white and three blue. Below, starting with the letter "T," is the second half of the name. It is completely opposite to the upper part: black, lowercase, with rounded glyphs and a large distance between the symbols.
The first half of the logo feels businesslike; it is serious and wants to draw attention to itself. The sharp elements give it an energetic look. The second half is calm and relaxed. Two different atmospheres in one logo are like two sides of a coin.
Atmos Energy color codes
YInMn Blue

Hex color:
#286cc0
RGB:
40 108 192
CMYK:
79 44 0 25
Pantone:
PMS 285 C
Black

Hex color:
#000000
RGB:
0 0 0
CMYK:
0 0 0 100
Pantone:
PMS Process Black C