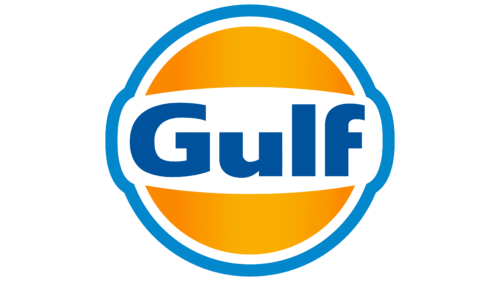 Gulf Oil Logo PNG
Since its founding in 1907, Gulf Oil Corporation has made an impact on the oil industry. Over the course of a century, the company has risen to the top of oil companies in the United States.
The merger of J.M. Guffey Petroleum Company, Gulf Pipeline Company, and Gulf Refining Companies of Texas created a powerful center of knowledge and resources that laid a solid foundation for Gulf Oil's future victories.
Using the growing demand for oil and petroleum products, the company developed new territories and made strategic investments in oil fields, pipelines, and refineries.
Since its inception, Gulf Oil has been at the forefront of technological advancements in the oil industry. From pioneering drilling techniques to refining processes that increase efficiency and ensure a reliable supply of petroleum products, the company has consistently innovated to maintain a competitive advantage.
In 1984, Gulf Oil and Chevron Corporation joined forces to create one of the most influential oil companies in the world. This strategic alliance paved the way for tremendous growth and prosperity.
Meaning and History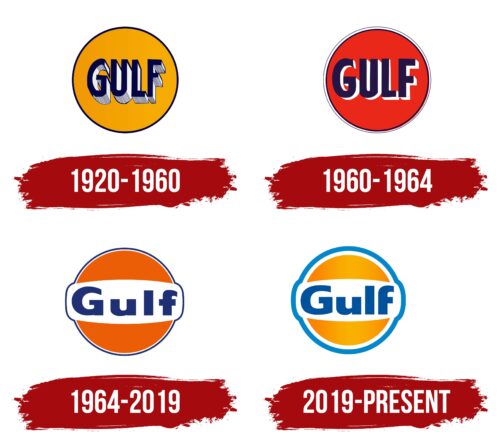 1920 – 1960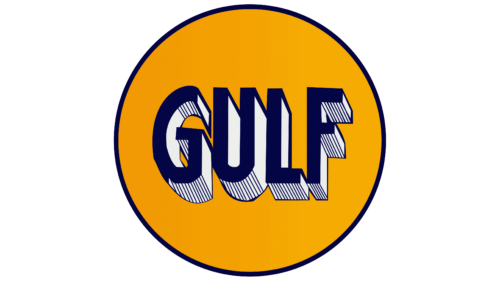 1960 – 1964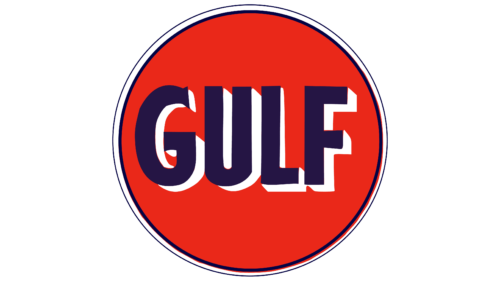 1964 – 2019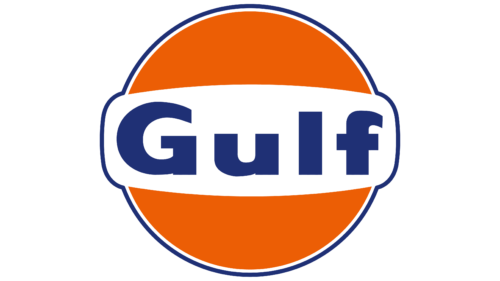 2019 – today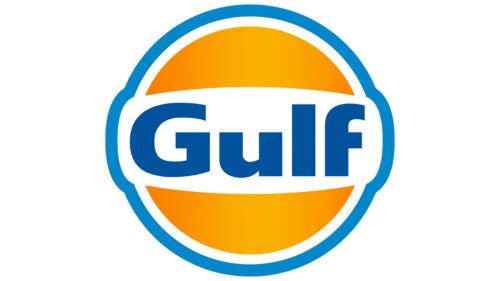 The personalized logo of the American company has a circular shape with small tubercles on the horizontal sides, both right and left. Inside the double ring is an orange sphere with a barely visible gradient. In the center of this sphere is the name of an oil company that was formerly part of the Seven Sisters alliance. The text is written in lowercase letters, except for the capital "G." All the letters have a strict geometric shape. They are solid, blocky, and bold, which gives the impression of the company's ultra-reliability. The angles and curves are well-balanced. The letters are colored blue and set against a white background.
The orange sphere looks like a glowing sun, which gives the logo warmth and appeal. The blue letters and white background give the logo a crisp and clean look. It looks like a combination of the Earth, sky, and sun in one circle.
Gulf Oil color codes
Medium Electric Blue

Hex color:
#00529d
RGB:
0 82 157
CMYK:
100 48 0 38
Pantone:
PMS 2945 C
Green Blue

Hex color:
#0287cc
RGB:
2 135 204
CMYK:
99 34 0 20
Pantone:
PMS 7461 C
Neon Tangerine

Hex color:
#fb8900
RGB:
251 137 0
CMYK:
0 45 100 2
Pantone:
PMS 151 C
School Bus Yellow

Hex color:
#f9ae00
RGB:
249 174 0
CMYK:
0 30 100 2
Pantone:
PMS 137 C