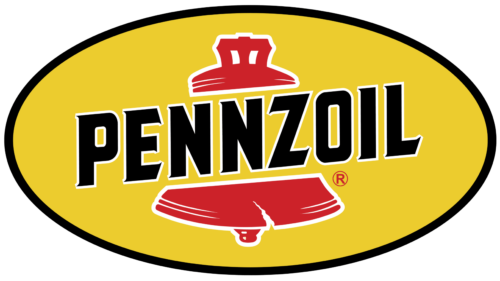 Pennzoil Logo PNG
Pennzoil, a well-known American motor oil manufacturer, was founded in 1889 in Oil City, Pennsylvania. The company was originally called South Penn Oil Company, but by 1913, it had quickly become a leading motor oil producer through the launch of its flagship Pennzoil brand.
In 1925, South Penn Oil Company merged with Oil City Oil and Grease Company and Pennzoil Refining Company to form Pennzoil. The new company not only continued to produce and distribute high-quality Pennzoil motor oils but also expanded into other areas, such as gasoline refining and petroleum product distribution, thus strengthening Pennzoil's position in the petroleum sector.
The 1960s were a period of ambitious global expansion for Pennzoil. The opening of the first overseas office in Canada in 1961 marked the beginning of this global journey, which soon spread to several countries, including Mexico, Brazil, and Japan, in an effort to achieve worldwide recognition.
In the 1980s, the infamous "Pennzoil-Texaco war" broke out. Pennzoil initiated a lawsuit against Texaco, claiming that Texaco had thwarted its intentions to acquire Getty Oil. The protracted legal battle ended in an out-of-court settlement in which Texaco paid Pennzoil $3 billion in compensation.
In 1998, Pennzoil's business model underwent a significant change: the company separated its refining and marketing divisions and formed Pennzoil-Quaker State Company. The newly formed company took the bold step of acquiring rival motor oil brand Quaker State Corporation to expand its product portfolio.
In 2002, a key event in the industry occurred: Shell Oil Company, a U.S. subsidiary of Royal Dutch/Shell, acquired Pennzoil-Quaker State Company. As a result, Pennzoil and Quaker State were positioned as premium motor oil brands under the manufacturing wing of Shell Lubricants.
More than a century later, Pennzoil continues to be an influential player in the motor oil industry, delivering high-quality products to consumers around the world. The brand, represented by a staff of more than 10,000 employees, is available in more than 100 countries. Pennzoil, based in Houston, Texas, is a subsidiary of Shell plc and supplies high-quality motor oils to motorists around the world.
The founding of South Penn Oil Company in 1889 marked a new era in Oil City, Pennsylvania.
In 1913, Pennzoil made a profound breakthrough into the motor oil market, changing the industry with its unrivaled quality and new approach.
The formation of the Pennzoil Company in 1925 was a significant event in the motor oil industry.
In 1961, Pennzoil expanded its horizons by opening its first overseas office in Canada, marking a strategic move toward a global presence.
The commencement of litigation between Pennzoil and Texaco in 1984 was the beginning of a serious and lengthy legal standoff.
The creation of Pennzoil-Quaker State in 1998 brought together two respected brands in the motor oil industry.
The acquisition of Pennzoil-Quaker State Company by Shell Oil Company in 2002 led to a dramatic change in the oil industry, combining the resources of two major industry players.
Meaning and History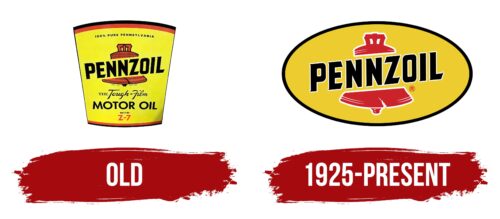 Old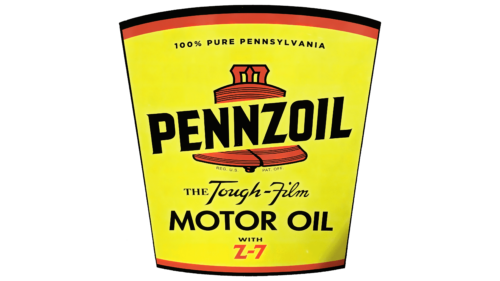 1925 – today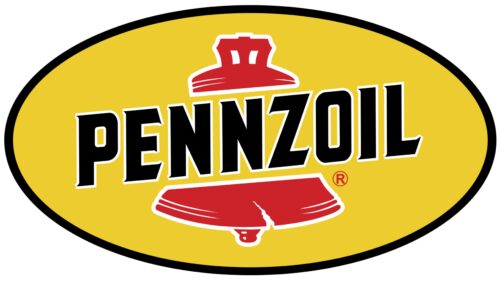 The Pennzoil logo clearly indicates the location of the company and what it offers, as it is formed from two words – "Pennsylvania" and "oil." It depicts an important heraldic symbol, the bell. The bell is colored red and has a small crack at the bottom. On its background is a diagonal inscription. The letters are black with white outlines and have sharp spikes. Although their ends are not clearly visible, they serve as a good alternative to traditional serifs. All elements are enclosed in a mustard yellow oval outlined with a black band.
The red bell brings to mind history and importance, as if it has been through a lot but is still standing. The crack at the bottom gives character, like the scar of a brave knight. The sharp spikes on the letters give the impression that they are meant for a cause. The mustard yellow oval and black stripe give it a distinctive look.
Pennzoil color codes
Fire Engine Red

Hex color:
#cc2229
RGB:
204 34 41
CMYK:
0 83 80 20
Pantone:
PMS 485 C
Yellow

Hex color:
#eccc2e
RGB:
236 204 46
CMYK:
0 14 81 7
Pantone:
PMS 115 C
Black

Hex color:
#000000
RGB:
0 0 0
CMYK:
0 0 0 100
Pantone:
PMS Process Black C