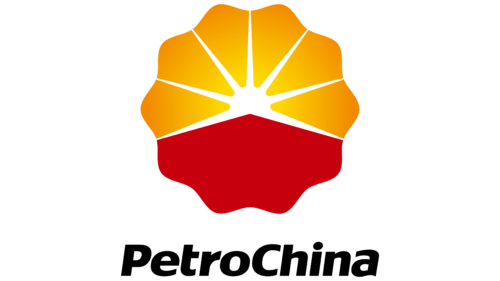 PetroChina Logo PNG
PetroChina: Brand overview
PetroChina emerged from the restructuring of China National Petroleum Corporation (CNPC) in 1999. By transferring its exploration, production, refining, marketing, chemicals, and natural gas businesses to CNPC, PetroChina became a leading company in the oil and gas industry, providing energy to millions of people across China.
As one of the largest oil and gas companies in the world, PetroChina operates in more than 80 countries and employs up to 700,000 people. It is the largest producer of natural gas and is among the world's largest oil refining companies. The company's broad influence and large-scale operations make it a leader in the energy sector.
The establishment of PetroChina in 1999 marked the beginning of a new era in energy production and exploration.
In 2000, PetroChina made a historic entry into the international financial market by becoming the first Chinese company to be listed on the Hong Kong and New York Stock Exchanges.
In 2002, PetroChina strengthened its position in the oil industry by acquiring a controlling stake in Sinopec's refining and marketing division.
In 2006, PetroChina's refinery in the Dushanzi area was commissioned, ready to produce the country's most important resources.
In 2011, a landmark event occurred when PetroChina agreed to invest $5.4 billion in a 49% stake in Encana's Duvernay shale assets in Canada.
By 2013, PetroChina had become the world's largest oil and gas producer, cementing its status as a global energy powerhouse.
The sharp drop in oil prices in 2015 had a significant impact on PetroChina's profits, resulting in a significant decline.
In 2016, PetroChina made a principled decision to invest in renewable energy, an important step in reshaping the company's energy strategy and reaffirming its commitment to a sustainable future.
Meaning and History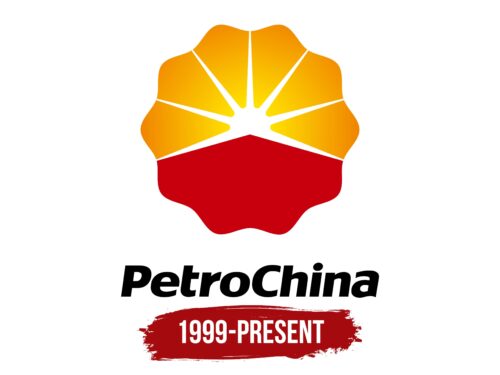 1999 – today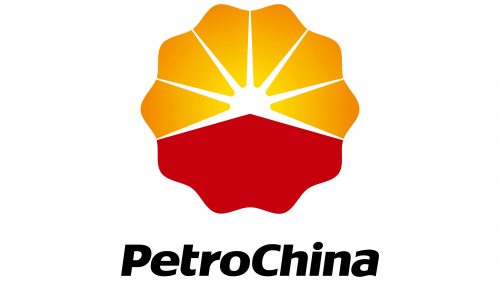 The red-yellow logo indicates the company's involvement with fuel, which is quite logical since it belongs to the oil and gas industry. The main element of the emblem is a circle with wavy edges divided by color into two unequal parts. The lower part is solid, and in the upper part, there is a white sun with long rays reaching to the edge. There are a total of seven stripes with light gray ends. The logo also includes the name of the Chinese company written in black italic font with bold letters.
The wavy edges of the circle give the impression that it is almost moving, similar to the way energy flows. The sun at the top resembles an energy ball. The red and yellow colors are a combination of fire and sun, which are very important for energy. It's not just a circle; it's like a mini-story about what the company does. And the bold black text is like saying, "Hey, look at us, we're important."
PetroChina color codes
Neon Tangerine

Hex color:
#f28a01
RGB:
242 138 1
CMYK:
0 43 100 5
Pantone:
PMS 151 C
Gold

Hex color:
#fed901
RGB:
254 217 1
CMYK:
0 15 100 0
Pantone:
PMS 109 C
Venetian Red

Hex color:
#c7000d
RGB:
199 0 13
CMYK:
0 100 93 22
Pantone:
PMS Bright Red C
Black

Hex color:
#000000
RGB:
0 0 0
CMYK:
0 0 0 100
Pantone:
PMS Process Black C