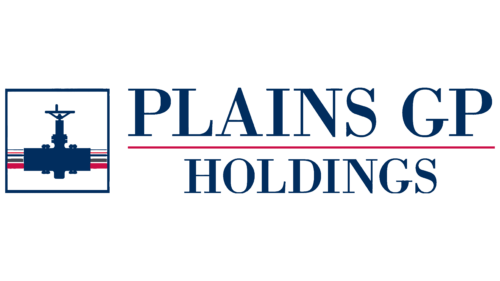 Plains GP Holdings Logo PNG
Plains GP Holdings: Brand overview
Founded in 1981 as Plains Resources, Plains GP Holdings (PAGP) has been developing energy infrastructure solutions for four decades. In 2013, the company changed its corporate identity with a name change that reinforced its commitment to exceptional service quality. As a publicly traded master limited partnership (MLP), PAGP has maintained a dominant position in the energy industry for nearly 40 years.
The initial trajectory of Plains GP Holdings was set within the United States, with a focus on natural gas gathering and processing. With the advent of the 1990s, the company's service portfolio expanded to include crude oil transportation and storage, thereby increasing its market reach.
In the 2000s, Plains GP Holdings rose rapidly to become a global leader among downstream energy corporations. It is its leadership in natural gas gathering and processing, crude oil transportation and storage, and petroleum products marketing that has positioned it at the forefront of the industry.
A major development in 2012 was the strategic merger of Plains GP Holdings and Plains All American Pipeline (PAA). The merger created one of the world's largest downstream energy companies. PAA's combined crude oil and natural gas transportation capabilities have raised the company's profile in the energy industry.
Plains GP Holdings now occupies a critical position in the international energy industry, with offices in 20 countries and a workforce of more than 10,000 employees. Their expertise in natural gas gathering and processing, crude oil transportation and storage, and petroleum product marketing makes them a formidable competitor in the industry.
In 1981, the creation of Plains Resources marked the beginning of the industry's transformation journey.
The 1990s marked Plains Resources' bold expansion into the crude oil transportation and storage sector, deviating from its core business.
The 2000s were defined by Plains Resources' meteoric rise as a leading mid-tier energy corporation.
In 2012, a powerful alliance between Plains Resources and Plains All American Pipeline (PAA) was formed and became a powerful industry partnership.
In 2013, Plains Resources underwent a significant brand reorganization and was rebranded as Plains GP Holdings.
The year 2020 proved to be a challenging one for Plains GP Holdings: a sharp drop in oil prices negatively impacted its earnings, leaving it in a financially precarious position.
Meaning and History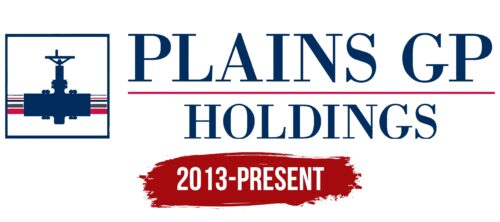 2013 – today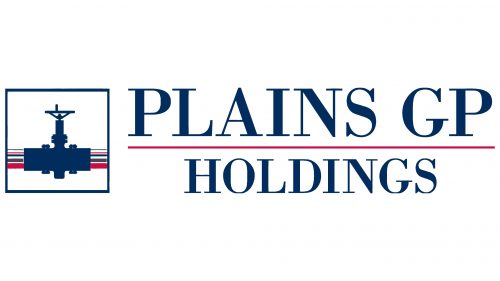 The logo of a company engaged in oil transportation through pipelines has a target orientation. It shows a part of a technical unit with screws, nuts, and a valve. They are drawn in such a way that they look like real parts, which makes the design easily recognizable. The only difference is the lack of intricate details. On both sides of the drawing, there are blue and red stripes of different thicknesses. Between the two levels of the company name, there is one horizontal line. The text is made in capital letters with thin serifs, and the left icon is framed by a square.
The blue and red stripes make the logo eye-catching, almost like a splash of color in a painting. The technological elements in the center seem to give a glimpse of the company's day-to-day operations, showing that it knows its nuts and bolts, literally. The square frame gives the logo a finished look as if it were a gift wrapped in a neat bow. The capitalized text is like the company's shout-out to the library, but in a good way, like they really want people to know they're experts at what they do.
Plains GP Holdings color codes
Cool Black

Hex color:
#012d5e
RGB:
1 45 94
CMYK:
99 52 0 63
Pantone:
PMS 648 C
Spanish Carmine

Hex color:
#cc0e47
RGB:
204 14 71
CMYK:
0 93 65 20
Pantone:
PMS 192 C