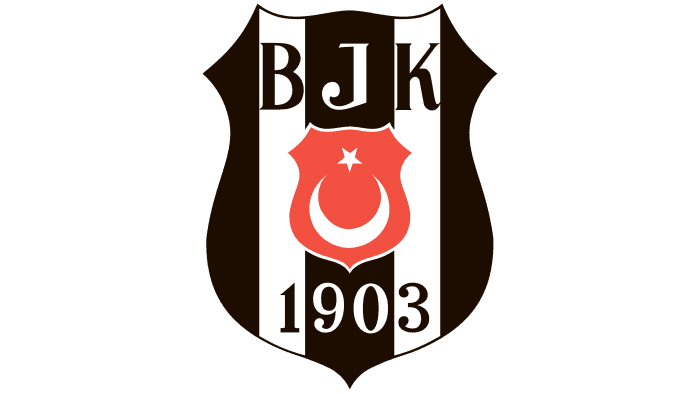 Gymnastic club Besiktas was founded in the area of the European part of Istanbul in March 1903. Wrestling, boxing, weightlifting, and gymnastics were the first sports directions of the new athletic society. The football section appeared there only in 1911, but it became the main affiliate soon.
Initially, red and white were the colors of Besiktas. But after the defeat in the Balkan wars (1912-1913), the coloring was changed to black and white in a sign of sorrow over the lost territories. It was a temporary decision until the Turks conquer all the Balkan lands. Unfortunately, there was no revenge, and the club's colors remained black and white.
Meaning and History

The first Besiktas logo was created in 1915. It consisted of the word Besiktas (at the top) and the letters J (right) and K (left), written in Arabic. This version of the emblem was used until 1928 when Turkey switched from Arabic to the Latin alphabet.
The "European" emblem, officially published in 1928, differed not only in the inscription but also in appearance, taking the form of a heraldic shield. In the beginning, it was an intricate 10-coal configuration, which took a modern look after the rebranding of 1953 (to the 50th anniversary of the club).
In the new Besiktas logo, the Turkish flag moved from the corner to the center as a reminder that Besiktas, as a national team, held a friendly match with the Greek national team in their arena Dolmabahce Stadon on May 16, 1952. The game finished with a result 0:1.
Since 1992, when Besiktas became the country's champion for the 10th time, a "ceremonial" version of the sign has been periodically used. It is decorated with two champion stars (the "5 wins – 1-star" principle operates in Turkey).
1903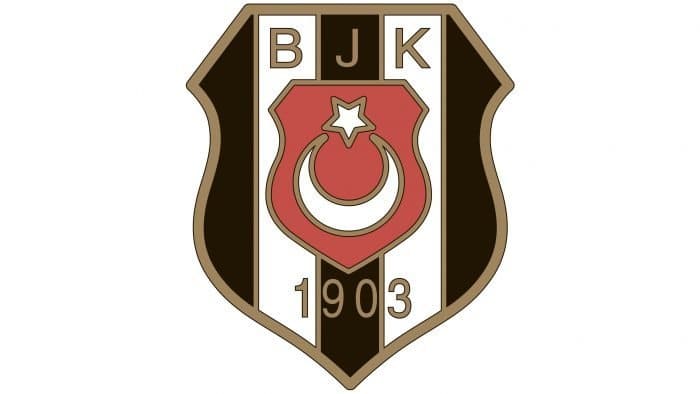 1959