Ergo Logo PNG
The Ergo logo offers a master class in minimalism while still successfully promoting brand recall through its distinct typographical elements. Its massive glyphs and individualized font help set it apart. Notably, the letter "E" has a unique design with its sharp upper left corner and rounded lower end. This fusion of styles speaks to the insurer's dual commitment to understanding client needs while maintaining its risk-free stance. The remaining letters also exhibit smooth, flowing contours. Each character is bold and capitalized, emphasizing the brand's strong market presence.
Diving into the font, the unusual shape of the "E" stands as a symbol of adaptability and flexibility. Its sharp edge suggests that the company is alert and attentive to market fluctuations and consumer needs. The rounded edge of the "E," conversely, evokes a sense of compassion and readiness to support clients in times of need. These two aspects seamlessly intertwine to show that the insurer is rigorous in its professional approach and humane in its customer relations.
The bold, capitalized glyphs scream confidence, reliability, and a bold approach to tackling challenges. Such strong typographical choices signify a company that knows its path, has a strong vision, and is committed to leading in its sector. This is essential for an insurance firm, where the dual pillars of reliability and vision form the bedrock of consumer trust.
The logo is an effective marketing tool. It doesn't need flashy graphics or intricate designs; its power lies in its simplicity. Such straightforwardness translates to clarity in purpose and operation, which two clients look for in an insurer. Through its logo, Ergo establishes itself as a reliable and straightforward choice for insurance solutions.
Moreover, the custom font rules out associations with other brands or messages. This enables it to own its narrative completely, from the messages it sends to the emotional impact it leaves on the viewer. The personalized touches in the typography resonate with the same uniqueness that the company brings to its individualized insurance plans.
The design choices are not random; they are purposeful and meaningful. With its unique attributes, the logo effectively communicates the organization's intent to balance risk and compassion, professional rigor, and consumer comfort. Ergo is a compelling case study of how a text-based emblem can still carry layers of intricate meaning, successfully projecting a brand's ethos without sacrificing aesthetic appeal.
| | |
| --- | --- |
| Founded: | 1997 |
| Founder: | Munich Re |
| Headquarters: | Düsseldorf, Germany |
| Website: | ergo.com |
Emerging in 1997, ERGO originated as an offshoot of Munich Re, a prominent reinsurance entity based in Germany. Born out of the unification of three distinct insurers, namely Hamburg-Mannheimer, Victoria, and D.A.S., the company set its operational base in Düsseldorf. As a versatile insurance provider, ERGO catered to individual and business clientele.
In its formative years, ERGO set its sights beyond Germany, making significant inroads into European territories, with Poland, Spain, Austria, and Greece marking its key destinations. To foster a sense of unity and coherence across its diverse European branches, 2009 saw ERGO adopt a consolidated brand identity characterized by a singular name and emblem.
The subsequent years saw ERGO cement its standing by strategically assimilating smaller insurance companies in Germany and overseas. ERGO's operations span more than 25 nations across Europe and Asia, and its workforce boasts approximately 40,000 professionals.
Providing a comprehensive suite of insurance solutions, ERGO's portfolio encompasses life, health, property, casualty, legal, and pension-oriented products. As of 2022, the company reported a premium collection of €20 billion and disbursed policy benefits amounting to €15 billion. Operating under Munich Re's umbrella, ERGO remains a dominant player in the German insurance realm.
Meaning and History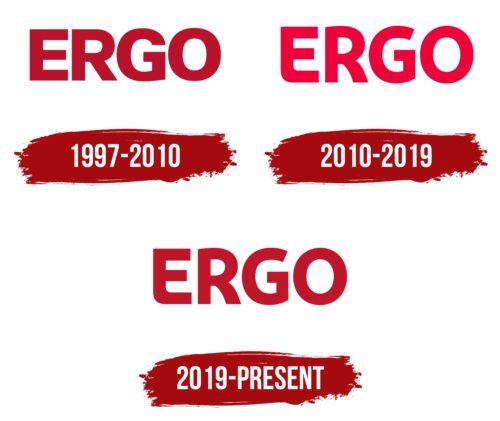 1997 – 2010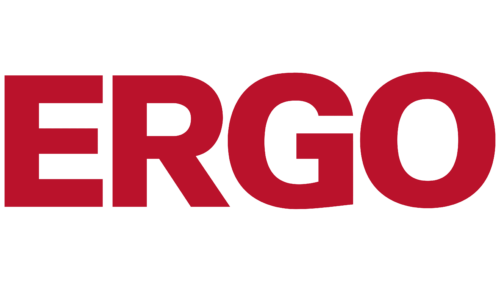 2010 – 2019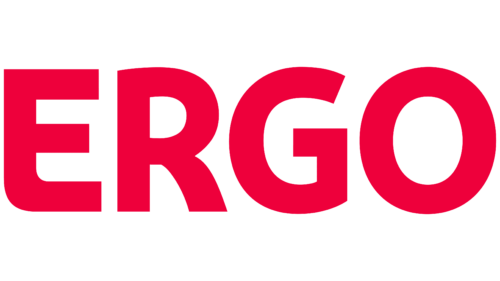 2019 – today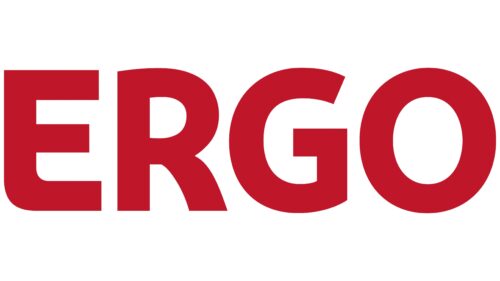 Ergo color codes
Safety Red

Hex color:
#bf1528
RGB:
191 21 40
CMYK:
0 89 79 25
Pantone:
PMS 185 C