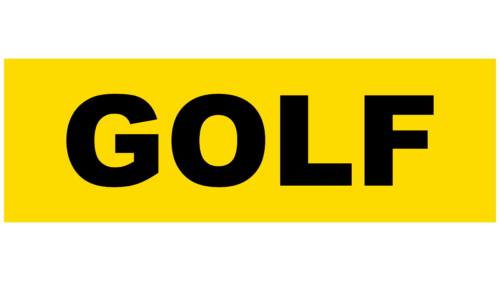 Golf Wang Logo PNG
The geometric logo of Golf Wang encompasses the creative essence of its owner. It embodies the creativity that can be presented to the world and conceals what must be hidden from human eyes – the process of creating fashionable items. Behind the simple form of the logo lies a phenomenally powerful potential – both for those who produce the products and those who use them.
Golf Wang: Brand overview
| | |
| --- | --- |
| Founded: | 2011 |
| Founder: | Tyler, the Creator |
| Headquarters: | Los Angeles, California, United States |
| Website: | golfwang.com |
Golf Wang is an American fashion brand that specializes in streetwear, jewelry, footwear, and some food products. It has gained fame for its vibrant aesthetics and untamed spirit. The creator of the fashion brand is musician Tyler the Creator. Initially, the company was considered part of his music group Odd Future Wolf Gang Kill Them All, and separated from it two years after its appearance. Its debut year was 2011. The headquarters is located in Los Angeles, California.
Meaning and History
To fully realize his inner potential, American artist Tyler, the Creator, created not only a music group but also a fashion brand. Under its umbrella, he planned to produce street-style clothing. And so it happened. But in order for the fashion brand not to be cramped within his collective, he set it free – making it an independent business unit.
Part of the name came from the hip-hop group it was a part of. This is called spoonerism, where individual letters or entire morphemes of several words are rearranged or replaced, creating a new meaning. So, it was "Odd Future WOLF GANG Kill Them All," and it became "GOLF WANG." That is, "W" and "G" switched places. This phrase became the basis for the visual identity of the fashion brand, which became popular thanks to its vibrant aesthetics reflected in the logo.
What is Golf Wang?

Golf Wang is a fashion brand from the United States. It was created in 2011 by a creative personality – musician Tyler, the Creator (pseudonym Tyler Gregory Okonma). Initially, the brand was part of his collective Odd Future Wolf Gang Kill Them All, but in 2013 it separated from it, becoming independent. This fashion brand offers vibrant streetwear, jewelry, footwear, and even some food products. Its headquarters is located in Los Angeles, California.
2011 – today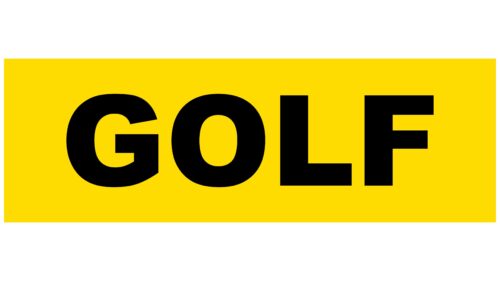 This fashion brand is better known by its abbreviated name, so that's what appears in the logo. The word "Golf" is solitary, bold, large, and smooth. It has a clear geometry with straight angles and precise edges. Ornateness is not its style. In this case, it is closer to industrial design, where a rough form prevails over refined content, hiding it behind deliberately rigid elements. This is typical for fashion brands. They also feature brevity in visual identity and mystery, both of which are present in this case.
In the emblem, capital letters without serifs are used. They are placed at a short distance, maintaining good readability of the inscription. The background for it is a rectangle with a solid fill. For better contrast, designers have chosen eye-catching colors that confidently complement each other, maintaining an optimal balance. These colors are black and yellow.
3D Golf Wang Logo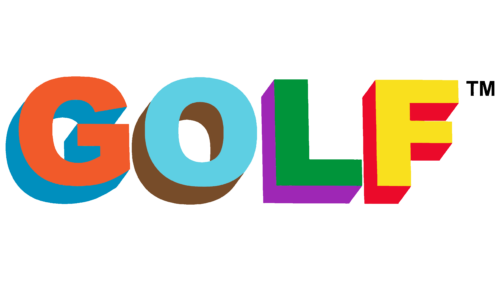 The three-dimensional emblem of Golf Wang consists of the same elements as the two-dimensional one:
neutral geometric background;
strict inscription with capital letters.
However, here they are voluminous: each glyph on the left and bottom is complemented by a wide shadow, which turns it into a 3D figure. It is worth noting that the logo is incredibly colorful to attract the attention of potential buyers – the youth who adore street-style clothing.
Each letter has its own color: "G" is painted in orange, "O" in light blue, "L" in green, and "F" in yellow. The shadows are also individual: the first is blue, the second is brown, the third is purple, and the fourth is red. Such contrast turns the standard symbol into a unique marking.
Font and Colors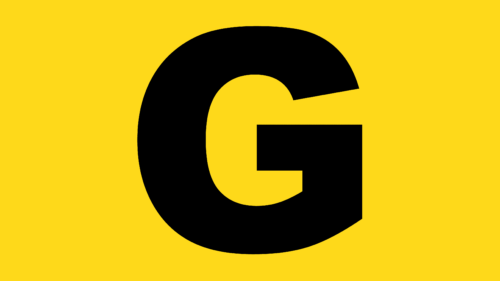 The inscription in the Golf Wang logo is composed of geometric uppercase letters without serifs. This typeface corresponds to the Magnum Sans Pro Heavy font by FontMesa. The fashion brand has two sets of corporate colors. The first is represented by only black and yellow, and the second – red, purple, brown, blue, yellow, green, light blue, and orange.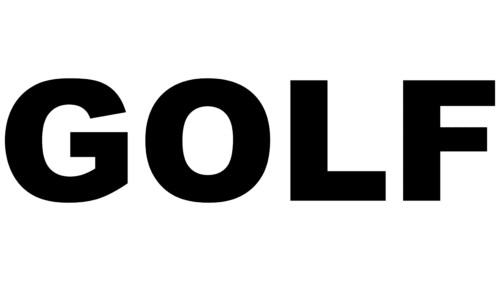 Golf Wang color codes
Golden Yellow

Hex color:
#fedb00
RGB:
254 219 0
CMYK:
0 14 100 0
Pantone:
PMS 109 C
Black

Hex color:
#000000
RGB:
0 0 0
CMYK:
0 0 0 100
Pantone:
PMS Process Black C