GUESS is a well-known US retailer and fashion brand that sells clothing for women and men. Also, he offers shoes, perfumes, jewelry, and watches. The company is located in the city of Los Angeles, California, where it appeared in 1981. The founders of the brand are members of the Marciano family – Paul, Georges, Maurice, Armand.
Meaning and History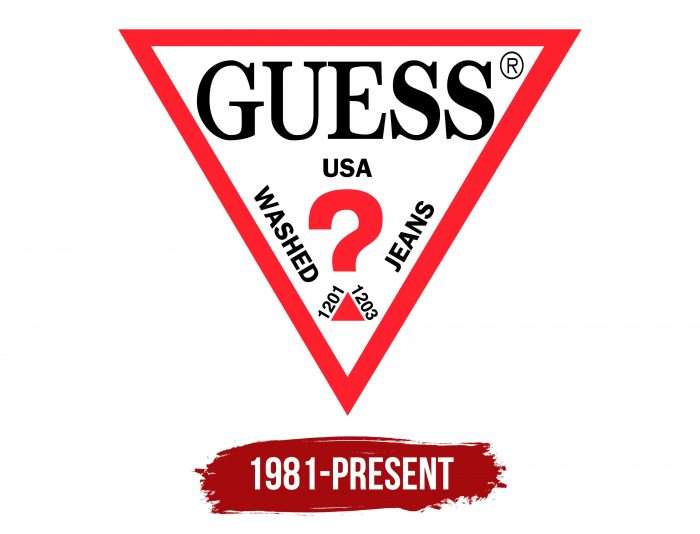 The company logo is not minimalistic. There is a lot of visual information on it. This is probably because the emblem is old and appeared at the dawn of the brand's career when it was important to express yourself with the help of small trademarks – tags. In the 1980s, the company was engaged in jeans' production, which quickly gained popularity and became recognizable thanks to the original label.
But in the history of the logo, not everything is cloudless. In 1993, the former CEO of Georges Marciano sued GUESS, accusing him of using his last name as an emblem element without his consent. And this is just a small example of tribal hostility between members of the same family because the Georges Marciano brothers received complete control over the company. Later, in 2015, another lawsuit was opened. This time, Georges accused the manufacturer of illegally using the phrase "Guess by Georges Marciano," which was also included in the logo.
Font and Color of the Emblem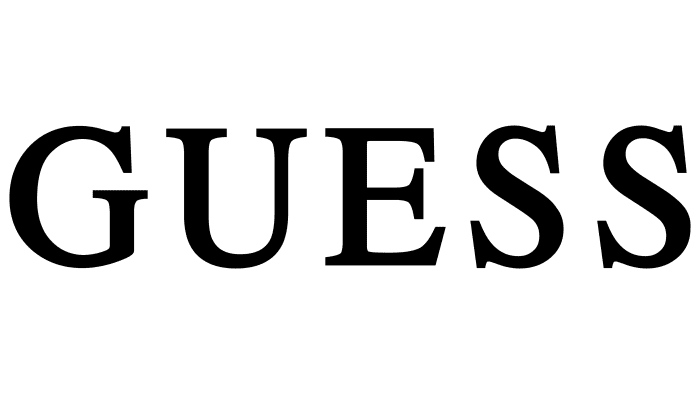 A graphic sign is an inverted isosceles triangle within which the text part is placed. Along the edge of the geometric figure, there is a medium-wide line, outlining the space with several inscriptions. On a white background in block letters, it says "GUESS." The word is located in the widest place and occupies almost the entire horizontal area.
At the bottom, in a narrow zone, there is a large question mark, which instead of a point has another isosceles triangle – not just hollow, but colored. There are inscriptions around it: at the top – "USA," on the left – "Washed," on the right – "Jeans," at the bottom – the mysterious numbers "1201" and "1203". All letters are uppercase.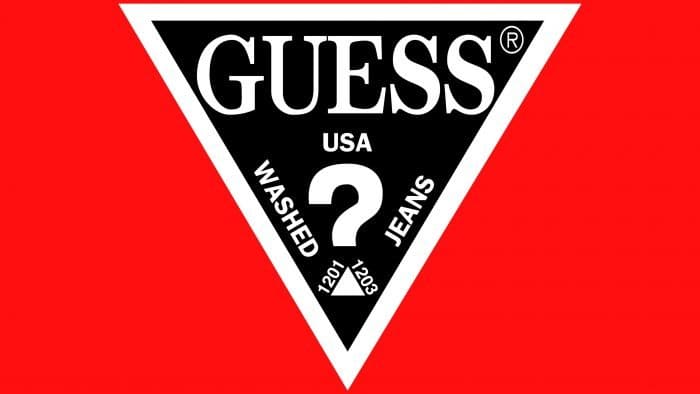 Regarding the choice of font, the logo developers came up quite simply: they opted for the most famous computer font Times, New Roman. The inscriptions contain black marks on a white background. But still, this is not the only range of branding: the combination includes three color options. Among them are black, red, and white.
They form the whole concept of the brand because the brand has a certain meaning in them. White symbolizes purity; black symbolizes elegance, red symbolizes passion and love. The result is a harmonious triad.
The concept behind this brand's logo is very simple: its purpose is to attract attention – first, a question – secondly, the scattered arrangement of elements. Thirdly, the mysterious numbers 1201 and 1203, which no one can decipher. The color palette also emphasizes this concept. Together, they form a special aura, embodied in the attractive symbolism of the label.