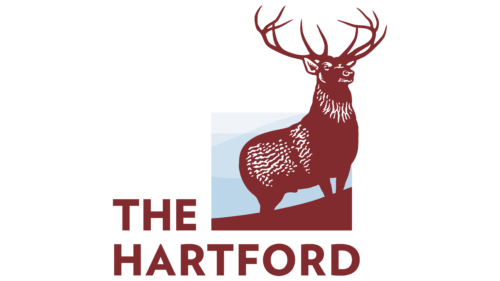 Hartford Insurance Logo PNG
Hartford Insurance logo portrays a noble deer, a potent symbol that speaks volumes about the company's lofty aims as an American investment and insurance firm. The animal stands on a hill slope, its head high, showcasing magnificent branched antlers. The deer looks beyond the square frame's boundaries with a tranquil and confident gaze, signifying the insurer's limitless possibilities. Its dark body stands out vividly against a backdrop of gray mountains. Below and to the left of the deer is the company's name, rendered in a smooth, uniform typeface with uppercase letters and colored in a dark coffee hue with a red undertone.
The choice of a deer to represent the firm taps into long-standing cultural symbols. Deers have been associated with nobility, grace, and freedom throughout history. In Native American cultures, they are considered messengers and signify sensitivity and intuition. Here, the deer's tranquil demeanor manifests confidence, stability, and trust—essential virtues in the insurance and investment sectors.
The animal's positioning on a hill implies an elevated viewpoint, an allusion to the company's foresight and ability to anticipate future trends and risks. The hill symbolizes challenges and achievements, denoting that the insurer can surmount obstacles and realize ambitious goals.
The branched antlers add another layer of meaning. In nature, a deer's antlers are both a weapon and a tool used for self-defense and foraging. Analogously, Hartford Insurance offers protection and avenues for growth to its clients.
The color scheme holds its symbolic weight. The dark coffee hue with a red undertone represents solidity and depth. This shade aligns well with a company involved in serious financial transactions where trust is paramount. The gray backdrop subtly suggests the company's role as a stable foundation, even when facing the uncertainties inherent in financial markets.
The font choice complements the visual elements. The smooth, uniform, uppercase letters indicate professionalism and integrity. Like the deer, they command attention but in a subtle, dignified manner.
Taken together, the components of the logo convey an intricate interplay of symbolism and direct representation. They encapsulate the insurer's guiding principles—stability, foresight, and nobility—into a striking visual narrative. The Hartford Insurance logo is an identifier and a carefully crafted message about the company's identity and ambitions.
Hartford Insurance: Brand overview
| | |
| --- | --- |
| Founded: | 1810 |
| Founder: | ITT Corporation |
| Headquarters: | Hartford, Connecticut, U.S. |
| Website: | thehartford.com |
Established in 1810 in its namesake city, Hartford, Connecticut, Hartford is one of America's most venerable insurance institutions. Birthed initially as the Hartford Fire Insurance Company, it was the brainchild of several prominent local entrepreneurs aiming to serve the community's insurance needs.
As the turn of the century approached in the late 19th century, Hartford recognized the need to diversify and began broadening its spectrum of insurance offerings, venturing beyond its foundational fire insurance products. A significant transformation occurred in 1968 when ITT Corporation's merger occurred, prompting a name revision to ITT-Hartford. However, this association saw a shift by 1995 when the firm realigned its branding to its roots, rechristening itself as The Hartford Financial Services Group to reflect its core insurance undertakings better.
Hartford's journey, spanning more than two centuries, has been monumental. It has solidified its reputation as a dominant player in the US property and casualty insurance domain. Hartford's offerings are vast, catering to a diverse range of clientele, from individuals and businesses to large institutions.
Today, this esteemed organization is on the Fortune 500 list, operating from its base in Hartford, CT, and is supported by a robust team of over 19,000 individuals. While the company largely leverages independent agents and brokers for its distribution, it also reaches out directly to customers. A noteworthy collaboration in its portfolio is the longstanding association with AARP, wherein Hartford has been the preferred insurance provider for its members for a quarter of a century.
Meaning and History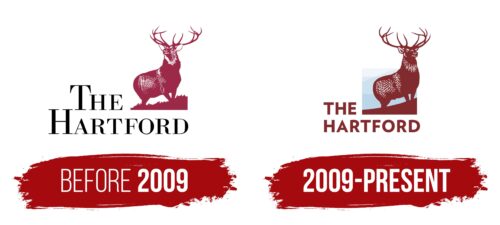 before 2009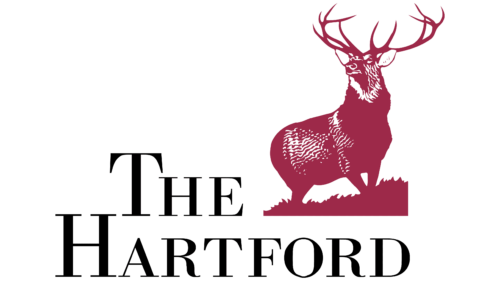 2009 – today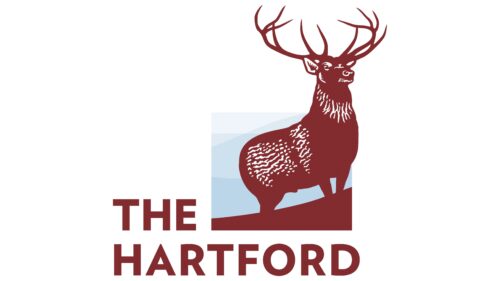 Hartford Insurance color codes
Tuscan Red

Hex color:
#822b2f
RGB:
130 43 47
CMYK:
0 67 64 49
Pantone:
PMS 7622 C