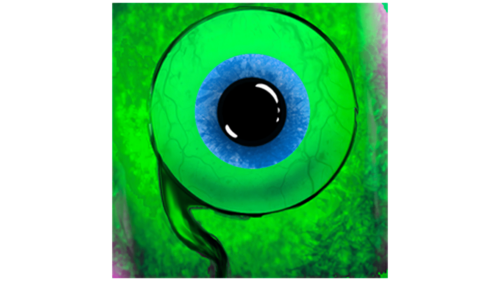 Jacksepticeye Logo PNG
The "anatomical" logo of Jacksepticeye impresses with its realism. It performs its task perfectly; it aims to make internet users stop, wonder, and show interest. Moreover, the emblem literally peers into a person's soul or even subconscious, which is quite unnerving.
Jacksepticeye: Brand overview
| | |
| --- | --- |
| Founded: | 2012 – present |
| Founder: | Seán William McLoughlin |
| Headquarters: | jacksepticeye.com |
| Website: | Ireland |
Jacksepticeye is the creative alias of vlogger Saen William McLoughlin from Ireland, who was born in 1990 and started his YouTube work in 2012. In addition to his channel, he also produces the comedy series Let's Play, owns the company Top of The Mornin' Coffee, engages in charity work, and develops fashionable clothing under the Cloak brand with Markiplier.
Meaning and History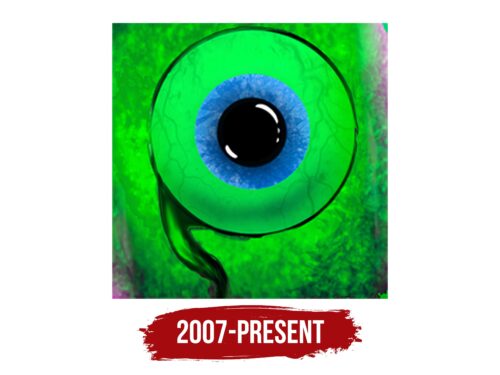 Saen William McLoughlin cleverly used his nickname Jack Septic Eye, incorporating it into his creative alias. He was teased with this nickname as a child after a football match incident where he severely injured one eye. But he didn't dwell on the issue and later turned this psychologically unpleasant factor to his advantage. The YouTuber transformed the offensive nickname into a catchy name, and now Jacksepticeye is the most famous vlogger in Ireland.
He didn't oversimplify or stylize his eye logo to create a creative symbol. The young man uses it as it is, with anatomical details. The realism perfectly complements the blogger's humor and transforms it into healthy sarcasm. Moreover, "Jack with the infected eye" deliberately teases viewers with his provocative emblem to attract attention and be remembered for a long time. Thanks to his extraordinary symbol, he invented a one-eyed character – Cyclops.
What is Jacksepticeye?

Jacksepticeye is a creative nickname belonging to the Irishman Saen William McLoughlin, who runs a video blog on YouTube. He started it in 2012 with gaming content, gradually transitioning to a wide range of topics, including celebrity interviews. The young man also owns the fashion brand Cloak, the Let's Play series, the Top of The Mornin' Coffee company, and engages in charity work.
2007 – today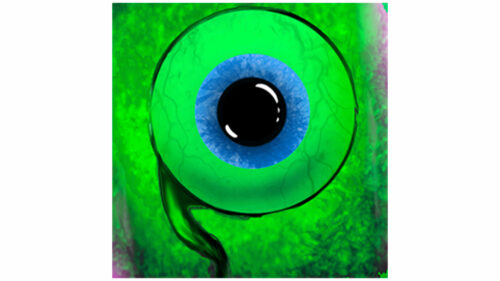 The Jacksepticeye logo shocks internet users, provoking an emotional reaction. It handles this task excellently, consisting of a gigantic eye, the mascot of the personal YouTube channel. It's drawn in a natural style and consists of the following:
a black pupil with white highlights;
a blue iris;
a green circle with a border;
a retinal mesh;
an optic nerve.
The eyeball is depicted as if it's on a real person and is zoomed in as if under a microscope. The background is a vertical rectangle painted in green and purple colors. It's covered with small gray spots, blurred in some places and merged in others.
Font and Colors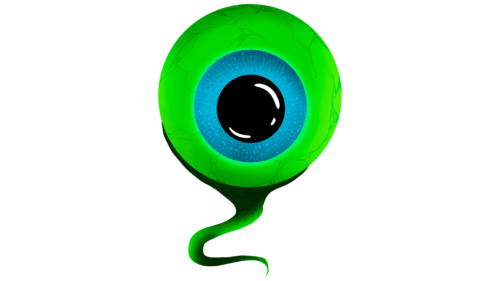 This is not a text emblem; it has no letter, so there's no need to discuss fonts. However, the color palette is quite diverse, consisting of several shades of green and blue. The predominant color is fresh grass, harmoniously complemented by blue and cyan, presented in a rainbow shell. Black, gray, white, and light lavender are also present.