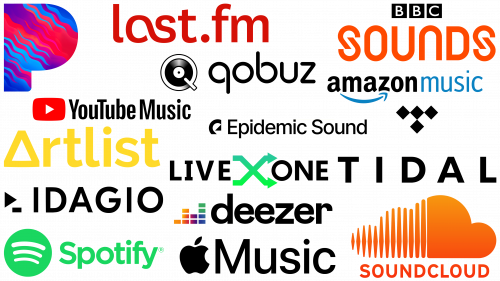 Music streaming services have dramatically changed the way we consume and interact with music. This medium has grown significantly over the past decade, leading to the emergence of different platforms and recognizable logos.
Major services such as Spotify and Apple Music have established a significant presence in this sector and have become household names. They offer a wide range of songs, podcasts, and other audio entertainment. Other mainstream platforms include music streaming service YouTube and Amazon's offering, both of which have significant user bases.
The field is not limited to just a few dominant platforms. Many lesser-known services are noteworthy, not least because they offer unique features or target specific musical tastes. For example, some specialize in high sound quality, while others specialize in genres or regions underrepresented on major platforms.
In terms of branding, some logos have become iconic symbols. Spotify's green icon and Apple Music's musical notes are well-recognized brands in the industry. On the other hand, some lesser-known services have logos that may not be immediately recognizable but are an integral part of a larger and evolving ecosystem.
Different platforms have their own advantages and favorable sides. Some prioritize the availability of an extensive library of songs and albums, while others prioritize user interface and user experience. Others focus on sound quality, targeting audiophiles who are willing to pay a little more for a superior listening experience.
The proliferation of these services indicates a strong and rapidly growing sector. Each of these platforms – both large and small – contributes to shaping the music streams of the music lover.
Most Popular Music Streaming Services and Their Logos
Spotify enjoys widespread recognition as a dominant music streaming platform, yet it's not alone in the industry. Numerous other services offer similar or divergent features for music streaming. Each platform has unique elements that set it apart.
Amazon Music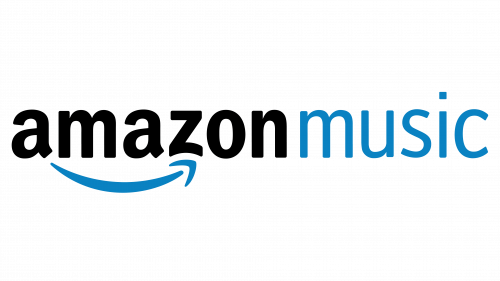 Emerging as an online marketplace that revolutionized shopping around the world, Amazon has expanded into various industries, including audio and video streaming services. One such little-known but significant Amazon service is Amazon Music. As of February 2023, this platform had over 80 million users. By this statistic, it directly competes with YouTube Music in terms of users.
Amazon Music's extensive library attracts a wide variety of audiences. With over 100 million songs stored on the platform, it provides an extensive music experience both when searching for classic hits and new releases.
Visual style plays an important role in the branding of Amazon's various services, and Amazon Music is no exception. The platform utilizes the arrow icon often associated with Amazon's e-commerce services, creating a sense of continuity and cohesion across the various offerings. The word "music" is typed in lowercase letters, in keeping with the company's corporate identity.
Amazon Music logos vary in color. Some have a white background, while others are a spectrum of shades from blue to aqua, which visually stimulates users.
Amazon Music offers an extensive song catalog similar to Apple Music and Spotify, as well as features designed to make user interaction and music search easier. Despite being in the shadow of Amazon's better-known services, Amazon Music manages to carve out a niche for itself in the crowded field of digital music streaming.
Apple Music

Apple Music, which debuted in June 2015, has quickly become Spotify's main competitor in the music streaming sector. With 88 million subscribers, the platform has made significant strides in capturing market share despite being a recent entrant. One of the key differentiators is device compatibility: Apple Music works exclusively on Apple devices, which narrows the potential user base and tightly integrates the service into the Apple ecosystem.
The platform contains an extensive library of around 100 million songs, giving users a wide selection to choose from. This wide selection helps users find music that matches their tastes and moods, closely echoing Spotify's extensive catalog.
Apple Music uses a magenta icon with a white note in the center. This design indicates that the service is focused on music and its associated vibe. On the other hand, the company's logo features the word "Music" next to the Apple symbol in the company's standard font.
The app's icon doesn't remain unchanged, either. It has undergone a design change from the previous version. Originally, it represented a white square and a musical note with a gradient transition from magenta to blue color. The move to the current magenta and white scheme is apparently a move towards greater simplicity and recognizability.
The Apple Music branding strives for simplicity while remaining in line with Apple's overall design principles, embodying modernity and functionality. The platform has a narrow target audience due to its exclusivity to Apple devices. However, it actively competes with Spotify by offering an extensive music library and seamlessly integrating into the Apple ecosystem.
Despite its later entry into the market and device limitations, it has amassed a significant subscriber base, maintains an extensive music selection, and has developed a recognizable branding that blends seamlessly with its parent company's corporate identity. The platform continues to evolve, improving its services and expanding its customer base, contributing significantly to the dynamics of the music streaming market.
Artlist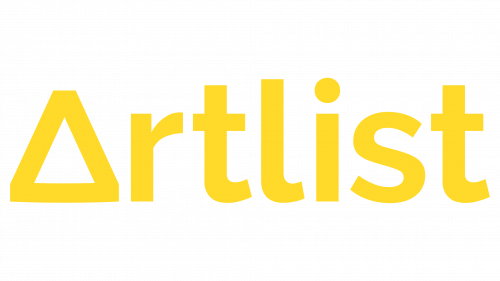 Artlist, founded in 2016, has carved a niche for itself in the music industry by providing royalty-free tracks essential for content creators. It sits in the gray area between the music library and the streaming platform, offering a variety of original compositions. These compositions cover a variety of genres and moods, suitable for different types of creatives, from vlogs to professional video projects.
Artlist's business model is primarily subscription-based, which allows content creators to use these compositions and sounds in a variety of media without worrying about copyright infringement. Subscription options include monthly and yearly plans, which provide flexibility depending on user needs and project timelines. Once subscribed, authors have access to an extensive catalog of original compositions that can be listened to directly from the site.
Artlist's corporate identity is reflected in its simple but memorable logo. The letter "A" is depicted in the form of a triangle, creating a striking visual element that stands out from the usual text-based logos. In smaller icons, especially in web browsers, the triangle "A" is depicted in yellow on a black background. When the logo is presented in a larger format, the entire word "Artlist" is spelled out in yellow to keep the color scheme consistent and identifiable across media.
The platform has taken its place by catering to the specific needs of content creators as opposed to traditional music streaming services. Original compositions, a variety of subscription options, and simple branding set Artlist apart from the competition.
BBC Sounds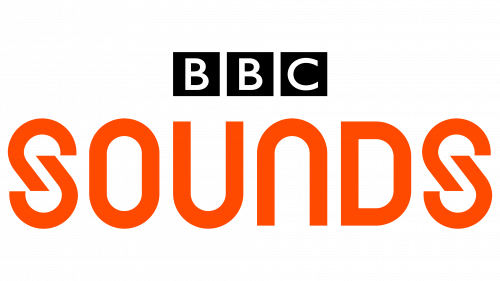 The BBC, a public broadcaster based in the UK, provides a wide range of services, from news reports to sports coverage. One of the broadcaster's relatively new endeavors is the BBC Sounds service, launched in June 2018. This digital streaming service allows users to connect to various radio stations under the BBC umbrella. It also serves as a platform to access pre-made playlists, making it convenient to use in a variety of settings, such as the office or a workout.
While traditional radio stations are an integral part of BBC Sounds, the service offers another level of personalization – multiple playlists. Users can choose from pre-compiled songs to match a particular mood or activity. Whether it's motivation during a fitness class or background noise in the office, the platform offers a variety of options to enhance the mood.
In 2023, a modernization of the BBC Sounds brand took place, marked by the introduction of a new logo. This updated logo lacks the classic BBC icon. In its place, the word "Sounds" is highlighted in capital letters and an eye-catching orange hue. Next to this bold text are three rectangular blocks of different sizes and shades of orange color, creating a unique visual cue. This design is significantly different from the previous logo, where the word "Sounds" was placed under the familiar BBC icon. The font in the previous version was significantly different – the rounded letters were in stark contrast to the font used in the updated logo.
With a user-friendly interface and the ability to choose from radio channels or curated playlists, BBC Sounds successfully caters to the listening needs of a diverse audience.
Deezer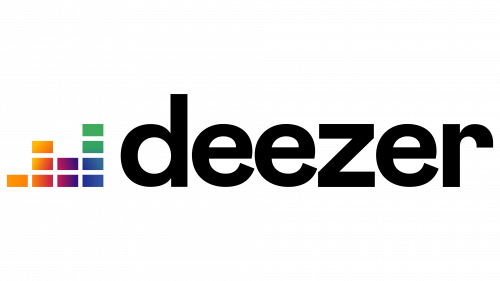 Deezer, a music streaming service born in France, offers a viable alternative to established platforms such as Spotify. Founded in 2007, it has maintained significant popularity, especially in its home country, and has also expanded its presence in the global market. With more than five million subscribers and an extensive music library of over 70 million songs, Deezer has held its own in a competitive market.
Users can use the service for free, albeit with some restrictions. For those looking for advanced features and lack of advertising, Deezer offers a number of paid plans. This flexibility makes the service accessible to a wide variety of listeners, from casual music fans to dedicated music lovers.
Deezer's logo is a simple but effective design. The company name is written in lowercase letters in black font. Next to the text, there are stripes of different heights, symbolizing the dynamic range of the music track. The stripes are in a wide range of colors, including eye-catching orange and purple hues that give the simple design a lively touch.
This colorful logo attribute reflects the diversity of Deezer's music offerings and user experience. It's a nod to the wide range of genres and artists featured on the platform, signaling a comprehensive and inclusive approach to music streaming.
Deezer's longevity in the sector speaks to its ability to adapt and evolve. The service is constantly updating its features, including algorithm-based recommendations and custom playlists, to meet user expectations and industry standards. With many platforms offering similar functionality, Deezer stands out for its diverse library and ease of use.
Epidemic Sound

Epidemic Sound, which opened in Stockholm in June 2009, deviates from the traditional path taken by mainstream music streaming services. Its core clientele consists of content creators, primarily YouTubers, and filmmakers, who require an eclectic array of soundtracks for their digital projects. This unique focus makes Epidemic Sound a significant niche market player in the vast field of online music services.
Epidemic Sound's offerings do not include chart-topping artists or popular songs that typically flood other music platforms. Instead, the library features mostly little-known artists specializing in genres ranging from hip-hop to electronic music. These tracks are intended to be used as background or main music in the creation of various materials, giving creatives a wide field to realize their aural needs.
Subscription access unlocks the full potential of the Epidemic Sound library, giving users the right to utilize these tracks across multiple platforms. The lack of royalty fees is another important consideration, saving creators from complicated and often costly licensing processes that can hinder the creative process. In addition to the desktop interface, the platform is expanding its reach with a smartphone app. This allows users to browse, select, and even download tracks on the go, responding to the fast-paced lifestyles of today's content creators.
Epidemic Sound's logo is simple and reflects a clear user interface. The company name is typed in a minimalistic font with a standard case size. Next to the text, there is an icon resembling the letter "E", which attracts attention and serves as a visual mnemonic reflecting the essence of the brand.
Idagio

Idagio is a unique representative of music streaming services focused exclusively on classical music. This specialized platform, established in 2015 in Berlin, provides classical music lovers with a special space. Unlike conventional streaming services offering a wide range of genres, Idagio serves as a concentrated hub for one of the most enduring styles of music.
The platform operates on a freemium model, offering free and premium subscription plans. The free tier provides basic streaming features, while premium options enhance the user experience with additional features. One of the distinctive aspects of the paid subscription is the ability to access live classical music concerts, which enriches the listening experience beyond pre-recorded tracks.
Idagio's branding emphasizes its minimalism and specialization. The logo consists of the company name written in capital letters, often in black or white, depending on the background. Next to the text is a graphic element resembling a play button, emphasized by a horizontal line. This simple yet expressive design element duplicates the computer cursor icon, offering users a familiar point of interaction.
In an oversaturated market of streaming music services, Idagio has managed to carve out a niche for itself by focusing exclusively on classical music. The additional layer of live concert streaming allows listeners to have a varied and specialized experience. It targets a specific but enthusiastic audience that appreciates both timeless pieces of classical music and the technology that enables their performance.
Last.fm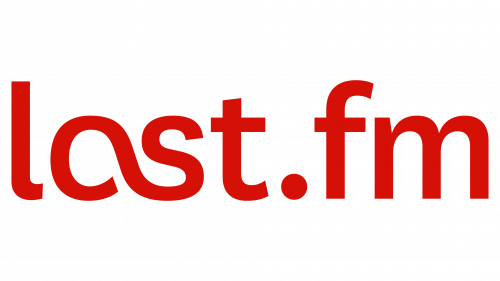 The music platform Last.fm, which became widely known in the late 2000s and early 2010s, continues to operate under the management of Paramount Global. While at one time, the number of subscribers to the service exceeded 20 million people, this figure is currently much lower.
Despite the drop in popularity, Last.fm offers a rich music catalog featuring well-known artists such as Taylor Swift and The Weeknd. This serves as a reminder that the platform was originally appealing as a source of information about various music genres and artists.
Last.fm's branding remains distinct and memorable. The main logo is the company name typed in italic font and highlighted in bold red on a black background on the website. This color scheme ensures high visibility and instant recognition, which contributes to the lasting impact of the logo.
There is also an alternative version of the logo that focuses on the letters "A" and "S" in the same font style as the main logo. The main difference is in the color scheme: the letters are white and set against a red background. This alternative logo variant is a simplified yet cohesive visual representation that is in line with the core branding elements.
The platform's decline in subscribers should not overshadow its contribution to the music streaming sector. Last.fm was one of the first to offer user statistics and personalized recommendations, laying the groundwork for features that are now standard in the industry. While Last.fm is no longer as dominant as it once was, it has left an indelible mark on the evolution of online music services.
LiveOne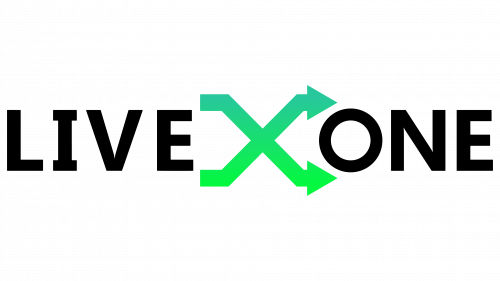 It was founded in 2007 under the name Slacker Radio; the platform, now known as LiveOne, underwent several transformations, including a name change to LiveXLive, before taking its current form. Over the years, the platform has distinguished itself by collaborating with high-profile artists such as Pitbull. These partnerships have enhanced the platform's reputation and contributed to its popularity among music lovers.
Unlike many other streaming services with a global reach, LiveOne has a more localized focus. The service is only available to residents of the United States and Canada. This geographical limitation sets it apart from many other streaming services. In addition to its music library, LiveOne provides access to a variety of live events, expanding its offerings to provide users with more than just on-demand music.
LiveOne's current branding includes a distinct and visually appealing logo. At the center of the logo is the letter "X," stylized as a shuffle key, which is often seen on other streaming platforms. The words "Live" and "One" are capitalized and can be either white or black, depending on the background on which they are displayed. The shuffle icon is in bright green, which adds color to the overall design.
With artist partnerships, limited geographic availability, event streaming capabilities, and compelling branding, LiveOne is uniquely positioned. It targets a specific audience and offers both specialized and broad capabilities.
Pandora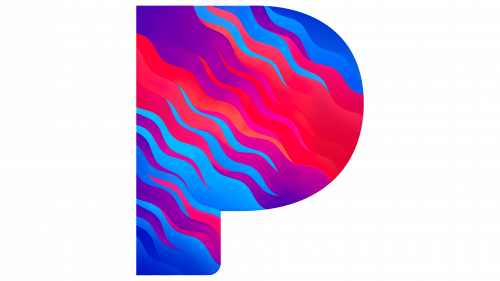 Originating in 2000 as Savage Beast Technologies, Pandora has since rebranded itself and established a strong foothold in the music streaming service industry. The company is headquartered in California, but it has other offices, indicating its national and potentially international reach.
When evaluating user metrics, Pandora boasts impressive numbers. The platform attracts more than 50 million active listeners. In 2021, approximately 6.4 million users were registered as paid subscribers. These statistics demonstrate the notable credibility of the platform, especially in the US, where its popularity is particularly high.
Visually, Pandora's branding elements are characterized by simplicity, aiming for instant recognition rather than complexity. The logo is basically a capital letter "P" set against a simple white background. The letter is rendered in blue and red colors, making it eye-catching. Historically, the logo has undergone several color modifications. Sometimes, the full name "Pandora" can be seen written in lowercase letters underneath the stylized "P."
Pandora offers an extensive library of tracks and radio stations to satisfy a wide range of musical preferences. Whether it's genre-specific stations or personalized playlists focused on specific artists or even a particular mood, Pandora strives to provide listeners with a personalized listening experience.
Qobuz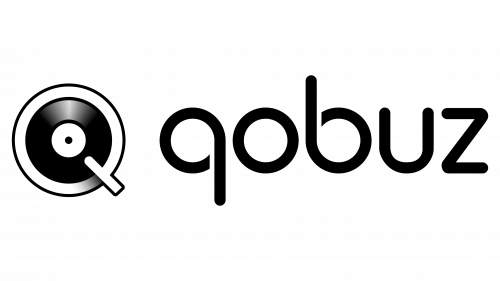 Founded in 2007, Qobuz is one of the pioneers in the music streaming industry. With a colossal library of over 70 million audio songs, the service is notable for offering 60 million songs in CD-quality audio resolution. This focus on high-quality audio sets Qobuz apart in a crowded market, especially for music lovers seeking a superior listening experience.
Qobuz demonstrates versatility by supporting various operating systems, such as Android and macOS. The service's geographical reach has expanded significantly since its launch in the US market in 2019. Other countries where the service is available include the UK, Netherlands, and Germany, indicating a growing global presence.
Qobuz's logo embodies a sense of minimalism. It features the company name written in lowercase letters with rounded edges and in a solid black color scheme. Next to the text, a distinctive element catches the eye: a design resembling a rotating CD shaped like the letter "Q." This visual component matches the emphasis of the platform and serves as a memorable branding element.
Qobuz allows users to listen to music through a web player or downloadable apps, increasing accessibility. There are several subscription tiers, each targeting a different audience segment. Some focus on standard audio streaming, while others focus on lossless audio streaming, which is ideal for listeners who care about sound quality.
Qobuz supports a variety of file formats, providing flexibility for users with specific requirements and preferences. From standard MP3 to FLAC (Free Lossless Audio Codec), the service allows users to listen to music in the format they prefer.
SoundCloud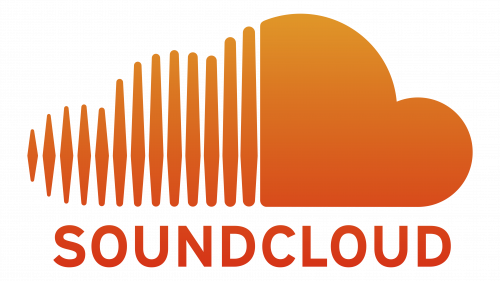 Founded in 2007 and based in Berlin, Germany, SoundCloud is a well-known music streaming platform. Officially launched a year later, the platform boasts an extensive user base of over 70 million monthly users. The platform was originally created as a place for music creators to upload and share their tracks and continues to fulfill that primary function. It is a hub for a wide range of music content that is notably absent on other major streaming services due to copyright restrictions.
The platform offers a flexible approach to user interaction with content. The free tier provides access to a large catalog of songs, which is ideal for casual listeners. For those looking to expand their experience, SoundCloud offers two paid tiers, SoundCloud Go and SoundCloud Go+. Each has its own features and benefits, ranging from a basic ad-supported version to an ad-free version with additional features. SoundCloud Go is the more economical option, while SoundCloud Go+ offers an expanded catalog and other premium features.
The SoundCloud brand is instantly recognizable, thanks in large part to its iconic logo. The SoundCloud logo is a cloud divided into two halves. One side is divided into many lines that reflect the essence of sound waves, while the other side is a solid block of color. This unique design is often found on an orange background. The name of the platform is sometimes accompanied by this visual element in capital letters to emphasize the brand.
Spotify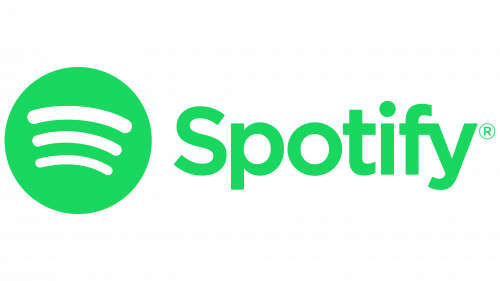 Spotify, founded in 2008, revolutionized music consumption and remains a dominant player in the streaming industry. The service has 489 million users in more than 100 countries, making it the leading platform for streaming music and podcasts. Of these, around 205 million users opt for a paid subscription, a testament to the platform's value proposition and customer loyalty.
Based in Stockholm, Sweden, the company maintains a global presence with employees spread across several countries, such as the UK, US, and Canada. Although the Swedish capital remains the center of operations, Spotify's international offices attest to its far-reaching influence and adaptability in the ever-evolving technology industry.
The platform is characterized by various features and services, one of the most notable among them being Spotify Wrapped, an annual survey that allows users to gain insight into their music listening habits. These annual reports have become a cultural phenomenon in their own right, sparking discussion on social media and even appearing in advertisements in major cities.
Spotify's logo is a bright green circle, a color not easily ignored, often contrasted with black or white variants. The three curved lines in the center of the circle faintly resemble the Wi-Fi symbol. This element of the logo symbolizes the ease of connectivity and accessibility of the platform for its users.
Next to the logo is the company name in a simple font. The color of the text varies depending on the background or context in which it is placed. The simplicity of Spotify's branding serves as an understated reminder of the platform's straightforward goal: to make millions of songs and podcasts easily accessible to people around the world.
Tidal

Tidal is another notable player among music streaming services, although its user base is arguably smaller than Spotify, Apple Music, Amazon Music, or YouTube Music. Founded in 2014, Tidal has an extensive library of more than 80 million songs and over 400,000 videos. Despite its impressive catalog, specific statistics on Tidal users are hard to come by. Estimates of its user base range widely from 1 million to 10 million subscribers.
Tidal offers two subscription plans: HiFi and HiFi Plus. What sets Tidal apart is its increased focus on sound quality. Both subscription tiers offer high-definition sound, but HiFi Plus has even higher-quality sound. Another aspect that distinguishes the higher tier subscriptions is the revenue-sharing model, which better rewards artists for their hard work.
The company's logo is four rhombuses forming the letter "T." Below this geometric figure is the word "Tidal" in a simple, elegant font. The monochromatic color scheme typically includes a black background with a white logo and text.
Despite its lower ranking compared to industry giants, Tidal is earning its unique place in the streaming market by emphasizing superior sound quality and fair compensation for artists. These elements resonate with a specific group of listeners who prioritize sound quality and ethical music consumption.
YouTube Music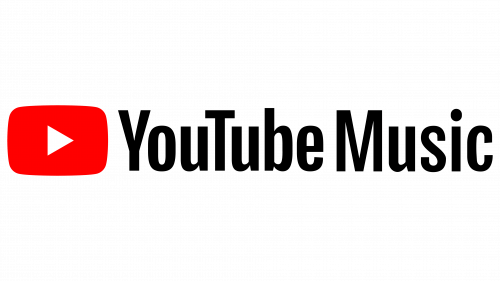 Launching five months after its rival Apple Music, YouTube Music has made a mark among music streaming platforms. Owned by Google, it has amassed more than 80 million monthly users, adding to YouTube's overall user base of two billion monthly active members. With more than 80 million songs, YouTube Music's catalog is similar to Apple Music and Spotify.
A unique aspect of YouTube Music is the integration of audio and video content. While Apple Music and Spotify focus primarily on audio, YouTube Music allows users to watch official music videos to enhance the experience. While Spotify does include videos, the visual content is mostly related to podcasts rather than music tracks. Another feature common to Spotify is the presence of song lyrics, which enhances the music experience.
The YouTube Music style echoes the parent brand, using the familiar red hue associated with YouTube. It incorporates the familiar play button but deviates slightly from it by enclosing it in a white circle. The background is a circle, not a square, as in the main YouTube icon. Next to the play icon is "Music" in a font that follows standard YouTube typography.
This circular design provides a distinct yet connected identity, subtly indicating YouTube's affiliation while highlighting its specialization in music. The white circle framing the play button can be interpreted as an emphasis on the service's core function of streaming music.
YouTube Music has emerged in a market dominated by established platforms, but it has found a way to carve out a niche for itself. It capitalizes on the strengths of its parent platform, YouTube, by offering unique features such as integrated official videos. Its diverse functionality and large user base make it a notable competitor to Apple Music and Spotify.
All of the most popular music platform logos
The diversity of music streaming platforms includes a wide range of music genres and the business models they follow. Some platforms, such as Idagio, have identified specific niches in the market, such as classical music, and targeted them specifically. Unlike broader platforms with multiple genres represented, these niche platforms focus on providing specialized experiences.
The financial structures of these platforms also differ, with some offering completely free services and others operating on a freemium model. In the freemium model, basic features are provided for free, while more advanced features or lack of advertising require a subscription fee.
The visual style of these platforms, embodied in their logos, plays an important role in attracting and retaining users. As cliché as it may sound, the aesthetic qualities of a logo can influence a user's decision to choose a platform.
Understanding the nuances of these platforms goes beyond knowing their names or the genres they offer. Each platform has unique benefits, whether it's Idagio's specialization in classical music or its wide selection of music. Some platforms even enhance the user experience by offering live streaming of events and concerts, creating a more immersive listening environment.
Choosing a music streaming platform depends on a variety of factors, including the range of music on offer, price points, and additional features. However, the appeal of a visually appealing logo that forms a first impression and serves as a brand identifier cannot be underestimated. As such, the logo becomes an integral part of the overall user experience, often acting as an entry point into the platform itself.
Navigating through the vast number of music streaming options available reveals not only the big players in the industry but also lesser-known services that offer unique features or cater to specific tastes. This comprehensive understanding of the market enriches listener choice and expands the range of available music experiences. Casual listeners and music fans are offered a variety of options to meet different musical needs and preferences.