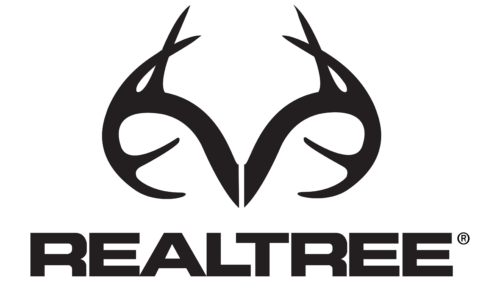 Realtree Logo PNG
Realtree's logo can be called camouflage because it has many hidden elements. For example, deer antlers, fishing hooks, steel ice axes, sturdy harpoons, climbing hooks, and powerful dredges. In general, the emblem's focus is clear – fishing and hunting, which confirms the company's activities that it represents, as it manufactures camouflage.
| | |
| --- | --- |
| Founded: | 1986 |
| Founder: | Bill Jordan |
| Headquarters: | Columbus, California, U.S. |
| Website: | realtree.com |
Realtree is an American brand associated with hunting and fishing. It offers various specialized services, including camouflage clothing for anglers and hunters. Its founder is Bill Jordan. The brand appeared in 1986. The headquarters is located in Columbus, California.
Meaning and History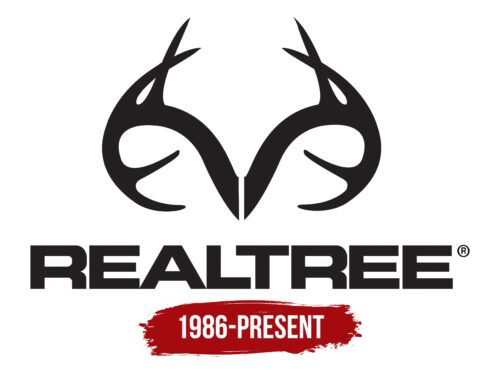 To support those who are passionate about hunting, fishing, often going out into nature, and leading an active lifestyle, Bill Jordan decided to establish an individual brand. But first, he opened the company Spartan Archery Products and only then became interested in camouflage patterns, which he improved every day. He not only developed them but revolutionized them by using modern techniques, including computer-based ones.
Eventually, this passion turned into the work of his entire life – or, more precisely, into a business. It all started with a clever marketing move. The fact is that before opening the company, Bill simply drew camouflage. He depicted it in various forms, striving for a three-dimensional effect. Having achieved the desired pattern, the entrepreneur contacted manufacturers who transferred it to the fabric. Then, seamstresses sewed hunting clothes.
The innovator photographed each model and sent samples to potential buyers. And one day, they demanded such suits for themselves. But Jordan didn't have them, which served as a reason for the speedy opening of another trademark. And since he adheres to the principle of constancy, there is only one logo in its history.
What is Realtree?

Realtree is an American trademark from Columbus, California. It offers clothing and accessories for extreme leisure enthusiasts. In particular, the company is engaged in sewing various camouflages for hunting and fishing. The brand's founder is Bill Jordan, who created it in 1986.

The designer wanted to combine all types of activities related to his clothing in the Realtree emblem. Fishing, hunting, outdoor recreation, extreme sports, and an active lifestyle are just some of them. They are abstractly reflected in the unusual logo. So, at a cursory glance, the icon looks like a complex construction of curved lines.
However, the DNA of freedom and independence from external circumstances is encoded in them. In the original interweavings, you can see both small fishing hooks and massive climbing hooks. Additionally, deer antlers and harpoon tips are clearly visible.
The brand name is placed below and is set in a strict font. The letters are powerful, uppercase, bold, and smooth. The inscription occupies one line and is centered. The legs of the glyphs have 90-degree angles, while curves are found only in the two "R"s. As a result, a business inscription is obtained – strict and clear.
Since 1986, the Realtree logo has remained unchanged. In terms of shape and design, it corresponds to the camouflage theme, as it "hides" several objects reflecting the company's core concept.
Font and Colors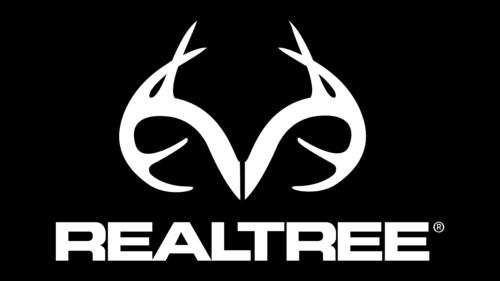 The inscription in the emblem is made in a typeface that resembles two types of fonts. One is the free Grammara Normal (designed by Thomas E. Harvey), and the other is the commercial MicroSquare Bold Extended (from FontSite Inc.). Despite the camouflage theme to which the company's activity is dedicated, the logo is monochrome. It consists of two colors: black and white.
Realtree color codes
Raisin Black

Hex color:
#231f20
RGB:
35 31 32
CMYK:
0 11 9 86
Pantone:
PMS Neutral Black C