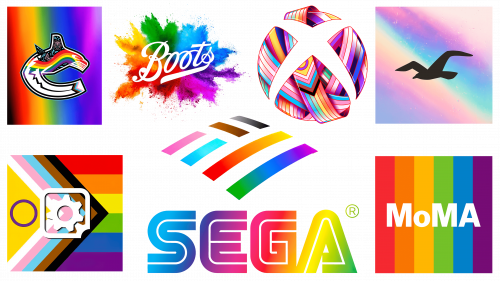 In the ever-changing world of branding and corporate imagery, 2023 marked a distinct shift in the approach of many companies toward their Pride logos. The year's evaluation of these logos revealed a variety of engagements and commitments from different brands, some genuinely supportive and others seemingly more reserved.
Historically, as June rolled around each year, businesses worldwide would enthusiastically drape themselves in the vibrant hues of the Pride rainbow, a visual testament to their support for the LGBTQIA+ community. This phenomenon, often dubbed "rainbow capitalism," gained momentum rapidly, with companies vying to demonstrate their inclusivity and allyship.
However, 2023 presented a divergent picture. Many brands, which eagerly displayed their alignment with the LGBTQIA+ causes in the past, appeared to be more muted in their celebrations. This diminished enthusiasm may be attributed to the increasing societal pressures and challenging political climates. Brands such as Target and Bud Light, once lauded for their robust Pride campaigns, faced backlash, signaling to other companies the potential risks of overt support.
Yet, this changing tide has also unearthed brands whose commitment to the LGBTQIA+ community transcends fleeting trends. Amid the shifting branding landscape, several companies have emerged, their logos shining brightly, embodying genuine allyship. These brands understand that authentic support is more profound than just a temporary logo change; it's a deep-seated company value reflected in actions, initiatives, and policies.
In this mixed bag of corporate responses, our focus for 2023 was to shed light on those brands that didn't just stop at symbolic gestures. They moved beyond simply overlaying their logos with a rainbow filter. Instead, they integrated their support into their core brand philosophy, investing in programs and initiatives to make a tangible difference in the lives of LGBTQIA+ individuals.
While 2023 might have been a more challenging year for Pride logos, it also offered a clearer picture of brands' true stances, allowing consumers to discern genuine allies from mere participants in a marketing trend.
Hollister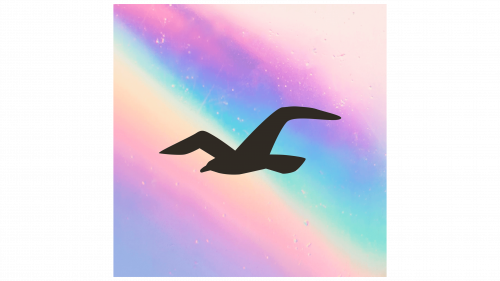 In June, Hollister differentiated itself with a subtle pastel version of the Pride flag colors. The understated white patterns beneath the colors add an abstract touch reminiscent of either twinkling stars or possibly imperfections on a vintage film reel. Instead of plastering their name prominently, Hollister smartly leaned on their recognizable bird emblem to convey brand identity.
Diving deeper into their support for the LGBTQIA+ community, Hollister launched a unique Pride collection in partnership with GLSEN, an esteemed organization championing the cause of fostering safe and welcoming educational environments for LGBTQIA+ students. To further underscore their commitment, Hollister announced a generous donation of $250,000 to GLSEN, an amount fixed irrespective of the sales generated from their special collection. At a time when debates rage around the well-being of LGBTQIA+ students, Hollister's initiative to back an education-focused entity like GLSEN speaks volumes about its authentic alignment with the cause. A commendable move indeed.
Bank of America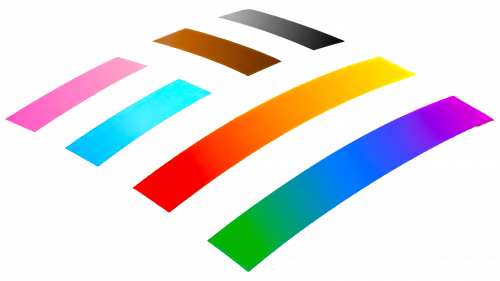 Those with flag-like logos might have an inherent advantage in the realm of brand representation during Pride month. Take, for instance, Bank of America, which elegantly incorporated the vibrant hues of the Pride flag into its logo. A particularly striking design choice is the clever use of negative space in the top-left square, mirroring the trans flag's white stripe. This is reminiscent of the logo's traditional design that reflects the white stripes of the American flag.
Historically, Bank of America has not only visually shown support but has also taken substantive measures to ensure inclusivity. The institution initiated the 'LGBTQ+ Pride Ally Program,' a move to inspire its vast employee base toward fostering a culture of allyship. The bank introduced Unconscious Bias training sessions to further this initiative and ensure a prejudice-free workplace. Their collaboration with 'Love Has No Labels' also emphasizes their commitment to promoting acceptance and understanding for the LGBTQIA+ community. Such consistent efforts toward diversity and inclusion have not gone unnoticed. The bank has been recognized and lauded by various entities. For instance, it secured a spot in the top 100 workplaces emphasizing diversity, curated by notable platforms like Fortune magazine and the Great Place to Work Institute. Moreover, the National LGBT Chamber of Commerce honored Bank of America with the prestigious Corporation of the Year title in 2020, further solidifying its stature as a forward-thinking institution.
SEGA
The renowned video game enterprise, SEGA, has created a refreshing Pride month design. A standout feature of this design is incorporating SEGA's signature cobalt blue hue, seamlessly transitioning into the Pride rainbow's diverse shades, creating a harmonious visual blend.
Over the years, SEGA has become a proactive participant during Pride Month. It's commendable to observe their continuous endeavors to champion queer causes. In the past, their commitment has translated into tangible actions, such as hosting fundraisers. Notably, a previous collaboration with Twitch successfully raised a sum exceeding £18,000, all of which went to Mermaids, a charity that advocates for transgender rights and issues. Per the latest updates from SEGA's official social media channels, they're gearing up for another fundraising event in honor of Pride Month. Although the exact beneficiary, an LGBTQIA+ charity, is yet to be announced, SEGA's track record suggests the initiative will undoubtedly create a significant positive impact.
Xbox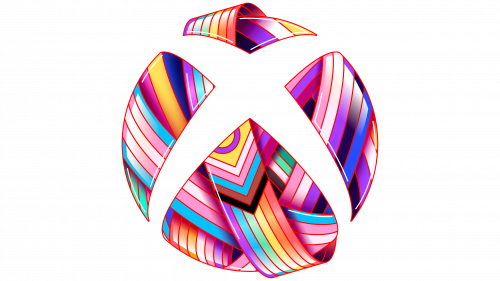 The vibrant Xbox logo takes center stage with a pride theme in the video game industry. The 'X,' created as a blank space, allows the design to use a broad color spectrum without losing its readability. This striking use of every shade in the rainbow is a bold design choice.
Xbox's commitment to LGBTQIA+ initiatives extends beyond temporary logo changes. Though the Pride-inspired design was featured on their social media for only three days before transitioning to a Diablo IV theme, the company's dedication to the cause is evident in other ways. Xbox announced a long-term collaboration with GLAAD to enhance queer representation in its future first-party games. As stated by Pav Bhardwaj, Chief of Staff of Xbox Marketing, the goal is to diversify representation, whether that means introducing more LGBTQIA+ characters, integrating story arcs with LGBTQIA+ themes, or constructing in-game worlds that resonate with LGBTQIA+ players.
Vancouver Canucks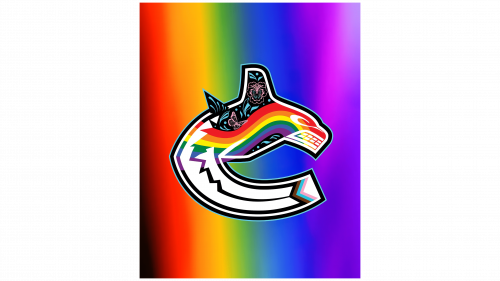 The Vancouver Canucks, a renowned ice hockey team, have unveiled a vibrant rendition of their logo. While the static image provides a glimpse into its essence, its full impact truly comes to life when seen in motion.
The dynamic redesign of this metropolitan ice hockey team's logo stands out, signaling the team's continuous commitment to the LGBTQIA+ community. Historically, the Canucks have showcased their support through various initiatives. Notably, the team organizes an annual' Pride Game'. The most recent match was held against the Calgary Flames at the close of March and was not just about the sport. The event was enriched with various entertainment, from drag performances to showcases by LGBTQIA+ artists. Furthermore, the Canucks made a significant financial contribution to QMUNITY, a recognized LGBTQIA+ hub in Vancouver, underlining their commitment to creating inclusive and supportive environments.
Gearbox Entertainment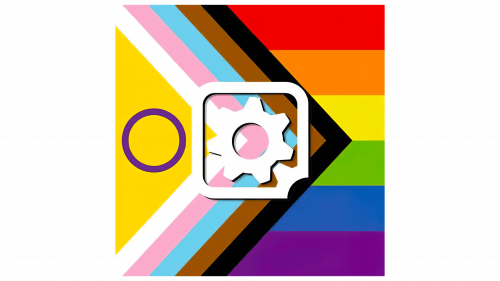 In the gaming industry, Gearbox stands out as the force behind famed titles like the Borderlands series, Godfall, and Tribes of Midgard. The company unveiled a distinctive logo for Pride, skillfully integrating elements reminiscent of their traditional gear insignia with the continuous circle symbolic of the intersex flag. This inclusion is notable, as such details are often overlooked in many Pride-themed interpretations.
Located in Texas, Gearbox has not shied away from voicing concerns over controversial anti-trans policies advocated by the state's leadership. In addition to its vocal stance on social issues, the brand's commitment to inclusivity also extends to its products. Notably, the Borderlands series has gained recognition from entities like GLAAD and the Gayming Awards for its commendable portrayal of LGBTQIA+ characters and themes.
Boots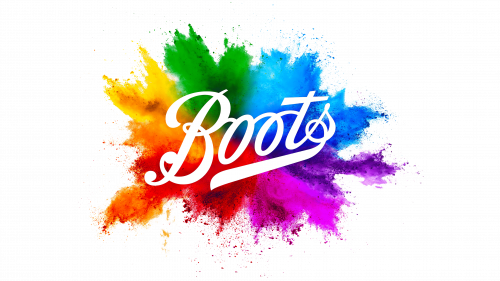 Within the UK's health and beauty retail landscape, Boots stands prominently. For Pride, the company opted for a vibrant paint-splash design reminiscent of the colors and energy of the celebration. This vivid design choice is similar to the limited-edition eyeshadow palette featured in Boots' Pride collection for the year.
Historically, Boots has demonstrated commitment to the LGBTQIA+ community. The company sponsors the local Pride event in Nottingham, its hometown. Furthermore, Boots' Pride Alliance Business Resource Group garnered attention and was among the nominees at the British Diversity Awards, highlighting its dedicated efforts to amplify LGBTQIA+ issues and awareness.
MoMA: The Museum of Modern Art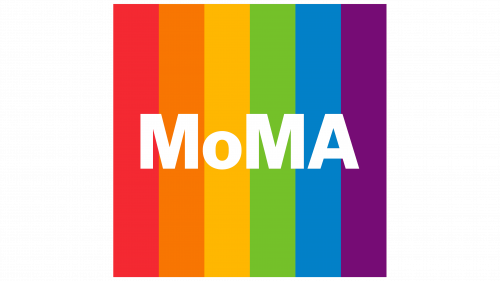 As the world of art and design witnesses countless variations and renditions of logos during Pride celebrations, one that stands out comes from MoMA. While most tend to opt for the typical rainbow design, MoMA's rendition brings an element of sophistication with its matte finish, evoking a vintage charm reminiscent of the 1970s. Its subtle elegance is hard to overlook.
MoMA's association with the LGBTQIA+ community runs deeper than just a logo redesign for Pride month. A significant piece of queer history is preserved within its walls – the original rainbow flag crafted by artist Gilbert Baker in 1978. This iconic flag represents the community and has become a universal symbol of unity, hope, and diversity. The flag's global resonance and its journey from its inception to becoming a universally recognized emblem serve as a testament to its significance and timeless message.