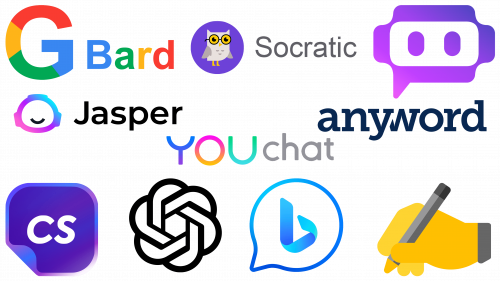 The digital world isn't stagnant: it actively develops, increasingly resembling human capabilities with each step. That's why artificial intelligence, which can analyze, draw, compose, write, and answer questions, is now a hot topic.
What is a Chatbot?
Simply put, it's an automatic virtual conversation partner that answers users' questions or asks them to determine customer needs. Communication can be either voice or written. The program communicates on behalf of a brand or company, saving employees' time and simplifying online interaction, as inquirers promptly receive the most up-to-date information:
about the availability/unavailability of products;

the number of goods;

store operating hours;

about fresh arrivals;

about flights;

about delivery conditions, etc.
Therefore, a modern chatbot is a convenient marketing tool alternative to a call or correspondence with a real operator. This conversational program easily integrates into various messengers, so over half the companies worldwide choose it.
Today, these useful tools are used in everyday life and economics, science, medicine, and other fields. They are developing so rapidly that they are integrated into artificial intelligence, conversing with users in real-time on any topic of interest.
How Chatbots Work?
Such applications work with live conversational language. Like any AI, they have a certain base. The simplest basis of a virtual interlocutor is standard sets of answers to the most common user questions. Moreover, it responds to several factors:
to keywords, to ask a clarifying question;

to phrase matches and the order of words in them;

to context similarity (match in content).
However, simple chatbots have a slight problem: they do not identify synonyms well enough and are poor at determining word forms. This situation turned out to be not a deadlock, so with the active implementation of artificial intelligence in cyberspace, more knowledgeable programs appeared.
Types of Modern Chatbots
Progressive applications are built on a different principle of interaction. They are self-learning. Although this is machine learning, this method is highly effective, as chatbots adapt to the conversational style, vocabulary, and phrase structure. In turn, such virtual interlocutors are of two types:
Search-based (search for an answer in a library of predefined replicas, select information from previous messages, use information from a thread of a previously held dialogue);

Generative (create responses themselves, studying each word in user queries, which makes them intellectual systems).
There are now many such programs in every sphere of human activity. We decided to analyze the most famous chatbots' technical capabilities and advantages and discuss their logos. The list is arranged alphabetically.
Anyword
Anyword is a chatbot related to text content. It's an AI-based writing assistant. Its primary purpose is to promote companies, brands, and products. It became the world's first platform for language optimization, creating emails, social media messages, product lists, landing pages, ads, and SMS. Its logo looks simple but elegant. It consists of the name, executed in bold lowercase letters. The letters are styled with large serifs. Between "y" and "w," there is a diagonal space, so it seems that the first part of the word overlaps the second, slightly overlapping the neighboring letter.
anyword.com
Bard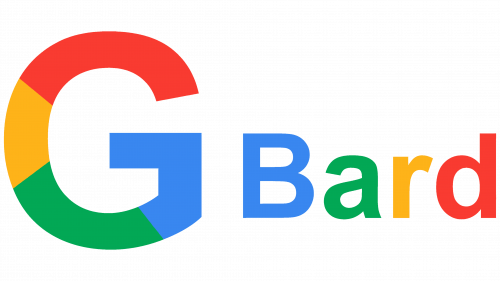 Bard is a generative type dialogue chatbot launched in 2023. It is an artificial intelligence from Google developed in response to OpenAI's ChatGPT. Its base is LaMDA and PaLM LLM (a family of large language models). The Bard emblem is executed in the brand colors of the parent company's (Google) visual identity: red, yellow, blue, and green. The name of the virtual interlocutor is painted in the same palette – each letter in an individual color. In front of the inscription is a colorful "G," divided into four fragments. It has a simple geometric shape, like the other logos of this brand.
bard.google.com
Bing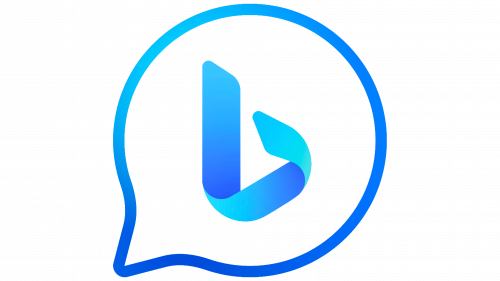 Bing is a Microsoft application that successfully competes with more advanced chatbots. Bing logo is bold and cool because it looks very stylish. The base is the first character from the name – lowercase "b." The glyph is three-dimensional and resembles a wide ribbon folded like a "v" with a right-hand tail. The edges of the letter are soft, the transitions are smooth, and the ends are rounded. There are also shadows, thanks to which the bent areas are visible. Unlike its related search engine, the chatbot got a logo with a dialogue bubble into which the designers placed the iconic sign. The ring is also painted blue with a gradient.
ChatGPT

ChatGPT is the most talked-about, and most demanded AI-based chatbot. It appeared in 2022, created by OpenAI, and gave impetus to the activation of the production of virtual interlocutors of all types. ChatGPT logo is as extraordinary as it is. The graphic sign looks like a wreath or whirl of a strict geometric shape. It consists of six identical figures forming a miniature hexagon in negative space. The emblem contains both rounded lines and angles harmoniously combined.
chat.openai.com
ChatSonic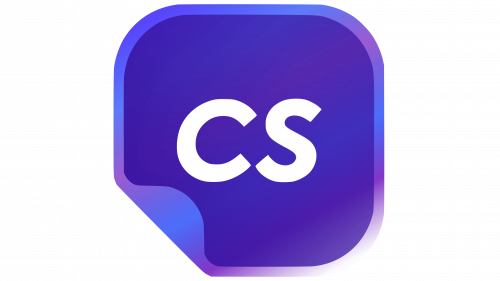 ChatSonic is another modern AI chatbot. It has a dual function: textual and graphical. Therefore, in addition to generating verbal content, it can also create original images using instructions entered by users. Its developer is Writesonic. The logo is bright and colorful, executed in a purple gradient with a hint of blue and pink. In the center of the square with rounded corners is the abbreviation "CS." To highlight the accessibility of the virtual program, designers chose a balanced font – simple, choppy, smooth, with light italics. The lower left corner of the geometric sign is elegantly bent.
chatsonic.pro
Jasper
Jasper is an artificial intelligence-based program for creating text content and online communication. It can maintain a narrative line, refer to previous user statements, compose poems, tell jokes, write scripts and parodies, and much more. Moreover, the chatbot speaks 29 languages. The logo perfectly reflects its sociability, as it looks like a person's head who is smiling amiably. On top and the sides of the circular contour are small protrusions as if they were ears and hair gathered in a hairstyle. The ring is painted purple with a gradient transition to blue. On the right is a strict black inscription, executed in bold font.
www.jasper.ai
POE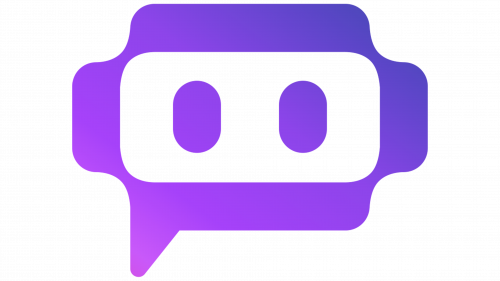 POE is an application for communicating with chatbots. It's a novelty from Quora, launched in 2022. It helps users quickly get responses from overloaded virtual interlocutors based on LLMs (large language models), including ChatGPT and GPT-4. The program allows for creating their chatbots and communicating freely. Its logo also repeats the outlines of a head with protrusions at the top, bottom, and sides. In the center of the rectangle with rounded corners are improvised eyes – two vertical ovals of small shape. On the left is a stretched angle, as if from a dialog box. The emblem is painted in lavender.
poe.com
Rytr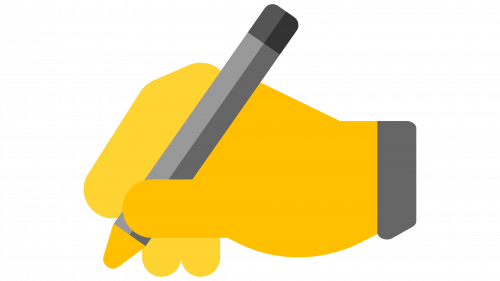 Rytr is a chatbot for creating content in streaming mode. This can be blog articles, optimized texts, comments on social networks, emails, and more. The interlocutor program reports its purpose through a logo in the form of a writing hand. It is painted in two shades of yellow and holds a gray pencil. This emblem reminds of a smiley from the classic set of additional elements related to various gestures. Only in this case the image is large.
rytr.me
Socratic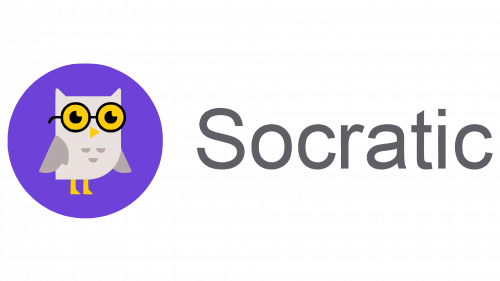 Socratic is an app built upon artificial intelligence to aid students in easily digesting complex material. This virtual conversationalist answers questions succinctly and provides comprehensive responses on various topics. The program's logo is friendly and pleasant, symbolizing the energy of knowledge, the desire to learn something new, and the pursuit of wisdom. Hence, the basis of the identity is an owl wearing glasses, drawn in profile, and gazing intently at users. Its eyes are large and yellow, with small black pupils. The bird is enclosed in a purple circle. You'll find the chatbot's name in a delicate sans-serif font to the right of the circle.
socratic.org
YouChat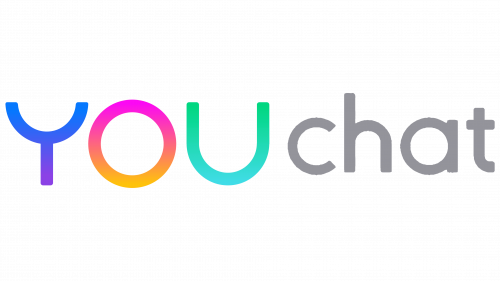 YouChat is a generative search assistant from You.com, powered by artificial intelligence. It can compose emails, extract excerpts from the text (summarize), translate, explain the material, answer general questions, generate ideas, and even write code. The program relies on a natural language lexicon, making it an excellent conversational partner that's easy for anyone to understand. The emblem of this virtual app consists of its name. The first part is colorful and bright, while the second is restrained and business-like. Each letter in the word "You" is unique, as it has its color: blue, pinkish-yellow, and azure with a gradient. The second part of the inscription is written in lowercase block letters and colored gray.
you.com