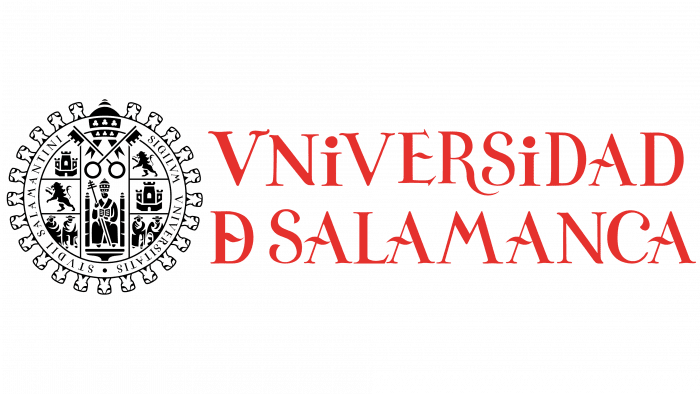 USAL Logo PNG
| | |
| --- | --- |
| Founded: | 1218 |
| Headquarters: | Salamanca, Castile and León, Spain |
| Website: | usal.es |
| Logo downloads: | |
USAL or Universidad de Salamanca is the oldest university in Spain. The year of its foundation is 1218th. It is created by decree of King Alfonso IX de Leon, who adhered to the country's principles of wide enlightenment. The university has still retained its original specialization, expanding to 26 faculties and 12 research centers. Today its buildings are located in Salamanca, Avila, Zamora, Bejar, and Villamayor.
Meaning and History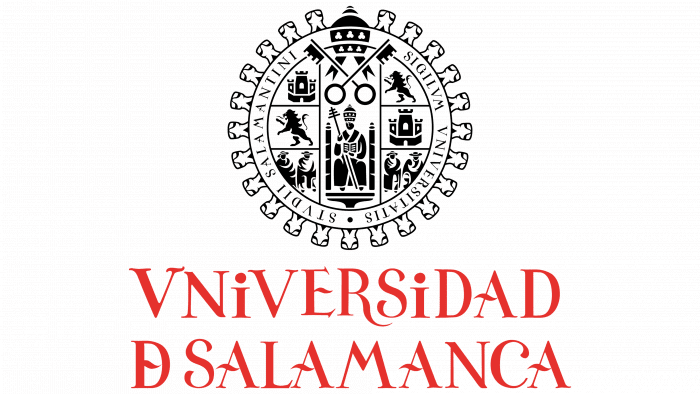 Ranked among the oldest universities globally, USAL is distinguished by an impressive emblem, which consists of a name in a special typeface and an impressive round shield. An authentic logo is the university's name, located in two tiers: the first – "Universidad," the second – "D Salamanca." Both words are individually printed in red.
Compositionally, they are conceived so that the initial letter meaning "U" is interpreted as the Roman number "V." Another striking feature is the presence of two miniature lowercase "i" s among the uppercase letters. They effectively stand out from the rest, adding originality to the emblem.
The next nuance is an elongated wavy crossbar for all the "A" symbols. Such a graphic technique is played very interestingly because, in a nutshell, there are several of these letters. The "D" has a similar element.
In 2018, for the university's 800th anniversary, a festive sign was developed, which was used for a limited time – only in the anniversary year. It was named "USAL 800 Year Seal" and is used on special occasions. Reflects the connection between the traditions of the university and the future. Its author is Miquel Barcelo.
The logo depicts the abbreviation "USAL" in the form of two dragons, emphasizing the university's affiliation to ancient times. Below them is the inscription "800 anos", and even lower – "1218-2018". Moreover, this sign exists in several versions.
Font and Colors of the Emblem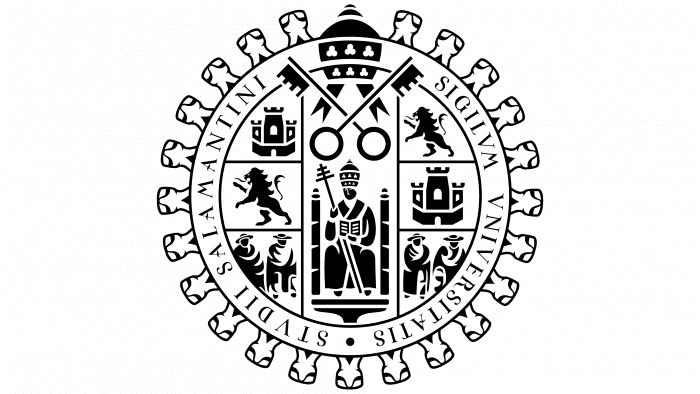 The logo is based on ancient symbols around the knight's shield surrounded by ancient fortress walls' battlements. It is divided into several parts: one central one, which depicts the king sitting on a throne, and six sides (right and left), depicting lions, subjects, and castles. Above them are two crossed keys and a crown, as a direct confirmation of the monarchy's connection. Around the graphic elements is the phrase "SIGILVM VNIVERSITATIS STVDII SALAMANTINI" in uppercase.
For the inscription, the designers used two fonts: Gloss Drop and the corporate Helvetic Neue. They also wrote the university's motto in Spanish, "Deciamos ayer y diremos mañana," which is present in some versions.
The modern color of the graphic sign is silver-gray, but it was once copper-brown. In addition to them, the corporate palette includes yellow, blue, orange (early versions), and red (appeared later).
USAL color codes
Cinnabar

Hex color:
#e5312d
RGB:
229 49 45
CMYK:
0 79 80 10
Pantone:
PMS Bright Red C
Black

Hex color:
#000000
RGB:
0 0 0
CMYK:
0 0 0 100
Pantone:
PMS Process Black C