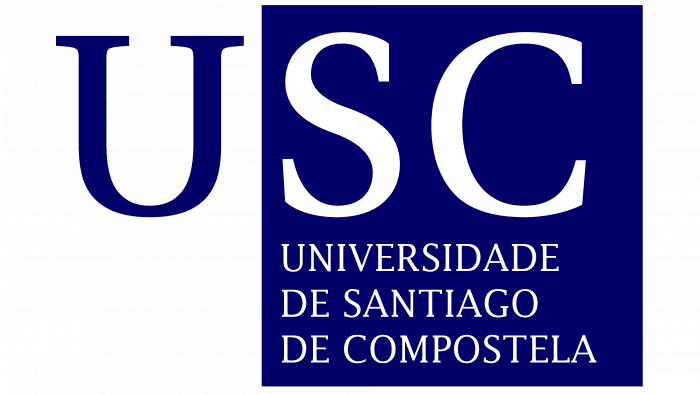 USC is the oldest Spanish university, founded in 1495. Its creator is Lope Gomez de Marzoa. Location – the city of Santiago de Compostela, province of Galicia. It is a state structure. It is included in the TOP-5 universities of the country and the oldest universities in the world. Teaches students at 19 faculties. In 1504, Pope Julius II granted it the status of a church institution, but in 1555, Cardinal Juan Alvarez de Toledo abolished the religious direction.
Meaning and History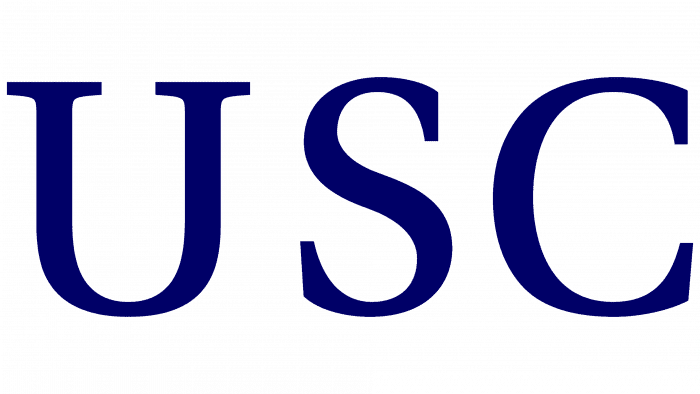 This higher educational institution's symbolism is based on the name – Universidade de Santiago de Compostela, abbreviated to an abbreviation. Graphic identification is associated with local symbols. First, the university received the coat of arms of Galicia as an emblem. This is a shield with six elements: images of a lion, castle, goblet, Templar cross, and other important elements.
The central part is surrounded by a line with an ornament, at the top of which there is a monarchical crown as a symbol of power. This is followed by a wide, closed ring with the inscription "Sigillium reg universitat compostellan." The legendary phrase is in serif capital letters and outlined with a thin line. The logo looks like a print and is painted in white and cobalt colors. Later, the designers supplemented it with the abbreviation USC.
The abbreviated name has been in use for many years, but it was only recognized as the official symbol of the university. Thus, the university's modern identification consists of three components:
The word "USC."

A graphic sign with a coat of arms in a dark blue or black square

The phrase "Universidade de Santiago de Compostela"
Font and Colors of the Emblem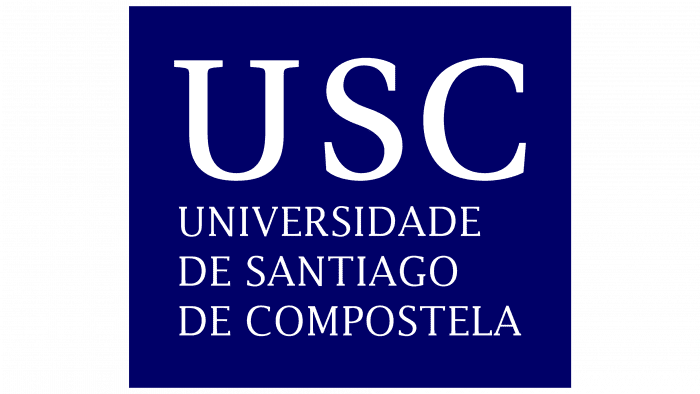 The abbreviation is now the reference element. Moreover, it means not only the name of the university. "SC" conveys two concepts at once: "Sociedad Conocimiento" and "Santiago de Compostela" (the name of the city in which the university is located and its social status). That is why the symbols are placed in a separate square. There is a "U" sign outside of it. It gives the logo modernity and dynamics.
Inside the geometric figure is written the detailed name of the educational institution, divided into three tiers. Upper – "Universidade", middle – "De Santiago", lower – "De Compostela". All words are in capital letters.
For the abbreviation "USC," the developers used the Utopia font. It is a balanced typeface, rounded, streamlined, and serif. The letters are in upper case, which gives the inscriptions a personal uniqueness.
The university's full name, "Universidade de Santiago de Compostela," is made in Lucida font. Due to the variety of types, it balances between modernity and avant-garde. Emphasizes its severity the high status of the educational institution and expresses its individuality.
The university logo's original colors are blue (symbol of continuity, consistency, continuity) and white Pantone. In some cases, cobalt and black are used.