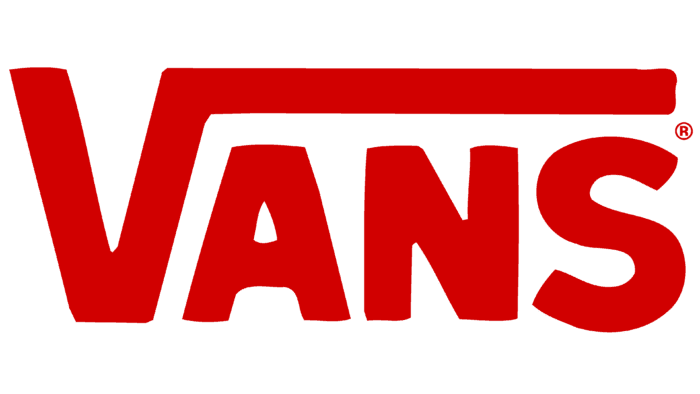 Vans is a famous California-based company that manufactures sports shoes and clothing. It appeared in 1966 when Gordon C. Lee, James Van Doren, and Paul Van Doren opened a small shoe store. They also managed the factory and were fully responsible for the production process. Since 2004, Vans has been owned by the large enterprise VF Corporation.
Meaning and History

This brand is widely known among young people and athletes. And all because he was originally aimed at those who lead an active lifestyle – first of all, at skateboarders. Even his first logo first appeared on a skateboard, and only then they began to depict it on shoes.
1966
The Vans debut logo was invented by 13-year-old Mark Van Doren, the son of one of the founders. He made a stencil to spray paint on skateboards. James Van Doren immediately noticed this graphic sign and placed it on the heel of the Style 95 sneaker. Then the owner of the company decided to engage in the manufacture of skateboarding shoes seriously.
The logo contains the inscription "Vans," which looks unusual due to the long horizontal line above "A," "N," and "S." The line starts from the top point "V," because of which the letter resembles the mathematical sign of the root. This is an important aspect of design, which has become the main element of visual brand identity.
2016
In 2016, the developers made the word "Vans" red. The bright color symbolizes joy, energy, and passion. The white background conveys aesthetic purity and sophistication. The red and white palette is diluted with the black inscription "Off the Wall," located underneath.
The history of its appearance goes back to the mid-1970s. California skateboarders Tony Alva and Stacy Peralta discussed in Jeff Ho Surfboards and Zephyr Productions store how they rode in an empty pool. Tony boasted that he had managed to turn onto a wall and fly into the air. And then the admiring Skip Engblom exclaimed: "Man, you just went off the wall."
Vans owners have decided to perpetuate a catchy phrase in their logo. At first, she was depicted against a small skateboard that looked like a tortoiseshell. For this picture, they nicknamed it – "turtle." A little later, the word "Vans," styled by Van Doren even earlier, was added to the phrase "Off the Wall." The combined trademark was used only on skateboarding shoes. All other things were decorated with an emblem with the name of the company.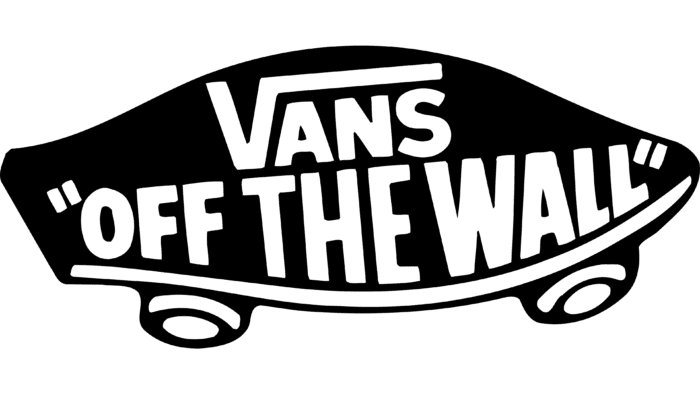 In 2016, designers revised the old design by removing the skateboard and leaving the verbal part. But if at first the inscriptions were uneven, now the font is strictly unified: all letters are uppercase and symmetrical. The dashes are the same in width and length. No serifs at the edges: most lines end at right angles.