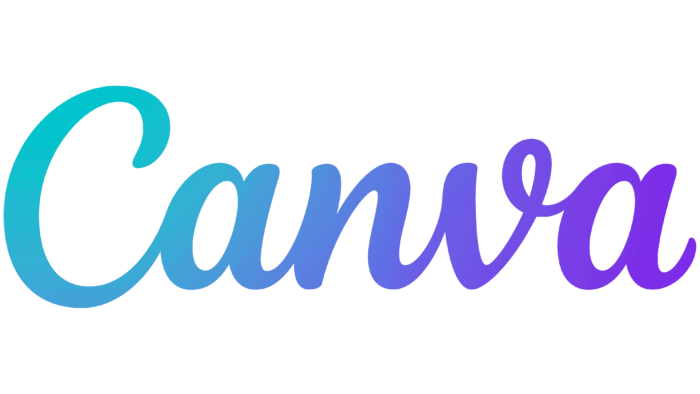 Canva Logo PNG
The Canva logo looks like the result of this graphic service. At first glance, it looks simple because it consists of standard elements. But the designers used unusual design techniques, so the emblem turned out to be festively optimistic.
| | |
| --- | --- |
| Founded: | 2013 |
| Founder: | Melanie Perkins, Clifford Obrecht, Cameron Adams |
| Headquarters: | Sydney, Australia |
| Website: | canva.com |
Canva application (Canvas) is a cross-platform graphics service that allows you to create complex, unique graphic objects – fonts, logos, icons, images – based on a library of ready-made elements and templates and stock photos. The service is available to all Internet users, including, since 2017, there is a Russian-language version, since 2018 – a mobile application for Android and a library of templates for schools in Russian.
Meaning and History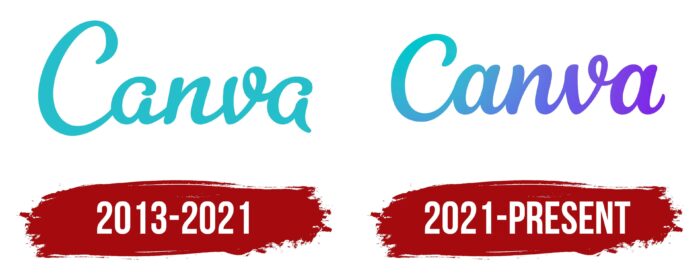 The company was established on 01.01.2012 by graphic designer Melanie Perkins in Sydney, Australia. Within two years, 150 thousand users regularly used new online graphic design opportunities, creating logos, labels, pictures for the Internet. In 2014, Guy Kawasaki, a cult expert on social media and technology, joined the project. By 2019, the service's capitalization reached $ 1 billion, the company's staff is less than 200 people, working in three offices – in Sydney, Milan, and Beijing.
Since 2019, the service can create avatars for Instagram and other social networks based on your photos and pictures.
According to founder Melanie Perkins, the company started with an idea. The second step was to create a logo that was supposed to be different from others, be well remembered, and carry a deep meaning.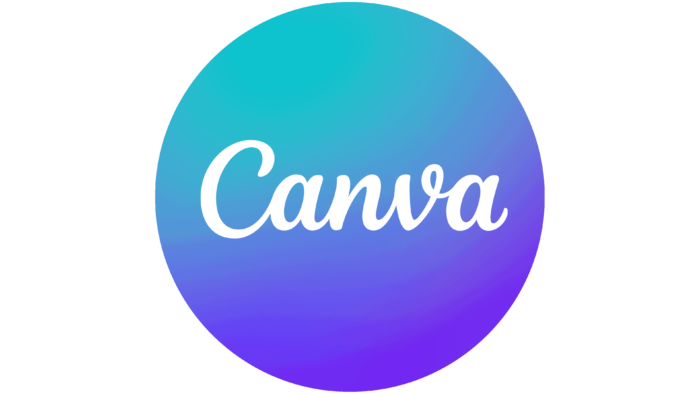 Canva's name is of French origin and stands for the foundation of something. In Russian, a canvas is a fabric for embroidery placed in a round hoop for stretching.
The sign's idea was born by itself: the base is a perfect circle of bright turquoise color, on which the name Canva looks like in white ligature. The round shape also denotes excellence and emphasizes the company's core values ​​: accessibility, loyalty, integrity, and creativity.
What is Canva?

Canva is a cross-platform graphic design service. It is a working environment where you can create your logos using the drag-and-drop method. The base is changeable templates and fonts. The service has been operating since 2012.
2013 – 2021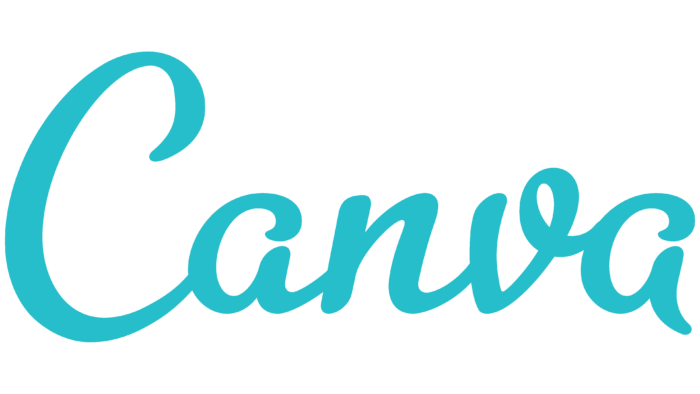 The Australian online graphics platform was launched in 2013. It was called Canva and had a logo that contained the corresponding inscription. It was a blue-green handwritten word mark. Designers depicted elegant letters, connecting them. Only the first "C" was in the upper case, slightly shifted down, protruding beyond the conditional border. The same shift was observed in the last "a": its tail was directed to the lower left corner. The developers tried to balance the asymmetry by making it two-sided.
Despite the rather wide lines, the logo looked sophisticated. And all thanks to the decorative elements that adorned the glyphs. We are talking about a drop-shaped loop at the lowercase "v" and an unusual twisted stroke at the top of both "a."
2021 – today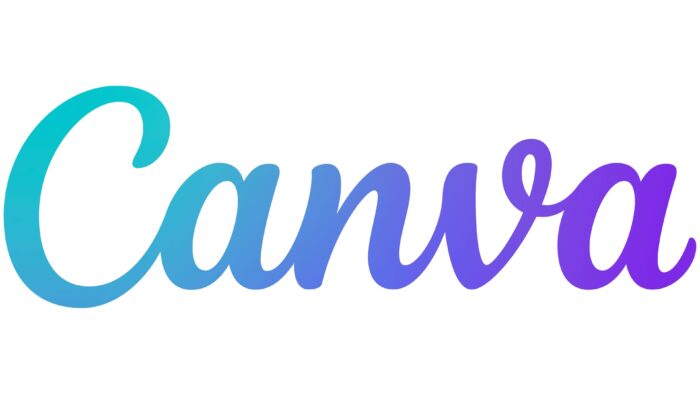 In 2021, Canva decided to update its old logo with its team of specialists. She also hired a lettering artist, Rob Clarke, to make the work productive. As a result of this collaboration, the wordmark became more dynamic because the designers used a gradient: a transition from light blue in the upper left corner to bright purple on the right side.
The font was also changed, although the cursive style was preserved. The letters are now cleaner. Both "a"s look the same: they're classic glyphs without the swirls and open lines that they used to have. The capital "C" is reduced, although it is still large compared to lowercase characters.
Font and Colors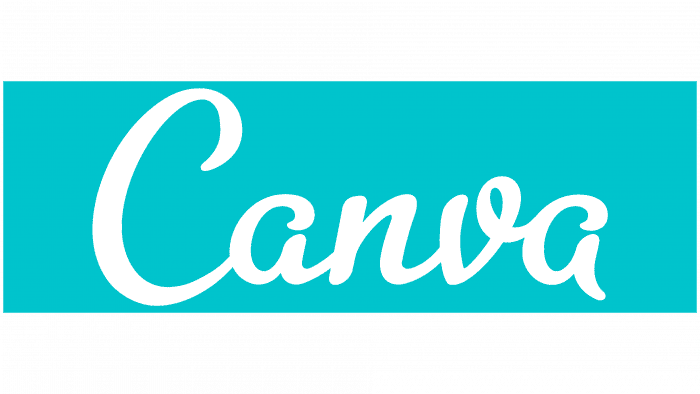 The smooth and intricate lines of handwritten letters symbolize the service's artistic focus, but the main emphasis is on the eye-catching color. Turquoise is a symbol of life-affirming energy and renewal, while white shows purity and the ability to create everything needed from scratch.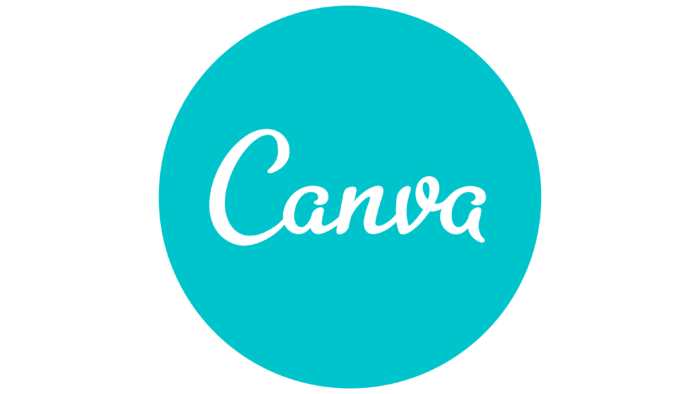 Canva color codes
Maximum Blue Green

Hex color:
#01c3cc
RGB:
1 195 204
CMYK:
100 4 0 20
Pantone:
PMS 3262 C
Blue

Hex color:
#2a89ad
RGB:
42 137 218
CMYK:
81 37 0 15
Pantone:
PMS 632 C
Blue Violet

Hex color:
#7d2ae7
RGB:
125 42 231
CMYK:
46 82 0 9
Pantone:
PMS Violet C
Does Canva own your logo?
Yes, Canva owns your logo: the products we make are not the property of our users. First of all, based on common layouts and templates, your logo can look like someone else's because it is a free access system.
How do you make a cool logo?
To quickly create a cool logo, you can use graphics services. One of them is called Canva. It helps you get a great icon, personal badge, or logo for free, as it contains ready-made templates, fonts, and layouts.
How do I create a logo in Canva?
You need to go to the Canva website. Then, you need to choose a layout or develop it from scratch. Customize shapes, symbols, and colors. Add and edit text (title, slogan). Save the work result.
Is a Canva logo free?
Yes, it's a free service. The logo maker lets you freely use the built-in templates for graphics, images, snapshots, and fonts. On their basis, users create any logo for free.
Video