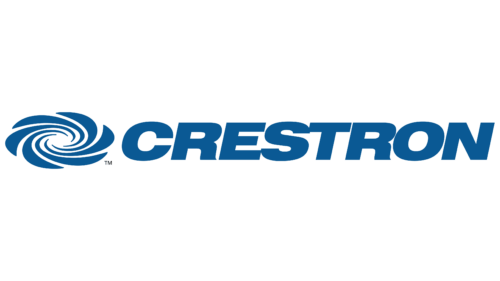 Crestron Logo PNG
George Feldstein, an electrical engineer who developed industrial control and machine testing systems, founded Crestron Electronics in 1972. Starting in a space above a grocery store in Cresskill, NJ, Feldstein had only a tool kit and a Dodge Dart automobile. The company first made its mark in the industry with a pioneering wireless remote control designed for enterprise audio-visual systems. This success paved the way for other products in the audiovisual market, including audio selectors, video projectors, and lighting control boards.
By the early 1990s, the company had grown to 100 employees and $5 million in annual revenue. The customer base was diverse: businesses, educational institutions, game centers, and high-profile venues such as the White House. Under Feldstein's exceptional leadership, Crestron expanded its global reach into the international markets of Europe, Asia, and Latin America. In 1997, the company moved its headquarters to Rockley, New Jersey. This move coincided with the expansion of its product offering to include home automation systems, digital signage, video conferencing solutions, and more.
Today, Crestron is a global enterprise with more than 5,000 employees and annual revenues of nearly $2 billion. Despite its tremendous growth, the company remains a family-owned business, currently led by George's son, Dan Feldstein, who serves as CEO. With the company's products and solutions ubiquitous in a wide variety of spaces – from corporate boardrooms and academic buildings to luxury residences and major sports facilities – Crestron has solidified its reputation as a pioneer and leader in advanced control and automation systems.
Meaning and History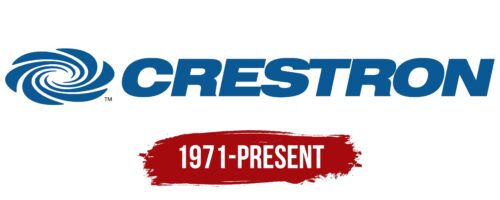 1971 – today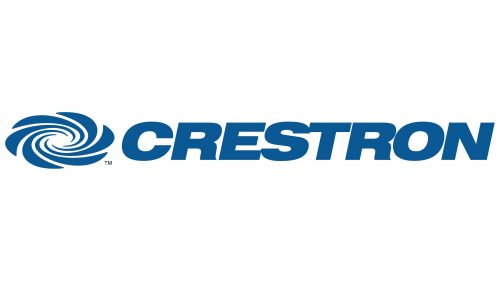 This American high-tech company uses a swirl in its logo consisting of eight sickle-shaped elements following each other. They are oriented with the thin side inward and the wide side outward, creating the effect of a rotating blade. On the right side is the brand name with very close spacing between the letters: some letters even merge with each other. The text is slanted to the right, using particularly bold glyphs. The entire emblem is painted in blue, symbolizing calm, stability, aspiration to new horizons, and confidence in the future.
The emblem is reminiscent of the spinning turntables that can be seen at fairs or in gardens. It attracts attention and creates a feeling that something interesting and fast is happening. The blue color creates a feeling of coolness, like a smooth rhythm in a song that makes you feel good. And the letters tilted to the right seem to be drawn into a spin as well, making you think, "Hey, these guys are going for the goal."
Crestron color codes
Lapis Lazuli

Hex color:
#0a5994
RGB:
10 89 148
CMYK:
93 40 0 42
Pantone:
PMS 7691 C