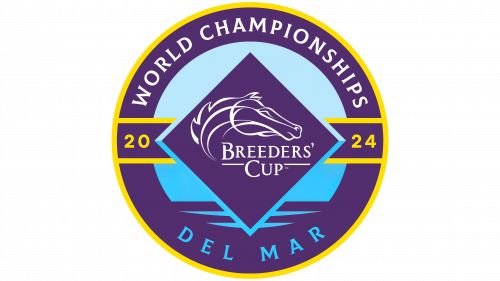 With an eye on the future, the Breeders' Cup, a high-stakes event in international Thoroughbred racing, has recently launched its Breeders' Cup 2024 World Championships logo. The grand reveal sets the stage for the championship races to return to the Del Mar racetrack in Del Mar, California, on November 1-2, 2024. This will be the venue's third hosting gig, following successful events in 2017 and 2021.
More than just a graphic element, the newly revealed logo encapsulates the very essence of Del Mar's breathtaking beauty. Set against an azure sky seamlessly blending with the Pacific Ocean, the primary Breeders' Cup emblem finds its home within a diamond-shaped frame. Elevating the design further, the words "World Championships" sit at the pinnacle of the logo, bordered by a vibrant yellow circle.
The intent behind the new logo goes beyond mere aesthetics. It aims to immortalize the sheer grace of Thoroughbred racing while celebrating Del Mar's renowned status as a world-class racetrack with unparalleled scenic charm. The design essentially serves as a visual tribute to the extraordinary locale where horses and jockeys will battle for glory.
While eyes are set on the future, the 2023 Breeders' Cup World Championships are not to be overlooked. They will occur at Santa Anita Park in Arcadia, California, on November 3-4 this year. Tickets are currently available on the official Breeders' Cup website, and fans can catch live broadcasts across multiple channels, including NBC, Peacock, USA Network, and FanDuel TV.
The Breeders' Cup 2024 World Championships logo not only ramps up anticipation for the 2024 event but also underscores the Breeders' Cup's commitment to providing a world-class experience. As the championship prepares to return to the iconic Del Mar venue, the newly unveiled logo serves as a vivid reminder of the magic that awaits in 2024.