French technology company MadeForMed, founded in 2014 and moving away from the usual healthcare norms, has unveiled a bold new brand identity designed to appeal to its core customer base – general practitioners. The company is known for providing a range of automated services – from medical appointments to website development – and aims to relieve doctors of administrative burdens. The company currently employs around 20 staff, serving more than 1,600 doctors across France. The rebranding was handled by Paris and Lyon-based design agency Graphéine.
The previous MadeForMed logo had difficulties in terms of aesthetic harmony and professional impact. Although it featured an intertwined heart and cross, indicating medical relevance, it lacked uniqueness. The new MadeForMed logo utilizes an innovative but somewhat unconventional strategy. It is based on the often derided illegible font found on doctors' prescriptions.
This new design intentionally flirts with common standards of readability yet resonates uniquely with the target audience – practicing physicians. The intricate typeface of the new logo skillfully straddles the line between the quirks of handwritten type and the demands of digital and print readability.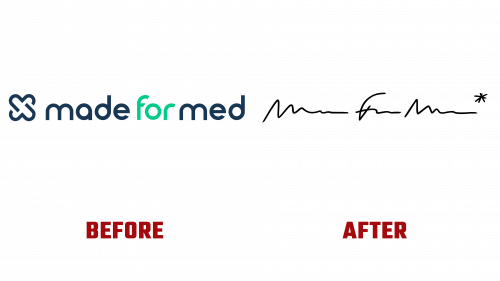 However, the visual transformation of the brand is not limited to the logo. Graphéine designed a customized typeface that replicates the handwritten aspect of the MadeForMed logo. Despite the complex design, the font maintains an acceptable level of legibility. The company judiciously uses this font in limited quantities, often combining it with easy-to-read paragraphs typed in Steradian font for a harmonious text experience.
The hallmark of this rebranding is the courage to step outside of the usual aesthetic framework characteristic of healthcare. Instead of sterile blue-green color palettes or the use of template stock imagery, MadeForMed's new style radiates warmth and individuality and is human-centered. These qualities are fully in line with the company's core mission to make doctors' lives easier and more efficient.