Mellow Mushroom, the iconic pizza chain known for its exceptional pizzas and quirky atmosphere, has unveiled a new brand identity that celebrates its growth and unique position in the restaurant industry. Since its founding in 1974 by three Georgia Tech University students in Atlanta, the Mellow Mushroom chain has grown to nearly 180 locations across the United States. Known for its eclectic exterior design and psychedelic interior, each outlet is distinctly individualized. The signature pizza crust, made with Appalachian spring water, has won loyal fans among pizza connoisseurs.
The recent collaboration with design agency KnownUnknown marks a significant step in the evolution of the Mellow Mushroom brand, combining the hippie roots of 1974 with modern design elements. This rebranding aligns with the three-pronged concept of Being High on Pizza, Being High on People, and Being High on Personality while staying true to the original essence and values of the brand.
The centerpiece of the rebranding was the innovative Pizza Mushroom logo. The logo, a fusion of the brand's character, Mellow, and a stylized mushroom shank that transforms into a slice of pizza, is a modern tribute to Mellow Mushroom's heritage and a symbol of its continued evolution.
The previous logo, which featured a redemption font, was in keeping with the brand's eclectic ethos. However, it did not allow the full name "Mellow Mushroom Pizza Bakers" to come together in a cohesive design. The new logo solves this problem but is a mix of typographic styles that don't quite fit together. The playful "Mellow" font is inconsistent, the "MUSHROOM" font feels forced, and the word "PIZZA BAKERS," while fine on its own, looks somewhat detached from the overall design.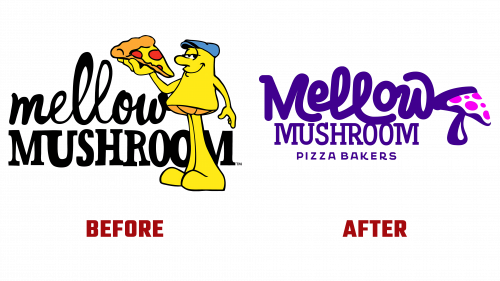 Despite these typographical nuances, the new logo features creative iconography. The combination of a mushroom and a slice of pizza in the same logo reflects the psychedelic nature of the brand and creates an eye-catching image that matches Mellow Mushroom's quirky and unconventional spirit. The different color combinations, while vibrant, could benefit from having the palette softened for greater consistency.
The rebrand also revitalizes the brand's beloved characters, such as Mel and the Wizard, giving them a more dynamic and modern look. These updates reflect Mellow Mushroom's commitment to staying relevant and appealing in an ever-changing culinary environment.
Overall, Mellow Mushroom's new identity, designed by KnownUnknown, combines an appreciation of the brand's psychedelic heritage with a modern approach. The Pizza Mushroom logo stands out from the rest. While the typographic elements are a mix of styles, the rebranding effectively captures the essence of Mellow Mushroom: a harmonious blend of quality, creativity, and unconventionality.