World-renowned thongs from industry-leading brand Hanky ​​Panky have become part of the largest rebranding in the company's history. The main reason for such a radical change was the launch of a new collection – Decades Collection and the 35th anniversary of the release of the first line of fashionable lingerie "4811 – Signature Lace Thong" by the company. Founded in 1977, the company is considered feminine not only according to the type of product but also because the brand's creators were two women – Lida Orzeck and Gale Epstein, a graduate of the Parsons School of Design. The latter began its activity with the development of bras and panties, which later joined the Metropolitan Museum of Art exposition since they were based on handkerchiefs of the Victorian era with handmade embroidery.

The style change, carried out by the Brandsisters designers and the creative team of the brand itself, is a demonstration of features that reflect the uniqueness of products and a creative approach to its development. A radical change in the logo provided a visualization of the brand's evolution and its products. At the same time, the new emblem formed an important message for the female half of the world to appreciate the quality and comfort of the company's products, becoming a part of its community and starting a new chapter of its existence together with the brand.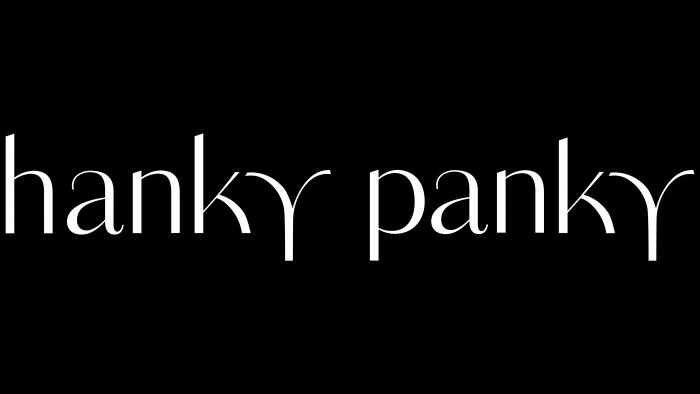 The new logo is a graphic interpretation of the style, shape, and grace of the lingerie offered by Hanky ​​Panky. In a thin uppercase font, each letter is distinguished by a different thickness of its elements as if sending the viewer to the peculiarities of the execution of panties and bras. The style of the font was chosen so that, in its unity of execution, it fully corresponds to the style of the advertised product, its belonging to everything thin and delicate, which is characteristic of the underwear of a modern woman. At the same time, the shape of the letter "Y" is made with very close correspondence to the forms of the popular thongs of the brand.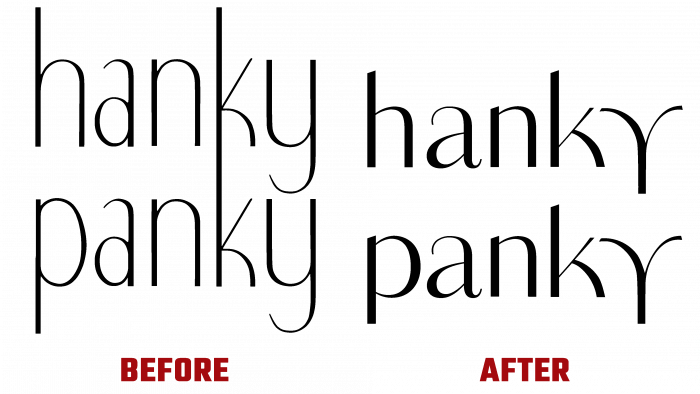 The color scheme was as original as the choice of font shapes. Its uniformity made it possible to create a variety of compositions using a text emblem. The logo and images, both printed and digital, did not limit the high-quality visual perception of each other. Be it a lingerie label or an image on a large poster, a small sign on advertising, image products, or an emblem on social networks. Laconicism and the absence of other elements overloading the visual perception of the logo are the basis for its effective visual impact, the formation of ease of recognition and memorization.