Five decades after its opening, PizzaExpress is hitting the refresh button. Led by independent design agency Brandon, the pizzeria has unveiled a major redesign of its logo, packaging, and product range. The update is an homage to the brand's storied past while moving towards a more contemporary style.
The first thing that catches the eye of consumers is the PizzaExpress logo, which now takes center stage on the new homemade packaging. The emblem, created in 1967 by Italian designer Enzo Apicella, is still a consistent part of the brand's aesthetic. The redesign has given the emblem a cleaner and more refined look. Design director Joe Bembridge of Brandon notes that PizzaExpress' archival materials had a profound impact on the agency's vision, especially its long-standing connection to jazz and the arts, resulting in a final design that blends tradition and modernity.
The product line has also undergone a significant refresh, now divided into three tiers: the Icons, featuring timeless classics such as American and Margarita; Restaurant Favorites, featuring popular dishes such as La Reine and Polo Ad Astra; and Sicilians, featuring vibrant flavors such as Pesto Margarita and Mozzarella Nduja & Chili. The differences are not only in the recipes but also in the color scheme and packaging, which now includes hand-drawn illustrations by Emily Simpson, particularly for the Favorite Restaurants series. The art transforms the pizza box into a canvas, reflecting the brand's historical connection to art.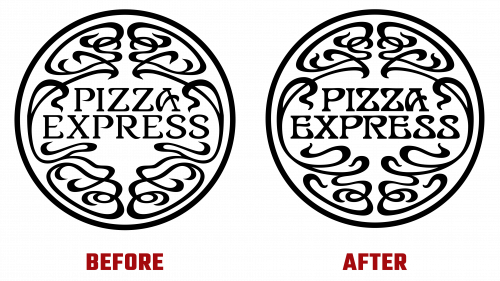 Brandon collaborated with artist Dan Forster, taking the iconic filigree round typeface to improve readability while emphasizing the uniqueness of the brand. The redesign included meticulous attention to detail, making numerous changes to individual symbols to add personality without sacrificing practicality across a variety of packaging formats.
Consumers can experience the new look of the brand on a number of products, including not only pizzas but also sauces, dough balls, and salad dressings. This is not just a cosmetic change but a deliberate move to create a cohesive brand strategy that unites all products under one banner, especially in the face of fickle consumer tastes.