As of 2021, SEAT SA is a company that includes two brands, SEAT and CUPRA. In 2020, both brands launched the Leon and Formentor line of vehicles, with the first product line designed specifically for the CUPRA.
The Spanish car company started 70 years ago and quickly became the transport leader in the niche. Until now, the brand never ceases to amaze, which suggests that the company is still a worthy competitor in terms of quality and popularity.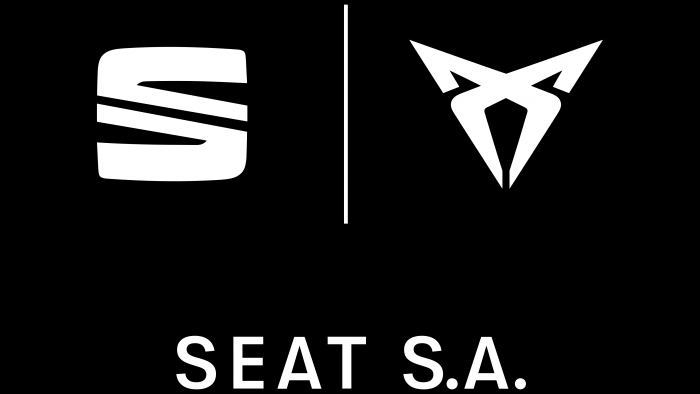 The situation is different with the CUPRA brand. This is an unconventional, non-trivial, bright brand that brings progress and arouses keen audience interest and admiration. He is engaged in the production of electric car models, which emphasizes future orientation and prospects. The reporting year has shown that many of the cars produced – the CUPRA Leon, CUPRA Ateca, and CUPRA Formentor lines – will set the heat on any competitor and not allow themselves to be "overtaken" in the technical sense.
It is quite logical that a new logo was created for the new association. The creative design was developed by the creative agency Interbrand, from Madrid itself. Only a burning temperamental heart could embody such technological beauty as the new SEAT SA logo.
The thirst for action, determination, steadfastness, the spirit of Spain are reflected in the new logo.

This is a fantastic combination of abstract figures with the basic letters S and A, separated by a vertical stripe and a subscript below – SEAT S.A. A very extraordinary and peculiar logo. Looks fresh and in line with the spirit of the times. Although simplification of images is a dominant feature of today's visual culture, the interesting stripes in the letters S and A make the logo mysterious and somehow hypnotic. I would like to draw landscapes in my imagination that resemble these letters. Now the plains, now the sharp turns and hills.
The logo creates a special atmosphere. Perhaps this is a reflection of the flying creative thought of identity designers and the creators of the brand themselves. Therefore, we can confidently say that the harmony of the logo creates a favorable visual impression and testifies to the inspired mood of the company's team.