In mid-October 2022, video game developer Square Enix Montréal changed its name to Studio Onoma and began using a matching logo. It comes just months after Swedish conglomerate Embracer Group bought Square Enix's western arm.
The Onoma trademark was registered back in August, which was noticed by some journalists. But the official renaming took place only now. The new name is translated from Greek as "name," which, according to the idea of ​​experts, reflects the potential of the studio, its creative flexibility, and its readiness for change. After all, a name is what animates objects and makes people individuals. At least, this is how the word "Onoma" is interpreted on the company's official website.
The video game developer has thoroughly prepared for the change of image. He created a team of design and communications experts back in May 2022. The rebranding process took about five months, during which experts tested 165 names and chose 15 of them, giving preference to those that are easy to pronounce in English and French. At the final stage, the "Onoma" variant was recognized as the best, and it was it that served as the basis for the logo.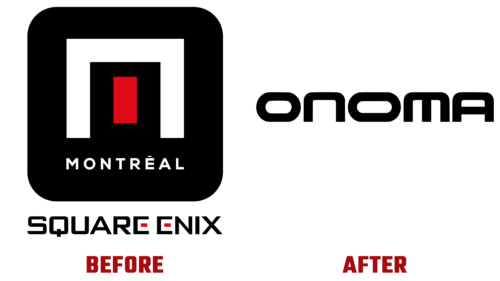 The typographers developed an individual typeface with flattened glyphs for the wordmark. Rounded edges represent the company's friendly attitude toward its customers. The middle letter "O" is especially stretched horizontally to symbolize a window into the world of creativity and unlimited possibilities. It also looks like a big button.
The logo can be black or white, depending on the background. This simple color scheme was chosen because the symbol can represent different Onoma projects, each with its own identity. A black-and-white inscription is universal and fits into any visual context. By the way, the design using basic shapes and colors was inspired by the Bauhaus style – a fusion of cubism, constructivism, and geometricism.