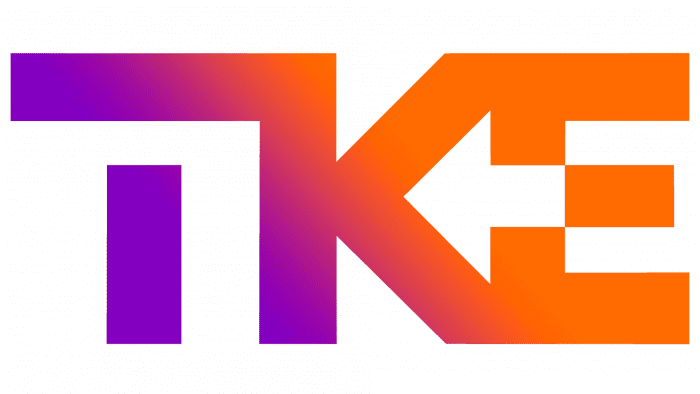 The updated logo design is charged with optimism and positive energy.
Thyssenkrupp Elevator, the leader in the elevator and escalator market, has announced a name change. The company now uses TK Elevator (TKE). The new CEO of Peter Walker decided to launch a new brand of a recognizable company.
The CEO says the brand is already taking steps towards digitalizing its services and products. Most recently, the company has implemented the new MAX system in all new elevator and escalator models. TK Elevator will expand and improve in the market by combining brand traditions and new technologies.
The new TK Elevator logo displays energy, sunrise, positivity, and movement. A bright color palette with a smooth gradient transition from purple to orange attracts attention and positively charges. The image is used on all digital and physical media and has become part of the new brand. The logo symbolizes the desire to change people's lives for the better with innovative technologies. TK Elevator maintains its status as a major player with special values ​​and market opportunities with the new brand.
TK Elevator is a world-famous brand, but it is mainly based in the Middle East. Fifty thousand employees are working to improve the company. In the 2019/2020 financial year, the company generated sales of 8 billion euros. The main direction of the brand is servicing its products. Twenty-four thousand professionals serve 1.4 million elevators and escalators worldwide. Also, from March 19, 2021, the company will change sites in the United States and Canada.
"The new TKE brand allows the independent company to expand further. This is a great opportunity to strengthen our market position and technological leadership in next-generation mobile services," said CEO Peter Walker.
TK Elevator offers a wide range of products: elevators, escalators, moving walkways, passenger stairs, and lifts. The company also offers to use services. You can choose from four packages: Bronze, Gold, Platinum, and Platinum premier. The brand represents products for homes, shops, malls, and skyscrapers such as One World Trade in New York, requiring a modern solution.
"Our new corporate identity further reflects our strong legacy of achievement. It also greatly underscores our goal as a people-centered service brand that is leading the elevator industry and acting as a precursor to digital solutions," said CEO Peter Walker.