UDC is an abbreviation for the name Universidade da Coruna, a modern university in La Coruña, located in the Galicia region. The university was created in the 1990th year and has several faculties where hundreds of students receive an education.
Meaning and History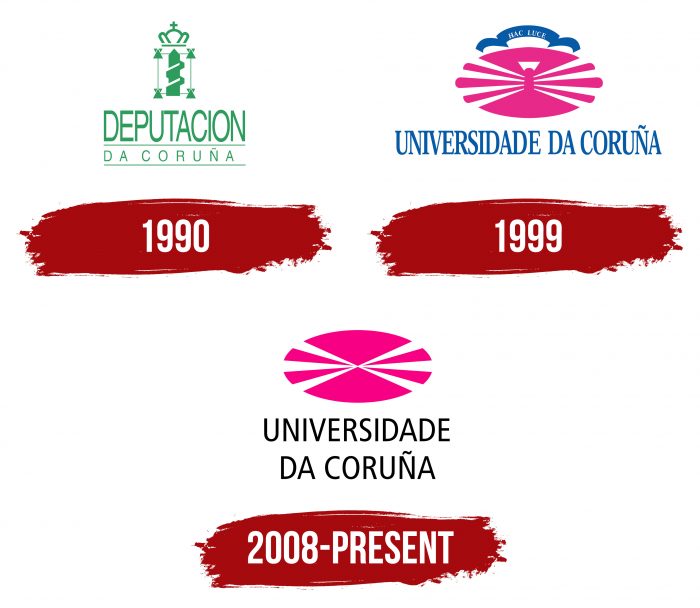 The logo reflects the distinctive features of the institution, which are very important for the local community. The debut version was used until 1999, after which it was replaced with updated symbols. The logo is designed based on the former and is its graphic continuation, emphasizing continuity. But the original version is not written off – it is used today. Designed for special occasions, holidays, and preserved on diplomas, university pennants, badges, flags.
The UDC logo, which appeared after the redesign, echoes the debut. It shows a lighthouse with rays diverging to the sides: four narrow at the left and right, plus one wide at the top. Above the composition is a tape with the motto "Hac Luce," which means "With this light." At the bottom is the full name of the university. The lighthouse and the surrounding space (it is oval) are purple; the light is white, the ribbon and the inscription are blue.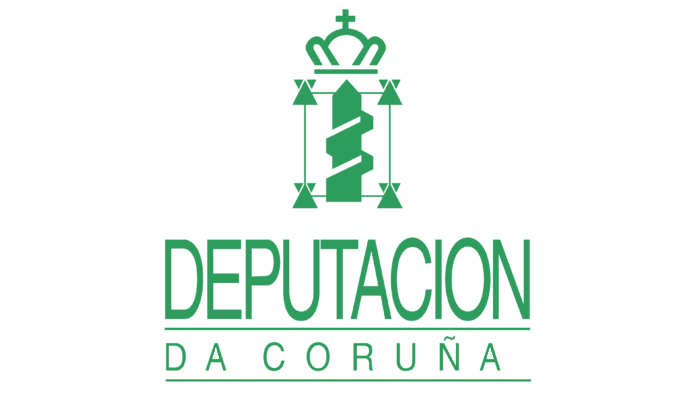 This logo was in use until 2008 – until the revised symbolism appeared. The key element in it was the name of the institution of higher education – "Universidade da Coruña." It is written in large, sans-serif font in uppercase. The letter space is much wider than in the previous version, so visually, the logo is perceived more easily.
The design of the graphic sign is radically changed. The tower is removed, there are only rays going to the sides that pierce the darkness. But their number has decreased: now there are three rays on each side, and they converge in the center of the ellipse. As conceived by the developers, this version is a minimalist reflection of the previous one with an emphasis on the traditions of Galicia.
Font and Color of the Emblem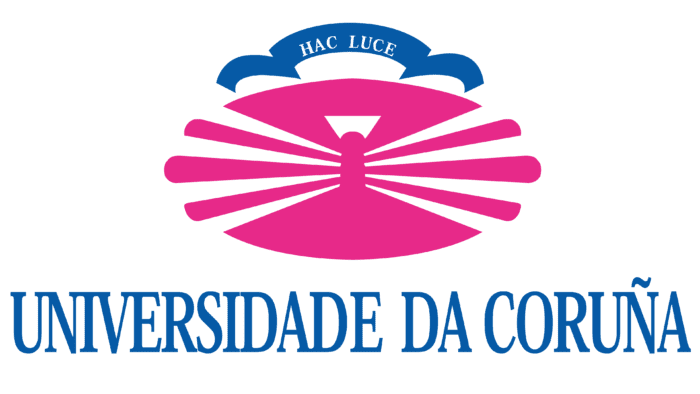 The tower used as a central element has a real prototype. This is the oldest architectural monument in Europe – the current lighthouse Torre de Hercules. It is located in the north of La Coruña. It is not only a local but also a world landmark because it appeared even during the Roman Empire. So the university administration draws parallels with the history of the region while remaining faithful to their native roots.
The emblem is presented in several color options. Basic – purple (fuchsia), additional – white, dark blue, black. Also, there is a monochrome logo. It is intended for use in business papers, print media, and publications that do not have color.
Another variety – with a listing of departments, institutes, vice-rectors. She is gray. She was used in official documents. The font used for inscriptions and the name of the university in the old and new design is Arial, Helvetica, or its computer equivalent from free distribution.