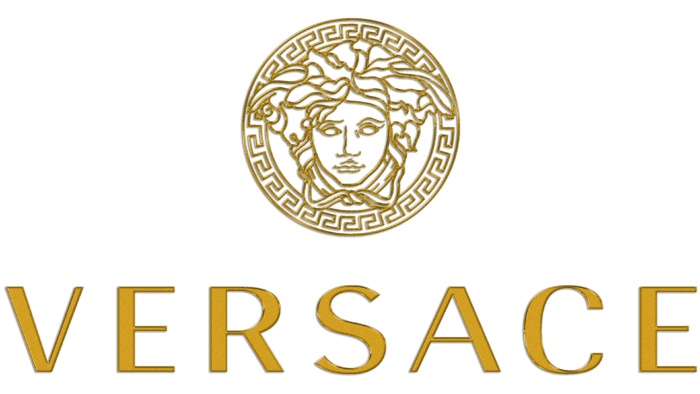 Versace is an Italian company that produces luxury goods. Her story began in 1978 when Giovanni Maria Versace introduced the first designer collection. Now, in addition to clothing, the assortment includes jewelry, accessories, perfumes, cosmetics, watches, and other luxury goods.
Meaning and History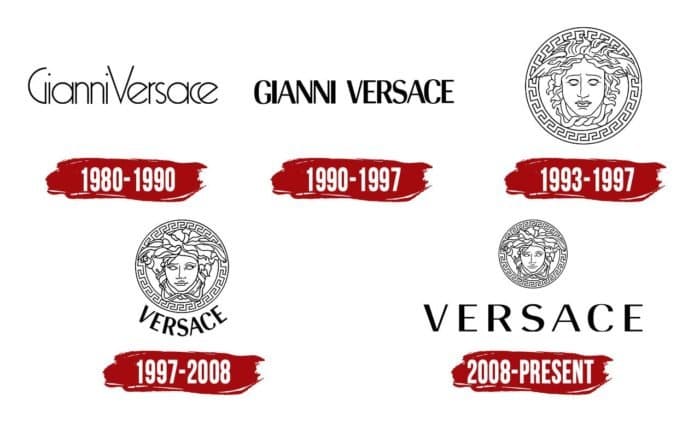 The main task of the fashion designer was to attract the attention of customers. And he did this with the help of a logo, which still causes debate with its inconsistency. Versace's products are adorned by Medusa, both a terrible and attractive creature. However, this was not always the case: until 1993, the brand name contained only the name and surname of the brand's creator.
1980
The first emblem is the concise inscription "Gianni Versace," made in Avant-Garde light font. There is no spacing between words. The letters are close, which is bad for readability. On the other hand, attention is attracted by exquisite, subtle touches, perfect symmetry, and strict geometricity.
1990
The designer took into account the problems of visual perception and changed the font to a more legible Radiant medium. It is characterized by the uneven line thickness, an abundance of angles, and the absence of serifs. Between "Gianni" and "Versace," there was a big indent.
1993
In 1993, the designer made the mythological Medusa the face of his company. The classic Roman culture, which Giovanni has always been interested in, served as an inspiration. As a child, playing with brothers and sisters among the ancient ruins in Reggio Calabria, he saw a lot of artwork on the floor. Among them was the very Medusa, which became the symbol of Versace. A wide ring with fringing surrounds her head. The traditional ancient Greek maze pattern emphasizes the exquisite style of clothing.
1997
After the fashion designer's death, his surname again appeared on the logo. The inscription is located in a semicircle and goes around the figure at the bottom.
2008
The developers aligned and increased the letters, making the company name more visible. For the same purpose, they used a font similar to Radiant RR.
Emblem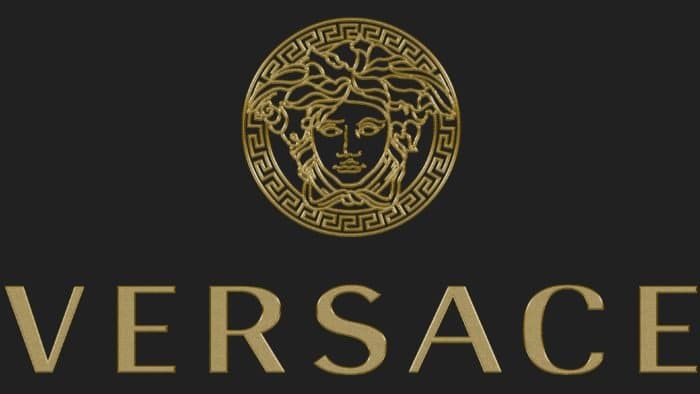 The central image of the logo is Medusa. Giovanni chose her not by chance because this ugly creature is considered a symbol of fatal attraction and seduction. It was once a beautiful but vicious girl. Then the goddess Athena cursed the beauty, turning her into a monster, which at one glance turns people into stone. The designer hoped that the mythological character would influence customers, hypnotize them, making him fall in love with Versace.
However, here is another connotation: vanity. Medusa was punished for her arrogance and pride, which means the emblem is associated with these qualities. Since all luxury brands rely on the desire of people to look good in the eyes of others, it was very ironic for Giovanni to place a woman on the emblem who became mortally dangerous due to vicious pride.