The Galician-based multinational company continues to reimagine its brand under the supervision of President Marta Ortega, charting a renewed course for the enterprise. Launched in 2003, Zara Home has grown to operate over 400 physical stores worldwide. In the digital realm, the brand extends its reach to over 200 markets, setting a precedent as the first brand in the group to transition online.
The most recent manifestation of this strategic renewal is unveiling a refreshed logo for Zara Home, its home and decor branch. By closely aligning the updated logo with its parent brand, Zara, the company has adopted a similar typography and style to the one introduced for Zara in 2019 by Fabien Baron.
This rebranding exercise for Zara Home aims to bring a uniform visual identity that echoes its sister brand, Zara. It's a fitting step for the home decoration division that has been assimilated into Zara's operational framework despite maintaining its distinct brand identity since March 2019.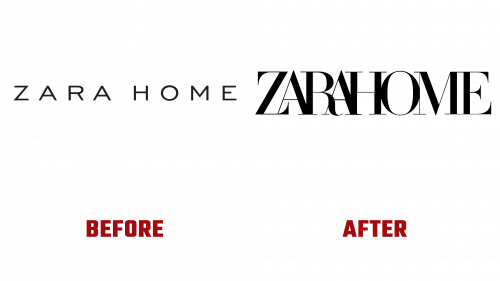 Zara Home carves a niche by pricing its offerings slightly higher than other brands under the company's umbrella, placing it in a more upscale segment. This brand operates through collaborations with niche brands and artists, a strategy in line with Marta Ortega's initiative to enhance the prestige and pricing of select brands in the conglomerate.
Introducing the new Zara Home logo symbolizes a significant pivot in Zara Home's branding strategy. It represents more than a surface-level makeover; it's a calculated maneuver to unify the brands under a common design ethos. Adopting a logo reminiscent of Zara's, the home decor division amplifies the parent brand's influence while preserving its premium positioning. This brand harmonization could result in more streamlined business operations, further solidifying the Zara brand dynasty under Marta Ortega's stewardship.