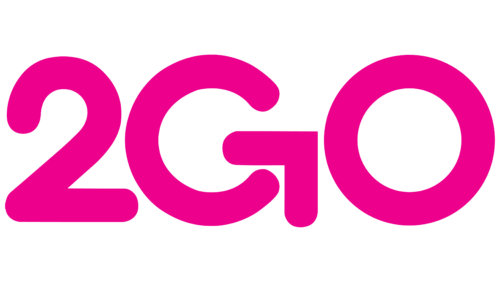 2GO Airlines Logo PNG
2GO Airlines logo is unique in the aviation industry, utilizing a bold pink that signifies courage and innovation, distinct from other air carriers who often favor red or blue. This choice of color sets the airline apart, making a strong statement about its unique identity and approach.
The emblem's structure is notably simple, encompassing a brief inscription of "2GO." This inscription is in bold font with rounded edges, embodying the brand's commitment to straightforward, efficient service. While simplicity marks the logo's overall design, it contains elements that convey complex and meaningful ideas related to the company's core principles.
The character "G" in the logo is stylishly fashioned into an arrow bent upwards in a semi-circle. This arrow is not merely a decorative component but a symbol of movement and speed, essential qualities for a cargo airline. It implies the physical movement of goods and services and reflects the brand's philosophy of constant advancement, development, and looking toward the future.
The pink color of the logo, unconventional in the aviation sector, communicates a willingness to challenge the norm and pursue innovative solutions. It represents the company's readiness to think outside the box and approach its business with a fresh perspective.
The logo's rounded font adds a touch of friendliness and accessibility, reflecting the airline's customer-centric approach. It underscores the brand's commitment to providing a seamless and positive experience, from booking to landing.
The succinctness of the logo, encapsulating a powerful message within a simple design, mirrors the airline's mission to provide uncomplicated, swift, and effective services to its clients.
2GO Airlines: Brand overview
| | |
| --- | --- |
| Founded: | 2012 |
| Founder: | 2GO Group |
| Headquarters: | Pasay, Philippines |
| Website: | 2go.com.ph |
Hailing from Pasay City in the Philippines, 2GO Airlines is a renowned air cargo service previously known as Cebu Pacific Cargo. They began their operations in 1996, serving as the cargo division for Cebu Pacific Air, and later reestablished themselves with a new identity as 2GO Airlines in 2021 after their separation.
The core operations of 2GO Airlines involve providing cargo services domestically within the Philippines and to several international locations throughout Asia. With a limited but highly efficient fleet of two Airbus A320F freighter aircraft, 2GO Airlines manages to operate from its principal base located at Ninoy Aquino International Airport in Manila.
Across the Philippine archipelago, 2GO Airlines ensures consistent domestic cargo services, reaching all major airports. In the international sphere, it extends its services to prominent cargo hubs in various Asian countries such as China, Hong Kong, Singapore, Thailand, Vietnam, Taiwan, and South Korea.
Annually, the airline successfully handles a massive amount of cargo exceeding 35,000 tonnes. This includes a wide range of items like express packages, manufactured products, fresh seafood, different kinds of fruits, and even livestock.
The Udenna Corporation holds ownership of 2GO Airlines. Under the ownership of billionaire Dennis Uy, this holding company has extensive involvement in various sectors such as shipping, logistics, and infrastructure. With a team of approximately 180 employees, the airline is steadfast in its goal to upgrade its fleet and expand its service routes, intending to evolve into a significant regional cargo carrier.
2GO Airlines operates under its distinctive brand slogan that assures reliable, flexible, and quality air cargo services. This reflects the renewed vision that drives 2GO Airlines, promising unparalleled service in air cargo transport.
Meaning and History