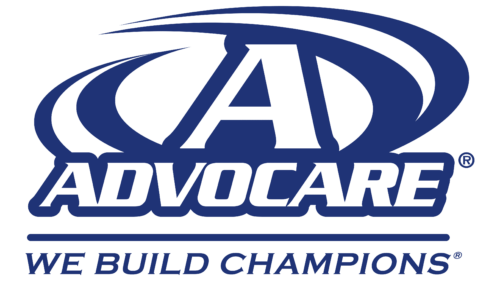 Advocare Logo PNG
AdvoCare International, LLC, a renowned American dietary supplement company, was founded in 1993 by Charles Ragus. The business was recognized for its achievements in direct sales and its involvement in multi-level marketing practices, which led to accusations of using a pyramid scheme. Located in Richardson, Texas, AdvoCare continues to grow by continually offering its customers a wide range of dietary supplements.
AdvoCare was founded by Ragus, a former NFL player and regional vice president of Fidelity Union Insurance. The company's goal is to deliver high-quality supplements to help people achieve their health and fitness goals. The name "AdvoCare" stands for "Advocates Who Care," which emphasizes Ragus' commitment to helping people realize their ambitions.
AdvoCare's offerings were promoted through a multi-level marketing mechanism, allowing distributors to profit by selling products and attracting new distributors. However, this model has been criticized for potentially operating as a pyramid scheme – an illegal business scheme focused primarily on recruiting rather than selling products. Consequently, AdvoCare's MLM system was investigated for potentially misleading customers.
In 2015, the U.S. Federal Trade Commission (FTC) initiated legal action against AdvoCare, accusing the company of operating an illegal pyramid scheme. According to the FTC, AdvoCare created a multi-level marketing system that favored mostly existing distributors and disadvantaged new entrants. In addition, the FTC found that AdvoCare falsely marketed its products as having therapeutic or healing properties, in direct violation of the law.
In 2016, AdvoCare settled the lawsuit with the FTC, agreeing to pay a $100 million fine and make changes to its MLM system. In addition, AdvoCare pledged to stop making inaccurate or misleading statements about its products.
Currently, AdvoCare continues to operate, albeit with a new strategy. Instead of using multi-level marketing, the company now sells its products directly to consumers through its website and a wide range of retail partners. This innovative approach has expanded the company's reach and supported its growth.
In 1993, Charles Ragus developed a vision to transform the health and wellness industry, which became a reality with the creation of AdvoCare.
In 1996, AdvoCare reached a major milestone by going public, paving the way for new opportunities.
In 2001, Charles Ragus, a distinguished public figure who left behind a legacy of benevolence, generosity, and compassion, passed away.
In 2007, Richard H. Wright became AdvoCare's President and CEO, determined to guide the company to continued success.
In 2015, the U.S. Federal Trade Commission filed a lawsuit against AdvoCare, accusing it of running an illegal pyramid scheme.
In 2016, AdvoCare settled a lawsuit with the Federal Trade Commission (FTC) that accused the company of deceptive marketing tactics.
In 2017, AdvoCare made the revolutionary decision to cease operations as a multi-level marketing company, which significantly changed the world of the industry.
Meaning and History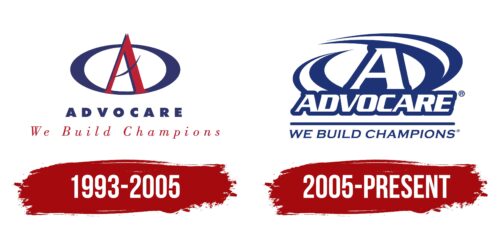 What is Advocare?

AdvoCare International, LLC, a pioneering American dietary supplement company, has been helping people achieve their health and fitness desires since its founding in 1993. Based in Richardson, Texas, the company was founded by Charles Ragus, who is known for his high-quality supplements.
1993 – 2005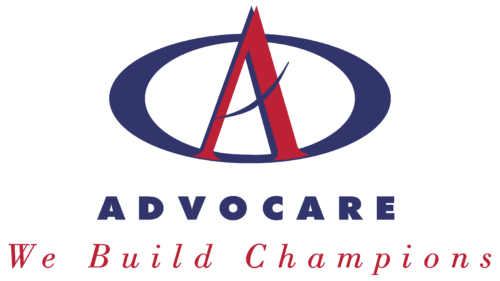 2005 – today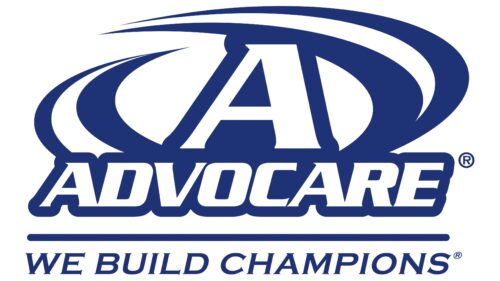 The two blue and white arcs in the logo symbolize the energy provided by Advocare products. Their arrangement speaks of balance, as the company promotes a healthy lifestyle, in which it is important to find a balance between proper nutrition and physical activity. The large letter "A" in the center of the swirl signifies the brand's leadership in dietary supplements. Below it is the full name of Advocare, written in bold letters with short, sharp serifs. Below the name, there is also a horizontal line separating the advertising slogan "WE BUILD CHAMPIONS." The blue color symbolizes safety.
The two arcs are reminiscent of a roller coaster. Ups and downs, as life should be – a good mix of everything. The letter "A" represents the captain of the ship steering the sea. And this line is like a finish line as if to say, "This is where champions cross."
Advocare color codes
Delft Blue

Hex color:
#3fc2cc
RGB:
31 51 118
CMYK:
74 57 0 54
Pantone:
PMS 288 C