CAT is the abbreviated name for Caterpillar, specializing in power plants, diesel engines, construction equipment, and various types of earthmoving and transport equipment. In 1904, caterpillar tractors were produced under the Caterpillar brand. The company of the same name was founded in 1925.
Meaning and History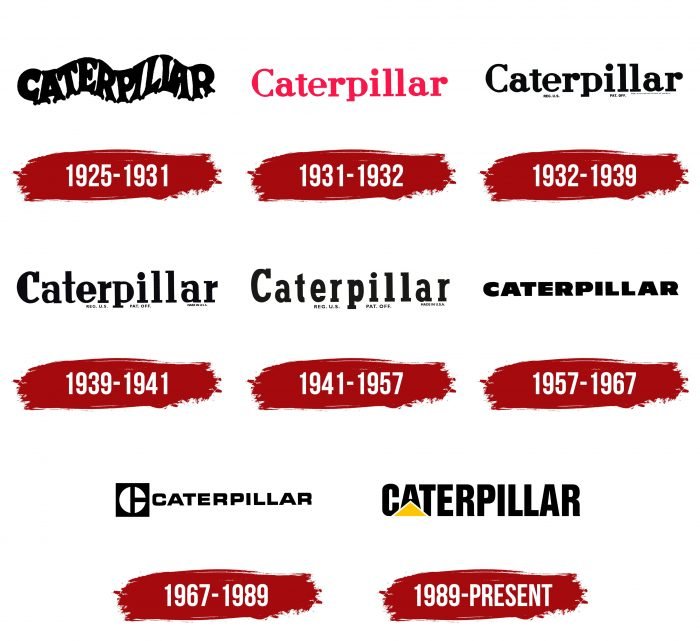 There are eight versions of the CAT logo, with only minor differences. The shape of the letters and additional mini-inscriptions change.
1925 – 1931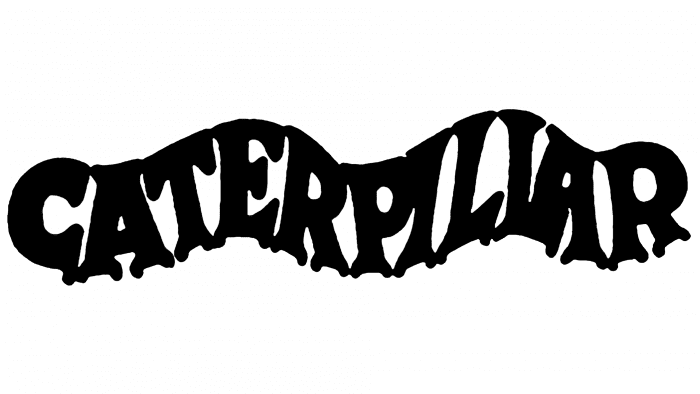 The first logo of the company is the wavy word "CATERPILLAR." It is commonly believed that its shape symbolizes the tractor track. This assumption is supported by the small serifs that are located under each sign. The black version of the emblem looks minimalistic. Red is complemented by uneven gray outlines and the words "REG. U. S.", "PAT. OFF.".
1931 – 1932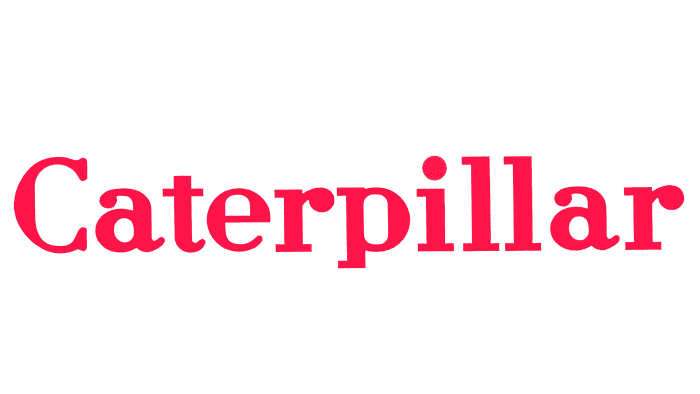 In 1931, the designers changed the font, making it stricter. Rounded lines and rectangular serifs are striking. At the bottom, there are subtle light gray phrases "REG. U. S. "," PAT. OFF." and "MADE IN THE UNITED STATES Of AMERICA." The main color is red.
1932 – 1939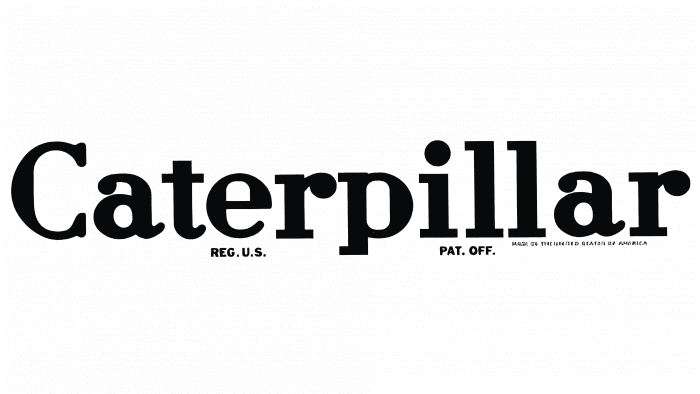 The emblem turned black. The shape of the letters has not changed.
1939 – 1941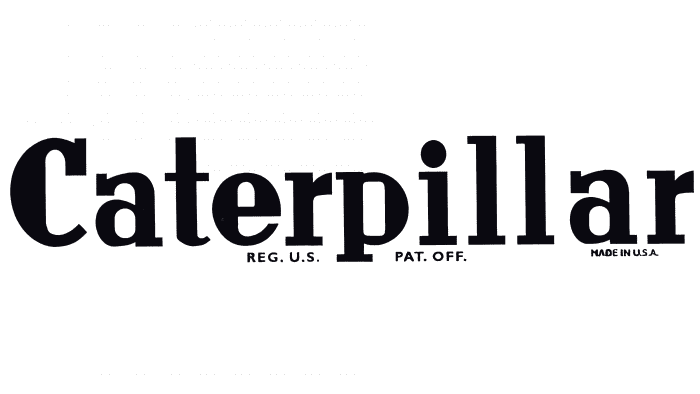 The bold points at the ends of the "r" are gone. The strokes are wider and longer. Instead of the inscription "MADE IN THE UNITED STATES Of AMERICA," its abbreviated version is used: "MADE IN U.S.A.."
1941 – 1957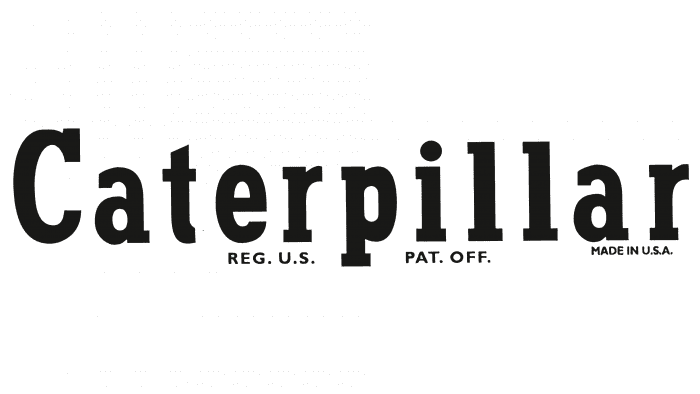 The font has changed again. The letters are elongated and symmetrical. It increased letter spacing.
1957 – 1967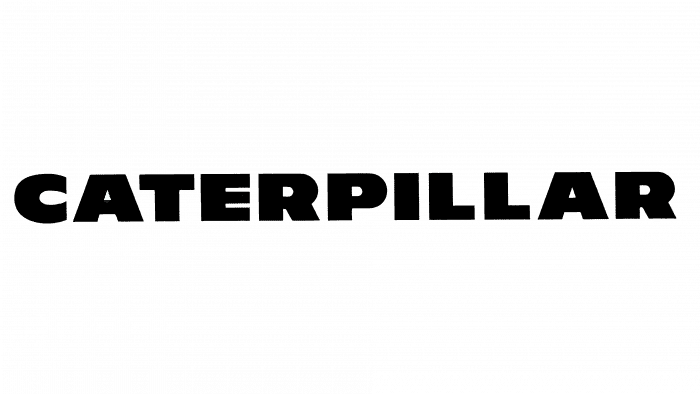 The distance between the symbols has decreased again. There are more right angles and wider lines. Gone are the additional inscriptions located under the "CATERPILLAR."
1967 – 1989
The letters have become less bold. On the left is a graphic sign: a black square with a white circle divided into three segments.
1989 – present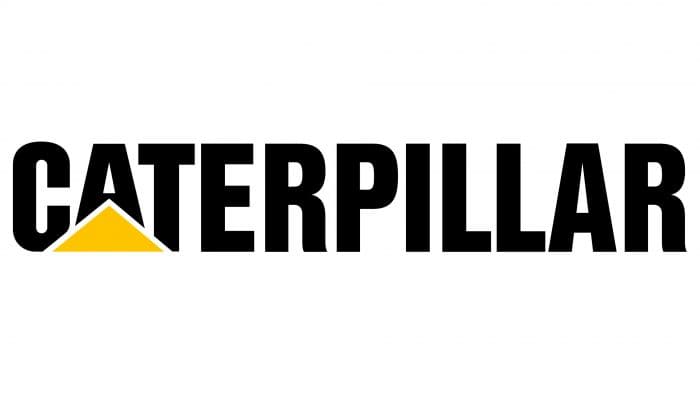 The artists removed the miniature square and replaced it with a large yellow triangle in front of "CAT."
Font and Color of the Emblem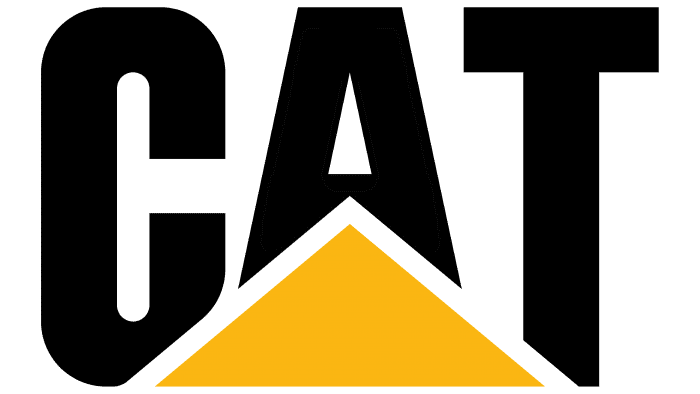 The current company logo is rectangular. Inside the black geometric shape are the white letters "C," "A," and "T." In the foreground is a yellow isosceles triangle with a dark outline. CAT is an abbreviation for the full name of Caterpillar.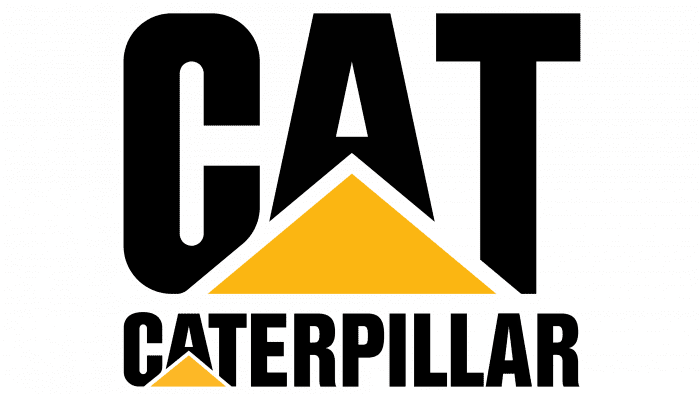 The word "CATERPILLAR" is written in a strict rectangular font from the Helvetica family. Most likely, this is either Helvetica Compressed or Helvetica Inserat Roman. Both typefaces are serif-free and feature consistent strokes of the same thickness.
A bright shade of yellow complements the black and white color scheme. This palette is typical of the last CAT logo, adopted in 1989. Before that, there were monochrome emblems that combined white with black or red.