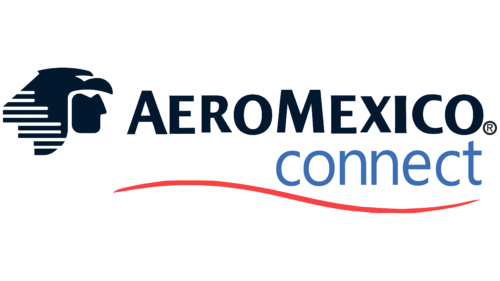 Aeroméxico Connect Logo PNG
The Aeromexico Connect logo is a visual narrative that communicates the brand's lofty aspirations. It perfectly embodies the dynamic essence of the airline industry and carries significant symbolism within its design elements.
The emblem company features a bird poised in the left corner, locked in an anticipatory gaze towards the front. This bird, frozen in time yet brimming with potential energy, may be interpreted as the brand's desire for forward momentum and skyward progression. The movement within the static image is hinted at by speed lines, divided into pairs according to line length, adding to the implication of swift motion and progress.
The design thought out a place for a two-level name of the air carrier. The top line showcases the composite word 'AeroMexico,' wherein the start of each new segment is highlighted by uppercase characters. This prominent placement and the contrast between upper and lowercase letters emphasize the brand's identity and underscore its core services.
Beneath it, we find the word 'connect' penned in lowercase letters, implying the company's dedication to creating connections – be it between destinations, people, or cultures.
A winding red line decorates the bottom part of the logo, perhaps symbolizing a flight path or the company's journey through the years. The use of red may evoke feelings of passion, determination, and a commitment to service excellence.
Taken together, the logo of Aeromexico Connect speaks volumes about the brand's ambitions, its commitment to progress, its dedication to connectivity, and its journey through the aviation industry. It is a simple yet effective visual representation of what the brand stands for.
Aeroméxico Connect: Brand overview
| | |
| --- | --- |
| Founded: | 1988 |
| Founder: | Aeroméxico |
| Headquarters: | Mexico City, Mexico |
| Website: | aeromexico.com |
Established in 1988 as Aerolitoral, the airline now recognized as Aeroméxico Connect has been the embodiment of air travel excellence for over three decades. As the regional wing of Aeroméxico, it operates a fleet of Embraer E-190 aircraft from crew bases located in Mexico City and Monterrey. Boasting a storied history, Aeroméxico Connect remains a dependable partner for travelers seeking comfort and efficiency.
Aerolitoral embarked on its journey as an autonomous airline, swiftly gaining favor with regional travelers in Mexico. Over time, its popularity and influence surged, solidifying its place as one of the nation's most preferred carriers by the turn of the millennium.
The turning point in its evolution came in 2007 when it allied with Aeroméxico. This opened doors to uncharted markets and fortified operational strength. Embracing the spirit of transformation, Aerolitoral rechristened itself as Aeroméxico Connect, operating under the prestigious Aeroméxico banner. This strategic decision marked a pivotal chapter in the airline's history, expanding its reach and visibility among customers.
Welcoming new Embraer E-190 aircraft to its fleet allowed it to broaden its destination portfolio while ensuring enhanced passenger comfort with modern seating arrangements.
Meaning and History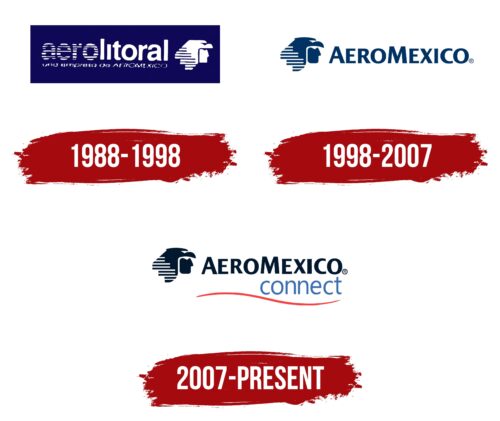 The identity of this brand has always centered on its connection to the parent brand, Aeroméxico. As a regional airline, it carries the promise of connectivity, convenience, and service quality. It positions itself as a brand that eases regional travel, providing seamless connections and smooth journeys for passengers across the country.
Its logo design symbolizes flight and progression, subtly hinting at the reliability of its services and the dynamism of its operations. This alignment with the parent brand presents a unified front, enhancing the brand's appeal to consumers who are already familiar with and trust the Aeroméxico brand.
What is Aeroméxico Connect?

Aeroméxico Connect, previously known as Aerolitoral, is a key player in Mexico's regional airline industry. Operating under the umbrella of Aeroméxico, the airline uses Embraer E-190 aircraft and bases its crew in Mexico City and Monterrey, effectively serving numerous destinations. Initially operating as Aerolitoral, it swiftly gained recognition for its customer-centric approach and commitment to safety. It later rebranded as Aeroméxico Connect, thereby strengthening its ties with its parent airline.
1988 – 1998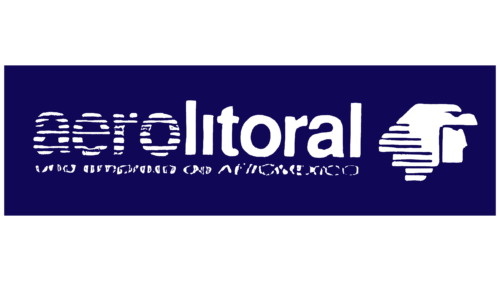 1998 – 2007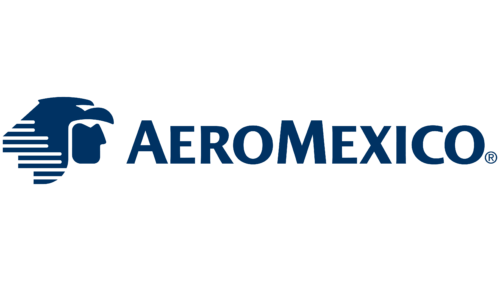 2007 – today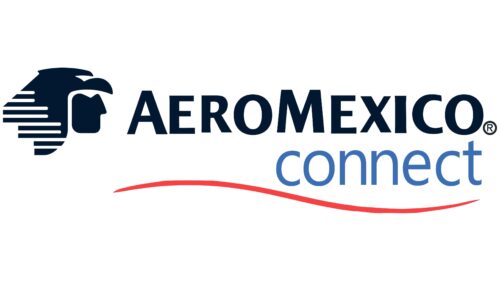 Aeroméxico Connect color codes
Dark Blue Black

Hex color:
#02182f
RGB:
2 24 47
CMYK:
96 49 0 82
Pantone:
PMS 282 C
YInMn Blue

Hex color:
#3b6eb4
RGB:
59 110 180
CMYK:
67 39 0 29
Pantone:
PMS 660 C
Coral Red

Hex color:
#f74244
RGB:
247 66 68
CMYK:
0 73 72 3
Pantone:
PMS Warm Red C