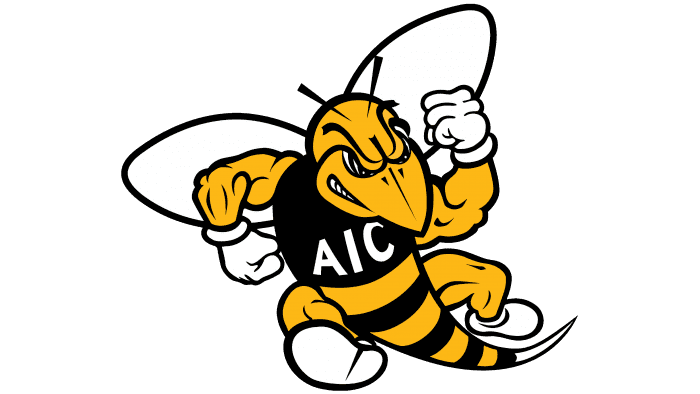 AIC Yellow Jackets Logo PNG
The AIC Yellow Jackets sporting division, whose logo reflects the mascot, the "evil wasp," seeks to intimidate the opponent at once. The color scheme corresponds to the name and is memorable and recognizable thanks to the black and yellow stripes characteristic of the insect.
AIC Yellow Jackets: Brand overview
| | |
| --- | --- |
| Founded: | 1885 |
| Headquarters: | Springfield, Massachusetts, U.S. |
| Website: | aicyellowjackets.com |
AIC Yellow Jackets – sports department of a private liberal arts college – "American International College," which appeared in the 1885th year and is located in the city of Springfield, Massachusetts. This sports department includes 22 male and female teams in various sports, including basketball, hockey, soccer, athletics, volleyball, and many others. They play on the NCAA Division II and are members of the Northeast-10 Conference, Atlantic Hockey.
Meaning and History


Since 2001, the Rex wasp, the mascot of American International College, has been depicted on the national teams' logo. The insect runs and looks intimidating, threateningly approaching its rivals. The sting is made distinct, large, expressive. This is another element of intimidation of competitors. The wasp is drawn with very muscular arms (in white gloves) and legs (in white shoes). On the black T-shirt is an abbreviation for the college name – "AIC."
In the 2009th year, the logo was corrected. The sting wasp "Rex" lengthened. The distance between the black stripes made more. The effect of "fluffiness" was removed. The antennae of the wasp changed shape, making them much shorter and sharper. The choice of colors used in the AIC Yellow Jackets logo is fully consistent with the wasp's theme – a combination of black, white, and yellow. The latter is presented in shades of Pantone 1235 and Hex FFCC33.
What is AIC Yellow Jackets?

AIC Yellow Jackets is the collective name for the sports teams of the American International College located in Springfield, Massachusetts. They are members of the Northeast-10 Conference and compete in NCAA Division II, with the exception of the hockey team, which plays in Division I.
2001 – 2008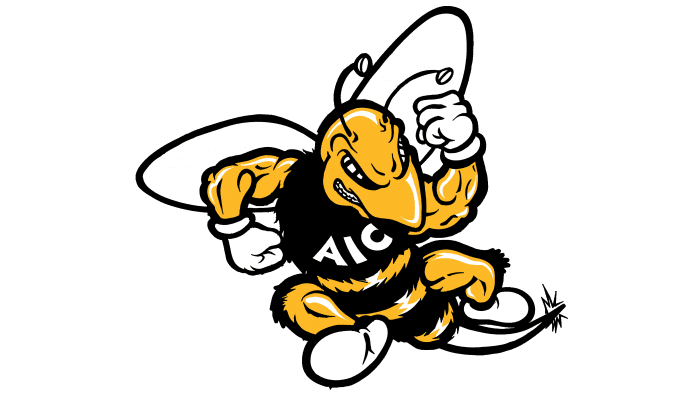 2009 – today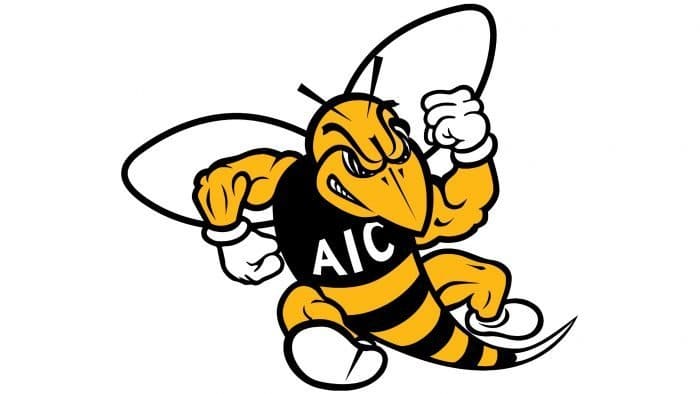 AIC Yellow Jackets Hockey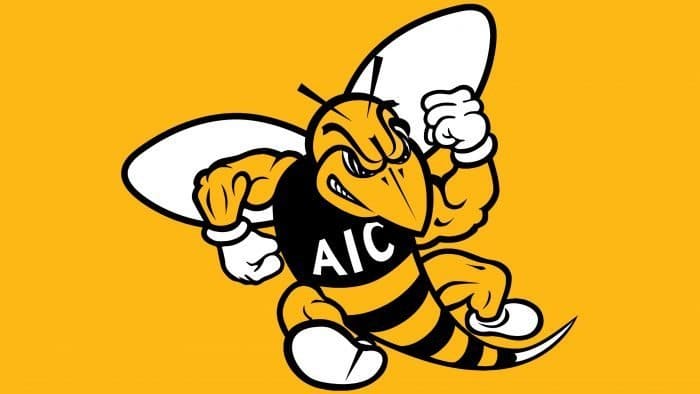 The men's hockey team is a member of Atlantic Hockey and performs at the MassMutual Center in Springfield, Massachusetts. She spent her first season in 1948-1949. He plays under the guidance of coach Eric Lang (as of 2019). It has a separate logo with the image of a wasp with a hockey stick.
AIC Yellow Jackets Football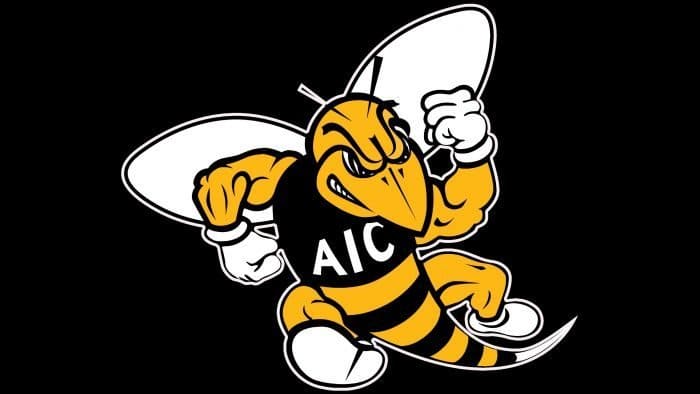 The football team appeared at American International College in the academic season 1933-1934. She has made significant strides in performing at the NCAA in 2008 and 2013.
Font and Colors
AIC Yellow Jackets color codes
Meat Brown

Hex color:
#f2af36
RGB:
242 175 54
CMYK:
0 28 78 5
Pantone:
PMS 3955 C
Eerie Black

Hex color:
#1a1919
RGB:
0 0 0
CMYK:
0 0 0 100
Pantone:
PMS Neutral Black C