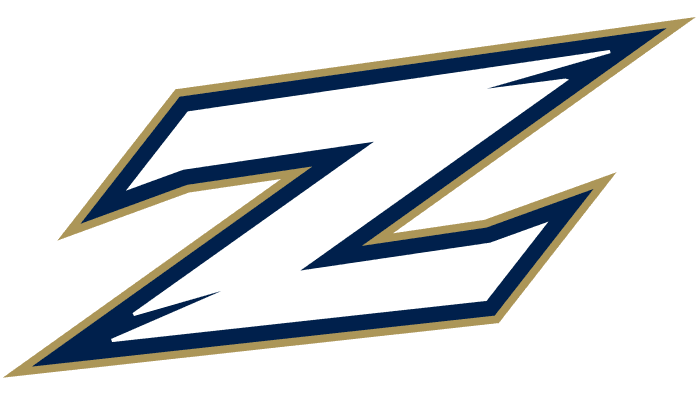 Akron Zips Logo PNG
Although Akron Zips has a letter logo, the image of an animal is encrypted in it. This is a kangaroo – the mascot of the university department, which owns the emblem. Designers have reduced it to one character. It is filled with dynamics and internal energy for a rapid leap forward because it has the form of lightning.
Akron Zips: Brand overview
| | |
| --- | --- |
| Founded: | 1968 |
| Headquarters: | Akron, Ohio, U.S. |
| Website: | gozips.com |
Akron Zips is a joint sports organization of the University of Akron (founded in 1870), led by Larry Williams. The organization has 20 women's and men's teams, including the most famous two: football and one basketball. The branch is located in Akron, Ohio, and is a member of the NCAA Division I FBS. Teams speak at three conferences: Mid-American Conference, ASUN Conference, and Great America Rifle Conference.
Meaning and History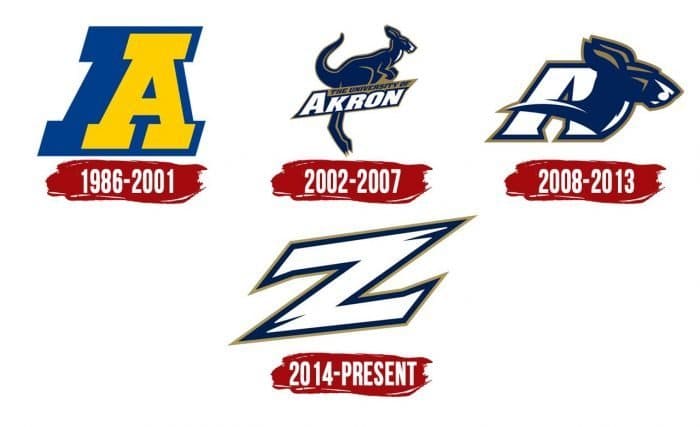 The company logo has gone through several transformations from yellow "A" to white "Z." Initially, it was one symbol formed from the name of the city and university. Then they attached a kangaroo named Zippy – a powerful, strong, and hardy animal. The first version is depicted in motion; in the second, it is static since only the upper part of its body is used. On the 2002-2007 logo, the name "Akron Zips" is superimposed on top of the animal. In 2008, the inscription was removed, leaving a slightly sloping "A," where the crossbar is the back of a kangaroo.
In the modern version, the letter "Z" has appeared. It comes from the word "zippers" – zippers on shoes made for the university team by the local company BF Goodrich. This nickname has existed among athletes since 1925. Student Margaret Hamlin offered it. And in 1950, the head of the sports department of Kenneth Cochrane reduced it to "Zippy."
1986 – 2001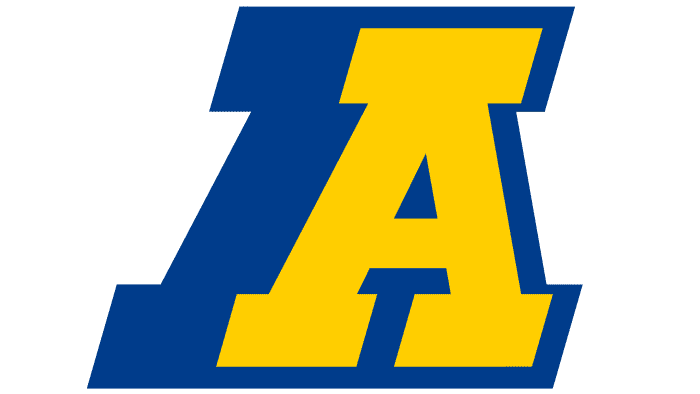 2002 – 2007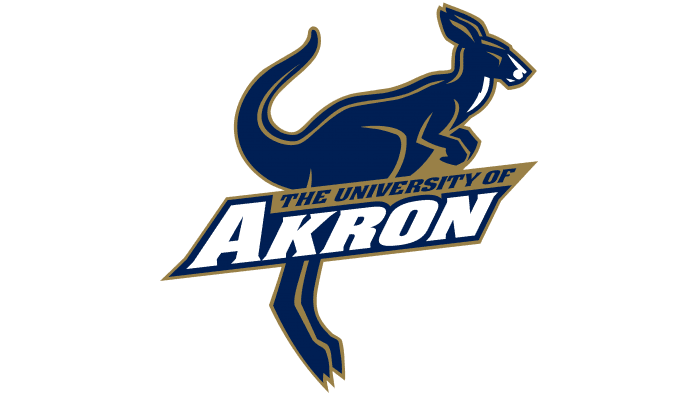 2008 – 2013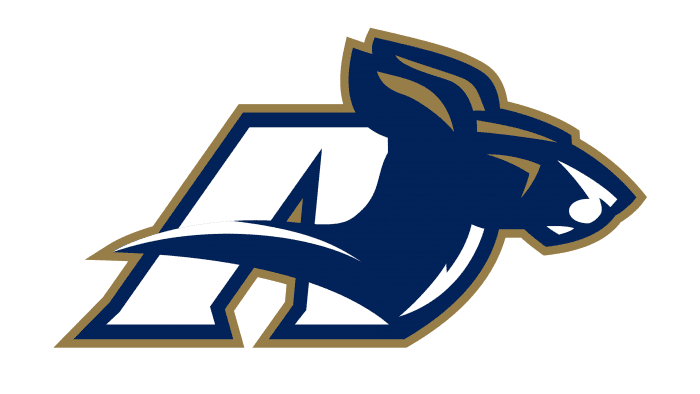 2014 – today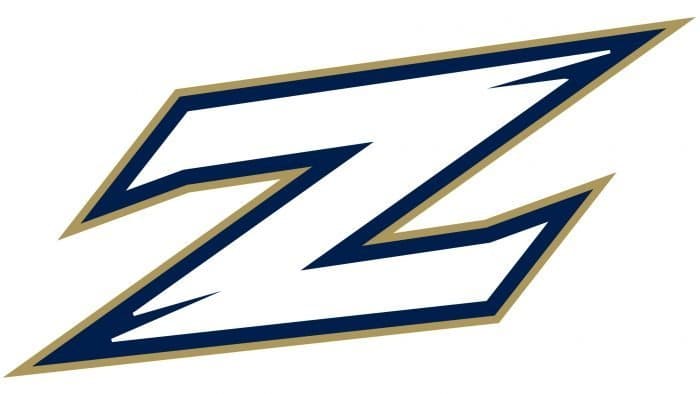 Akron Zips Football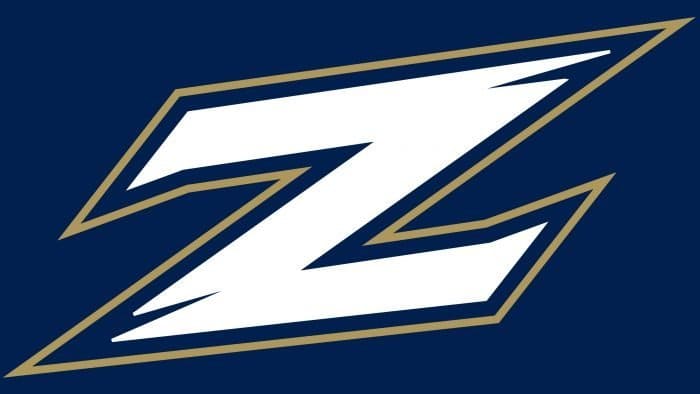 The university football team played their first season in 1891. He competes in the Mid-American Conference as a member of the East Division. Head coach – Tom Arth. The team won the 2005 MAC championship. Their main rival is Kent State University.
Akron Zips Basketball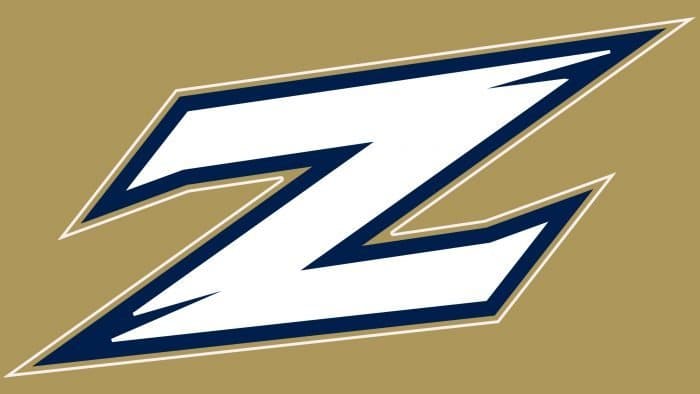 Men's basketball team Akron Zips won the Division I debut match in 2006. Two years later, she competed in the final of the MAC tournament. Since 2010, he has been playing in the MAC Tournament Championship for the fourth year in a row. The women's team of the same name first participated in the NCAA competitions in the 2014th year.
Akron Zips Soccer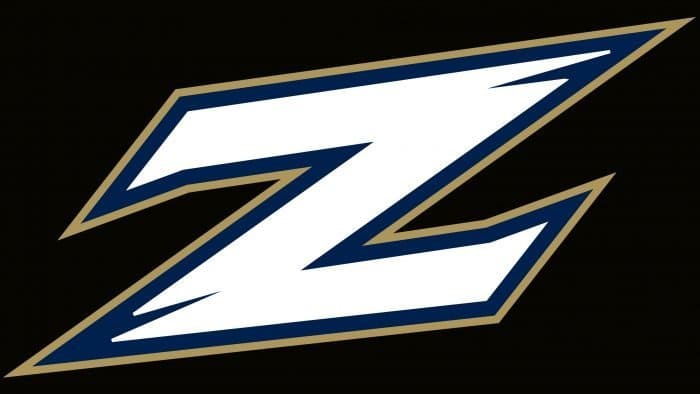 According to NSCAA polls, the university's football team is regularly ranked among the top ten men's teams. She occupied the first lines of the standings in the 2005th, 2009th, 2010th, and 2016th. She won her first national championship in 2010. Coach Jared Embick now leads the team.
Font and Colors
Akron Zips color codes
Maastricht Blue

Hex color:
#041e42
RGB:
4 30 66
CMYK:
94 55 0 74
Pantone:
PMS 2768 C
Light Taupe

Hex color:
#a89968
RGB:
168 153 104
CMYK:
0 9 38 34
Pantone:
PMS 4515 C