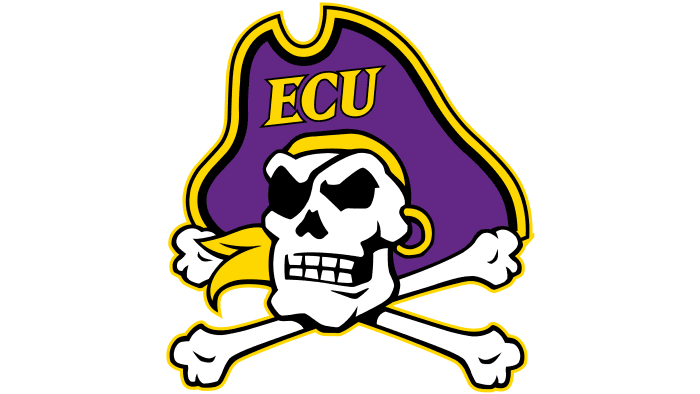 East Carolina Pirates Logo PNG
East Carolina is proud of the achievements of its athletes, who make up the East Carolina Pirates, whose logo accurately reflects the essence of the name. Since 1988, they have created a memorable image associated with the geographical location and history of the region.
East Carolina Pirates: Brand overview
| | |
| --- | --- |
| Founded: | 1988 |
| Headquarters: | Greenville, North Carolina, U.S. |
| Website: | ecupirates.com |
East Carolina Pirates is a sports department from East Carolina University. It includes eleven women's and nine men's teams, which in 2014 joined the American Athletic Conference. The recently created women's lacrosse team became a member of the league in 2019. ECU joined the NCAA in 1961 and is currently participating in Division I / FBS.
The name Pirates is associated with the institution's geographical location, which is located in North Carolina, where the famous Blackbeard once lived. The actual nickname was approved in 1934. They tried to change the name to Pee Dee the Pirate in 1983, but students did not support such an initiative.
Meaning and History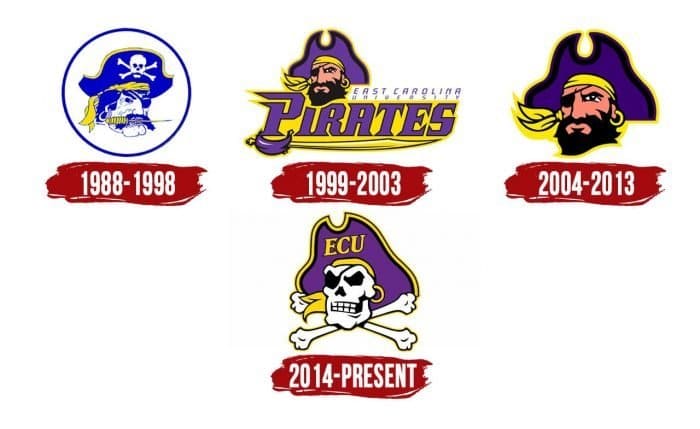 The history of East Carolina University sporting logos is the evolution of a pirate. In 1988, artists depicted his head inside a white circle with a blue border. The sea robber holds a sword in his teeth and wears a cocked hat with Jolly Roger. The picture does not look very realistic due to the white and blue palette.
In 1999, the design became more attractive. Most of the emblem is the inscription "East Carolina University Pirates." The authors focused on the last word using a stylized font. But in 2004, the name of the university and the nickname of sports teams were again removed.
The 2014 logo depicts Jolly Roger, a skull with crossbones. A purple cocked hat complements the image with the abbreviation "ECU." Also, there remained the traditional pirate attributes: a gold earring in the ear and a black blindfold on the eye.
1988 – 1998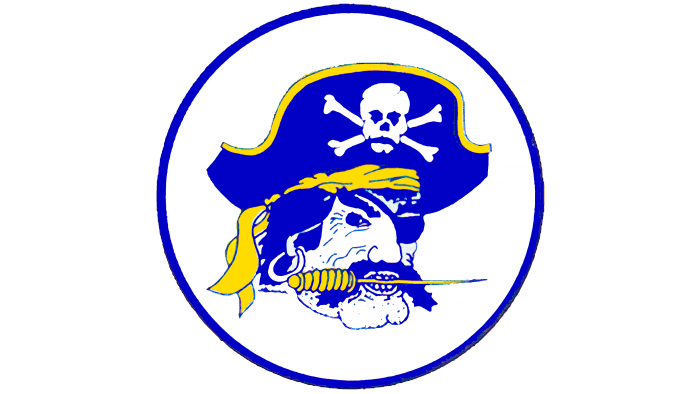 1999 – 2003
2004 – 2013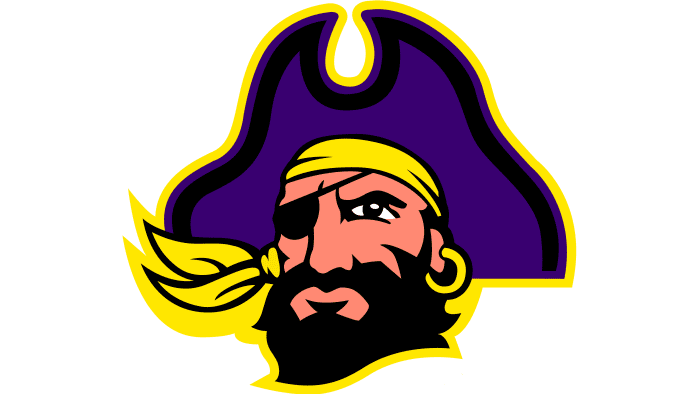 2014 – today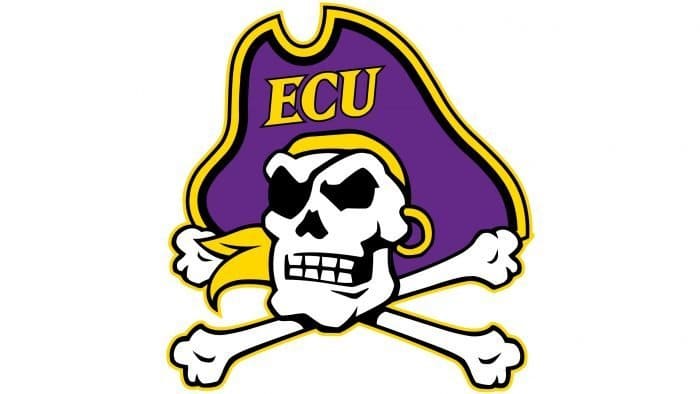 East Carolina Pirates Basketball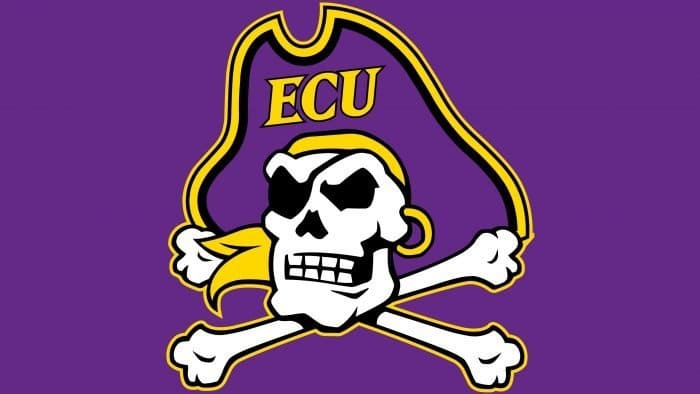 Basketball is the first intercollegiate sport sponsored by East Carolina University. In 1947, the men's team joined the NAIA North State Conference and, after six years, won the title of the conference. Also, she twice participated in NCAA tournaments: in 1972 and 1993. The women's team also competed twice in NCAA Division I basketball tournaments: in 1982 and 2007. Home games of basketball players are held at Williams Arena at Minges stadium Coliseum.
East Carolina Pirates Football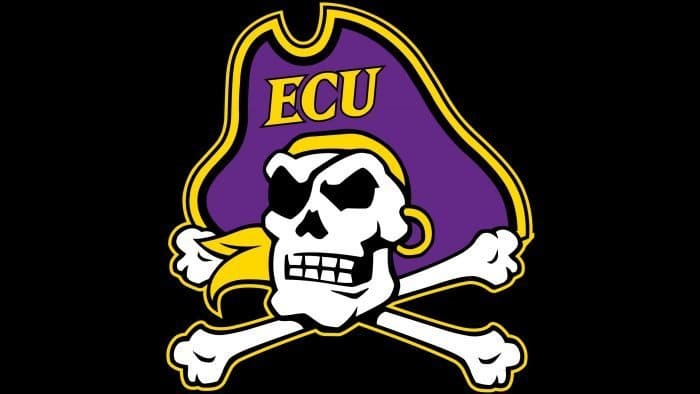 The ECU Pirates football team was first introduced in 1932. Since then, it has won two C-USA Conference Championships, having come a long way in victories and defeats. The football coach is now Mike Houston. Home Stadium – Bagwell Field at Dowdy-Ficklen Stadium.
Font and Colors
East Carolina Pirates color codes
Purple Heart

Hex color:
#582C83
RGB:
88 44 31
CMYK:
33 66 0 49
Pantone:
PMS 526 C
Sunglow

Hex color:
#fdc82f
RGB:
253 200 47
CMYK:
0 21 81 1
Pantone:
PMS 7408 C
Black

Hex color:
#000000
RGB:
0 0 0
CMYK:
0 0 0 100
Pantone:
PMS Process Black C