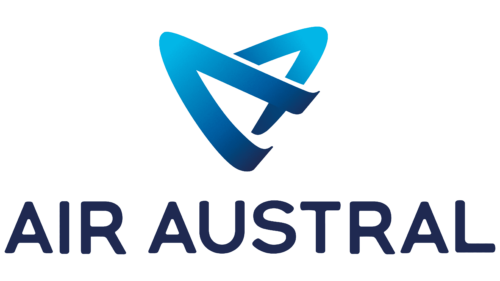 Air Austral Logo PNG
The Air Austral logo embodies a modern and safe aesthetic, an attribute of utmost significance for an airline company. Its design features convey a sense of security, ease, and contemporary style that is integral to the brand's identity.
The primary focus of the logo design is on the brand name, which is aligned in the center and sprawls across the bottom part of the emblem. The glyphs are bold, substantial, and crafted with an eye for detail – no sharp corners, just pleasing, rounded ends that contribute to the logo's overall friendly and safe appeal.
Positioned at the top is a distinctive icon, a clever union of two capital 'A's. This dual-lettered motif, designed to mimic a geometric shape, is slightly disproportionate, bearing a resemblance to a monogram. This could symbolize the brand's commitment to uniqueness and creativity.
The bottom parts of both letters are imbued with an intense blue hue, while the tops are brushed in light blue. The two-tone color scheme could represent the daytime and night skies, implying the airline's round-the-clock operations or perhaps the different altitudes at which the planes fly.
To synthesize, the logo of Air Austral communicates a sense of modernity, safety, and constant operational readiness. It cleverly combines elements that together express the airline's unique identity, its commitment to safety, and its status as a contemporary, reliable player in the aviation industry.
Air Austral: Brand overview
| | |
| --- | --- |
| Founded: | 1974 |
| Founder: | Gerard Etheve |
| Headquarters: | Roland Garros Airport Sainte-Marie, Réunion, France |
| Website: | air-austral.com |
Established in 1974 under Réunion Air Services, Air Austral has gracefully navigated the skies for over 45 years. Launching from Roland Garros Airport in Réunion, the airline has consistently provided reliable transportation for island dwellers. Equipped with a fleet of state-of-the-art aircraft, Air Austral carries forward its legacy of delivering superior flying experiences.
In 1986, Réunion Air Services underwent a significant rebranding exercise, transforming into Air Réunion. Further expansion saw them merging with Air Madagascar in 1990, birthing the airline now known as Air Austral. The restructured airline quickly carved out a strong position in the region, offering flights to many captivating destinations across the Indian Ocean.
As the 21st century dawned, Air Austral soared to new heights, marking a remarkable growth phase. The airline spread its wings wide by adding five new planes to its fleet and establishing routes across Asia, Africa, and Europe.
By 2013, they had stretched their reach to include destinations like Chennai, Bangalore, and Sydney in India and Australia, respectively. They pioneered direct flights from Europe to La Reunion without stopping there, effectively unveiling a new market.
Meaning and History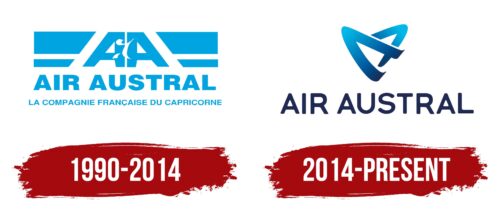 The brand identity of this airline lies in its roots as a Réunion-based company. It carries the vibrant and multicultural essence of Réunion Island, translated into its brand values of inclusivity and exceptional service. These values resonate with its passengers, resulting in a strong, loyal customer base that appreciates the unique travel experience it provides.
The logo is a core element of its brand identity, featuring a stylized bird in flight – a symbol of freedom and exploration. The blue and white color palette is representative of the clear Réunion skies and the island's surrounding ocean, underlining its origin and connection to the region.
Over the years, this company has successfully built a brand that values customers' needs while celebrating its unique cultural roots. By maintaining a strong focus on quality service and highlighting its connection to Réunion Island, Air Austral has managed to create a distinctive place in the competitive aviation industry.
What is Air Austral?

Air Austral, the French airline with its base at Roland Garros Airport, Réunion, has been an integral part of the aviation landscape since its inception. From its humble beginnings, it has grown and developed, setting high standards in air travel while maintaining its unique character. Born out of a desire to connect Réunion Island to the world, it began operations with a small fleet, and through unwavering dedication to customer service and safety, it expanded its reach beyond the Indian Ocean.
1990 – 2014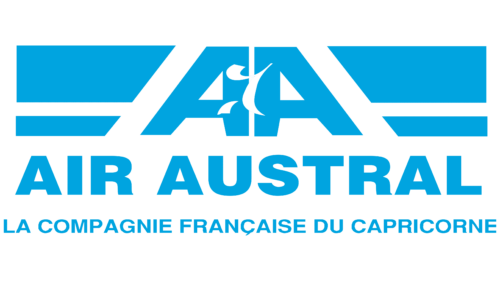 2014 – today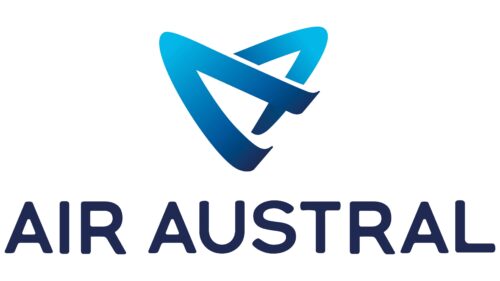 Air Austral color codes
Space Cadet

Hex color:
#1f2951
RGB:
31 41 81
CMYK:
62 49 0 68
Pantone:
PMS 2768 C
Bright Cerulean

Hex color:
#02b6e7
RGB:
2 182 231
CMYK:
99 21 0 9
Pantone:
PMS 312 C