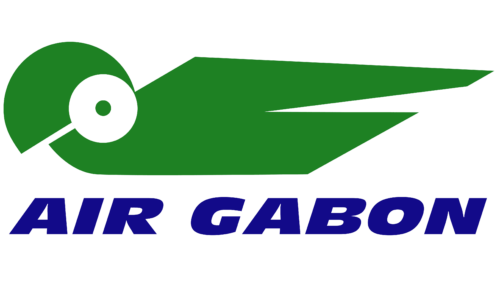 Air Gabon Logo PNG
Air Gabon logo was distinguished by a playful green parrot adorning its airplanes. The bird's silhouette on the emblem was composed of several polygons and a circle, with the characteristic shape of the beak and a large eye formed by a bold white ring identifying it as a parrot. The brand's name utilized a cursive version of the Antique Olive Nord font, apparently taken from the Air France logo. It was rendered in blue, traditionally associated with the sky, flight, and vast expanses.
Green Parrot Symbolism: Using a green parrot as the central image in the logo carries significant meaning. Parrots are often associated with communication, intelligence, and vibrancy. The choice of this bird reflects the airline's desire to convey a friendly, communicative, and lively image to its passengers and stakeholders.
Geometric Construction: The unique design of the parrot, using polygons and a circle, gives the logo a modern and artistic flair. This geometric approach symbolizes the airline's commitment to precision and innovation.
Bold White Eye: The eye of the parrot, formed by a bold white ring, adds emphasis and life to the design. This feature catches attention and symbolizes a watchful eye on customer satisfaction and safety.
Antique Olive Nord Font: The use of this particular font creates a connection with the prestigious Air France logo. It indicates the airline's aspiration to align with recognized standards of quality and excellence in the aviation industry.
Blue Color for the Brand Name: The decision to render the company's name in blue connects the logo with universal symbols of flight and exploration. It resonates with the nature of an aviation company and signifies the airline's commitment to providing vast travel opportunities.
Connection with African Identity: The logo hints at the company's African roots by including a parrot, a bird found in various parts of Africa. It is a subtle reminder of the region's rich biodiversity and natural beauty, reinforcing the brand's local identity.
Playfulness and Approachability: The parrot's playful appearance makes the logo approachable and friendly, reflecting the company's customer service approach and desire to make air travel an enjoyable experience.
Versatility and Aesthetic Appeal: The logo's creative design makes it memorable and visually appealing. Its distinctiveness helps build a strong brand identity, and its versatility allows for effective use across different platforms and materials.
Legacy and Recognition: Though small, the company was known for its unique logo. The symbol's creativity and charm contributed to building brand recognition and trust among its customers and partners.
Air Gabon: Brand overview
| | |
| --- | --- |
| Founded: | 1951 – 2006 |
| Founder: | Government of Gabon |
| Headquarters: | Libreville, Gabon |
From 1951 to 2006, Air Gabon, Gabon's national airline, provided air travel services. With its headquarters in Libreville and Libreville International Airport as its central hub, the airline offered regional and domestic flights throughout central and western Africa. It also operated long-haul services to Europe.
Over its operating history, Air Gabon maintained a fleet that included a variety of Boeing and Airbus aircraft, such as the 737, 767, and A310. The airline serviced crucial destinations, including various cities in Gabon, Congo, Cameroon, and Nigeria and European cities like Paris, Rome, and London.
Established after Gabon's independence from France, the airline was under the joint ownership of the Gabonese government and private shareholders. At its peak, Air Gabon was responsible for transporting over 300,000 passengers yearly and employed approximately 850 staff members.
However, the airline faced ongoing challenges due to debt, mismanagement, and inefficiency, requiring significant reliance on government subsidies. An attempt to privatize the airline in 2005 was unsuccessful, and it was forced to cease operations in 2006, marking the end of its 55-year service.
The airline's downfall was attributed to its inability to restructure its finances and manage debts due to increasing fuel costs and competition. In summary, Air Gabon served as Gabon's national airline for over five decades before financial challenges and debt forced it to close its doors after an unsuccessful attempt at privatization.
Meaning and History