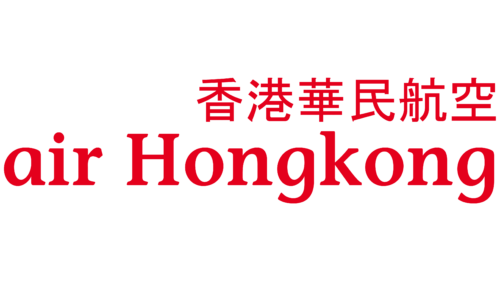 Air Hong Kong Logo PNG
The Air Hong Kong logo is a signature of sorts that identifies and represents the airline in a crowded market. It is eye-catching, conveying a sense of passion, movement, and innovation. It is in line with the airline's commitment to excellence in customer service and ambitious ambition to set new industry standards.
Air Hong Kong: Brand overview
Air Hong Kong, the vanguard of Asia's express cargo airlines, has been delivering cargo from and to Hong Kong since its inception in 1986. Originating as a joint venture between Cathay Pacific Airways and DHL Express, AHK Air Hong Kong Limited, based in Chek Lap Kok, Hong Kong, has established a reputation as a reliable player in the cargo industry.
Taking to the skies in 1988, Air Hong Kong began its journey with three Boeing 707-320C freighters, making its first flights to Bangkok, Seoul, and Taipei. By the end of the year, two more such freighters had been added to the company's fleet, taking Air Hong Kong to new heights.
The early 1990s marked an ambitious growth phase for Air Hong Kong, with Singapore, Kuala Lumpur, Manila, and Shanghai added to the list of exciting destinations. To meet the growing demand, the airline upgraded its fleet with modern aircraft, particularly the formidable Airbus A300-600 freighters, giving it a competitive edge.
In 2002, a major transition took place when DHL Express became a full owner of Air Hong Kong. This strategic move allowed the express network to expand globally and gain a foothold in Asia.
Today, Air Hong Kong operates an impressive fleet of eight Airbus A300-600 freighter aircraft, providing service throughout Asia. From its main base at Hong Kong International Airport, the airline serves many dynamic cities, including Bangkok, Osaka, Seoul, Singapore, and Taipei.
Meaning and History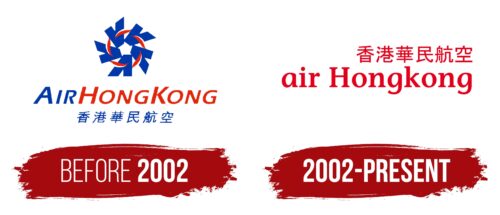 What is Air Hong Kong?

Air Hong Kong is a well-known cargo airline headquartered in Chek Lap Kok, Hong Kong. It is the main operator of Hong Kong International Airport, its main hub, providing crucial connectivity to numerous international destinations. Since its inception, the airline has firmly established itself in the cargo transportation industry, operating both scheduled and charter flights.
Before 2002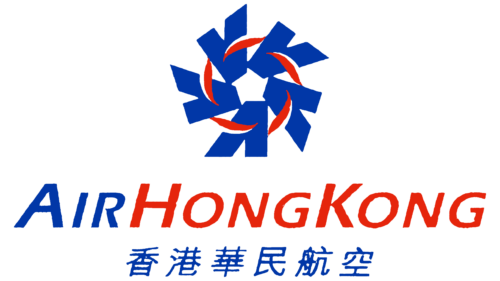 2002 – today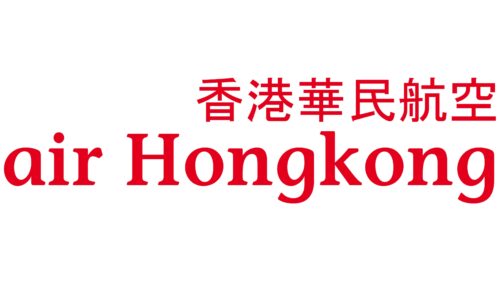 The Air Hong Kong emblem is dominated by the color red, symbolizing progress, energy, and movement. The emblem is devoid of graphic elements and consists of text only. The lettering is two-tiered, clear, and easy to read. It is presented in both English and Chinese. The upper part consists of neat Chinese characters, while the lower part is decorated with bold glyphs. The title uses a mixed font with lowercase and uppercase letters with smooth curves and pronounced serifs. The words are aligned on the right edge.
The absence of graphic elements allows to focus attention on the airline's name, which ensures brand recognition. The use of English and Chinese texts targets an international audience and, at the same time, pays homage to Hong Kong. The choice of a mixed typeface provides nuance, enriching the overall aesthetic appeal of the logo.
Air Hong Kong color codes
Cadmium Red

Hex color:
#e4001c
RGB:
228 0 28
CMYK:
0 100 88 11
Pantone:
PMS Bright Red C