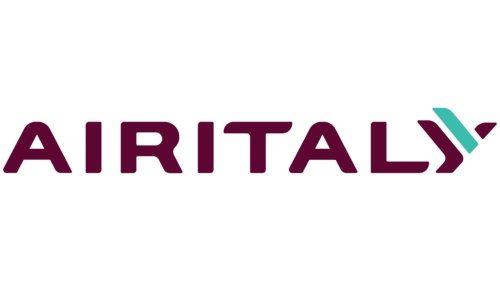 Air Italy Logo PNG
Air Italy: Brand overview
Air Italy, a privately owned Italian airline, has left an indelible mark on the country's aviation industry. Headquartered in Olbia (Sardinia), the airline was a joint venture between Alisarda and Qatar Airways and operated as a subsidiary of AQA Holding. With a diverse fleet of aircraft, Air Italy has become the preferred choice for passengers seeking domestic, European, and even intercontinental flights.
Launched in 2005, Air Italy started a revolution in air travel in Italy and beyond. Thanks to strategic partner Qatar Airways, the airline quickly gained a competitive advantage by leveraging its partner's global network and expertise. Owned 49% by Qatar Airways and 51% by the Italian holding company Alisarda, Air Italy offered its passengers an upscale air transportation experience.
Starting with domestic routes, Air Italy expanded its network to include popular European destinations and then intercontinental destinations. At the center of its operations was Milan Malpensa Airport, a strategic hub providing seamless connections throughout Europe and a reliable base for Air Italy's expanding operations.
Air Italy's modern fleet of Boeing 737NG and Boeing 737 MAX 8 aircraft for short- and medium-haul flights and Airbus A330 for long-haul flights provided an exceptional travel experience.
Rapidly growing in the Italian aviation industry, Air Italy ranked as the second largest airline in the country in 2019, behind only national carrier Alitalia.
Although the airline ceased operations in 2020, its legacy is a testament to the innovation and outstanding achievements in Italy's aviation history.
Meaning and History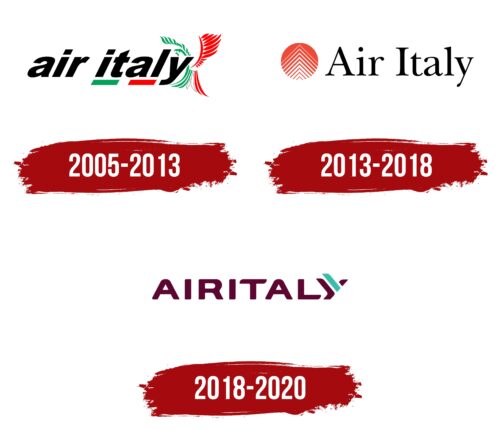 What is Air Italy?

Air Italy, registered as AIR ITALY S.p.A., became a privately owned Italian airline headquartered in Olbia, Sardinia. In 2019, the brand was the second-largest airline in Italy. The airline was a subsidiary of AQA Holding, owned by Alisarda (51%) and Qatar Airways (49%). The company operated briefly from 2018 to 2020, leaving a significant mark on the Italian aviation industry.
2005 – 2013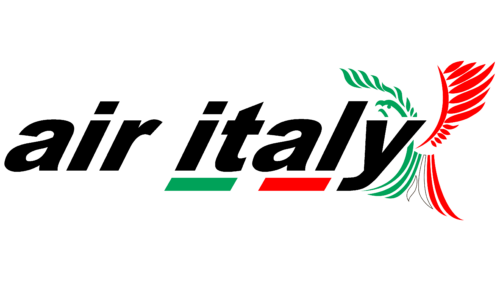 2013 – 2018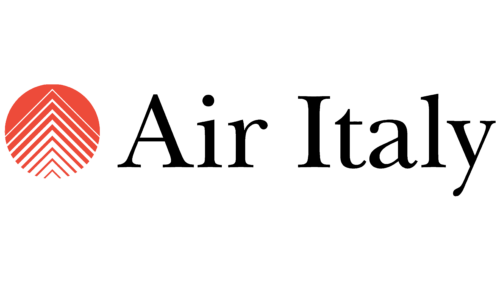 2018 – 2020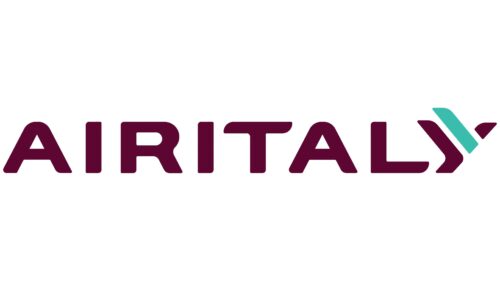 The name Air Italy on the logo is written as a single word; the distance between the two words corresponds to the width of the letter spacing. The designers used a bold typeface that combines angles and curves. All glyphs are colored purple, but there is one turquoise element – a trapezoidal strip inscribed in the letter "Y" parallel to its left diagonal. This makes the letter "Y" look like a bird flying upwards.
The use of purple and turquoise colors gives the logo a modern and dynamic look, setting the airline apart from the traditional color schemes often found in the aviation industry. The trapezoidal stripe in the letter "Y" serves as a design accent and subtly hints at flight and climbing, which is in keeping with the airline's core business.
Air Italy color codes
Tyrian Purple

Hex color:
#5d0632
RGB:
93 6 50
CMYK:
0 94 46 64
Pantone:
PMS 7421 C
Keppel

Hex color:
#3bbdae
RGB:
59 189 174
CMYK:
69 0 8 26
Pantone:
PMS 3265 C