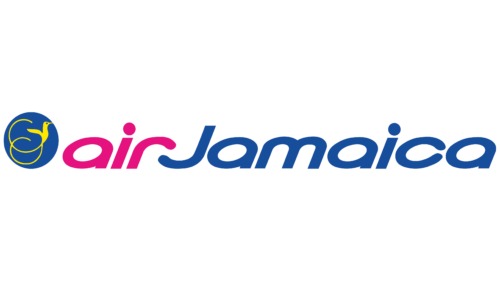 Air Jamaica Logo PNG
The Air Jamaica logo is an eye-catching visual identifier for the airline, signaling a unique travel experience with a rich cultural heritage. The logo reflects the airline's commitment to providing unrivaled service, emphasized by the warmth and hospitality for which Jamaica is known. The logo informs potential customers of what they should expect – a travel experience that is not only about reaching the destination but also about enjoying the journey itself.
Air Jamaica: Brand overview
Air Jamaica first took to the skies in October 1968 and immediately became the jewel in the country's crown.
Quickly gaining a reputation as the preferred regional airline, Air Jamaica served locals and tourists with unbeatable fares and reliable service to Kingston, Montego Bay, and the Cayman Islands.
In the 1970s and 1980s, Air Jamaica expanded its operations to destinations in North America, Canada, and Europe in response to the growing demand for air transportation. In response to this demand, the airline modernized its infrastructure and purchased larger aircraft, ensuring passenger comfort and safety.
In 2015, the era ended when Air Jamaica was absorbed by Caribbean Airlines.
Meaning and History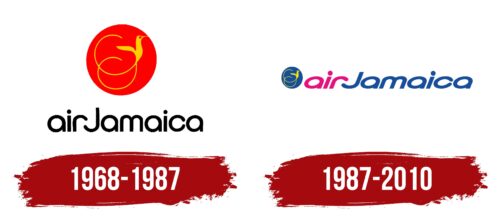 What is Air Jamaica?

Air Jamaica once proudly served as Jamaica's national airline. Established in the heart of the Caribbean, the airline was an integral part of Jamaica's identity, connecting the island nation to the rest of the world.

Throughout its operations, the airline has become a symbol of Jamaican pride, providing air transportation to numerous international destinations.
1968 – 1987
1987 – 2010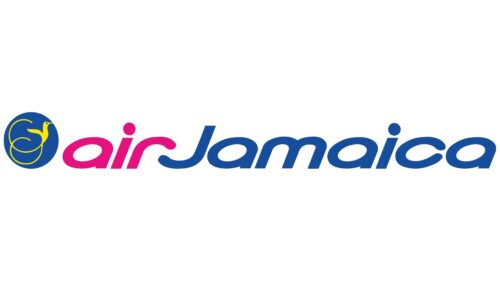 Air Jamaica's logo features a mini hummingbird with a unique double tail that is long and curves in thin semicircles. The bird is bright yellow in color and is set against a background of a dark blue circle. The bird faces the right side, where the name of the airline is written in lowercase italics. The exception is the letter "J," written in capital letters to indicate the country. The lower segment of the letter "J" is drop-shaped and coincides with a similar drop-shaped element in the letter "r." This combination gives the emblem dynamism. The first word of the name is colored in the color of fuchsia, and the second word gets a shade reminiscent of ocean water.
The choice of hummingbird, especially with its unique double tail, brings notes of local flora and fauna to the design. The dark blue circle contrasts well with the yellow bird and adds formality. The drop-shaped elements in the letters "J" and "r" give the design fluidity and movement, reflecting the dynamism and fluidity of air transportation. The color scheme, which includes bright yellow, fuchsia, and ocean tones, gives the logo a vibrant and tropical character, reflecting the airline's Caribbean roots.
Air Jamaica color codes
Mexican Pink

Hex color:
#e5117e
RGB:
229 17 126
CMYK:
0 93 45 10
Pantone:
PMS 213 C
US Air Force Academy Blue

Hex color:
#174e9c
RGB:
23 78 156
CMYK:
85 50 0 39
Pantone:
PMS 2945 C
Middle Yellow

Hex color:
#ffe800
RGB:
255 232 0
CMYK:
0 9 100 0
Pantone:
PMS 102 C