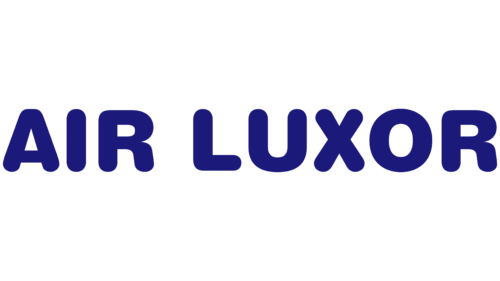 Air Luxor Logo PNG
Air Luxor logo was designed to convey a sense of weightlessness, reflecting the brand name and ease of flight. Thanks to the bubbly font, the letters appear to float in space, while the blue color invokes associations with the sky. The inscription is bold enough to be clear and legible, and the rounded edges symbolize safety, protection, and comfort, hinting at the airline's commitment to providing high-level services to its customers.
Bubbly Font Design: The use of a bubbly font makes the letters of the logo appear as if they are floating. This gives the design a whimsical and playful character, perfectly encapsulating the sensation of flight. The floating letters communicate a sense of freedom and liberation, in tune with the experience that the airline seeks to provide.
Color Choice: The blue color chosen for the logo further strengthens the connection between the sky and flying. It's a color that resonates with tranquility, reliability, and expansiveness, attributes the airline wants to project.
Boldness for Visibility: Despite the light and airy design, the logo's inscription is bold, ensuring it remains clear and legible. This aspect demonstrates a well-balanced approach to design, merging aesthetics with practicality.
Rounded Edges: The rounded edges are not just a stylistic choice but also carry symbolic meaning. They represent the airline's focus on safety, protection, and comfort. Rounded shapes are often associated with friendliness and approachability, which align with the brand's customer-centric philosophy.
Alignment with Brand Identity: The logo's design completely aligns with the airline's representation. It symbolizes a travel experience that is not just about getting from point A to point B but about enjoying the journey. The feeling of weightlessness, the soothing blue color, and the attention to safety and comfort all contribute to an identity that prioritizes the passenger experience.
Versatility: Despite its unique and distinct appearance, the logo maintains a level of simplicity that allows for versatility. Its design ensures it can be used across various platforms without losing its impact or meaning.
Emotional Connection: The "floating" design and calming color create an emotional connection with viewers. It reflects a sense of aspiration and inspires a feeling of trust and calmness, vital attributes for an airline.
Cultural and Historical Reference: "Luxor" evokes images of the famous Egyptian city known for its ancient history and grand monuments. This subtle reference adds an extra layer of intrigue and allure to the brand, connecting it to a sense of adventure and exploration.
Air Luxor: Brand overview
| | |
| --- | --- |
| Founded: | 1988 – 2007 |
| Headquarters: | Lisbon, Portugal |
Air Luxor, a Lisbon-based charter airline, provided leisure and holiday charter flights from Portugal to various destinations, mainly in Europe and North Africa, from 1988 until 2007. Lisbon Airport served as the primary hub for the airline, with some services also operating from Faro Airport.
The carrier's fleet consisted of Boeing 737-300 and 757-200 aircraft, each arranged with an all-economy class seating configuration. Air Luxor offers flights to several popular destinations, including Alicante, Malaga, Tunis, Algiers, and Sharm el-Sheikh.
Privately owned, the airline's business model concentrated on coupling vacation packages with its charter flights to provide a comprehensive travel service. However, 2006 marked a downturn for the company when French authorities banned Air Luxor from their airspace due to safety violations, compelling the airline to ground its planes.
By October 2007, accumulated debts and a lack of profitability forced Air Luxor to terminate its operations permanently. A major contributor to the airline's decline was the intense competition from low-cost carriers offering budget-friendly point-to-point flights.
During its heyday, Air Luxor employed approximately 200 individuals and annually ferried over 600,000 passengers, illustrating the impact it once had in the tourism and air travel sector.
Meaning and History