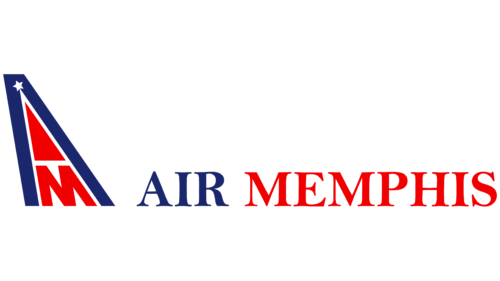 Air Memphis Logo PNG
The Air Memphis logo is a blend of professionalism and symbolization. Here's a detailed description of its components and the meaning behind the design:
Color Scheme: Using blue and red in the logo imparts a sense of reliability and passion. The blue word "AIR" evokes trust and calmness, often associated with the sky. The red "MEMPHIS" emphasizes the company's energy and enthusiasm, likely connecting to the vibrant culture of Memphis.
Typography: Executed in a standard semi-bold typeface with serifs, the classical style of the inscription conveys seriousness and high professionalism. It presents the airline as a dependable and expert service provider, appealing to travelers looking for quality and elegance.
Stylized Letters: The logo also includes a stylized version of the brand's initials, 'A' and 'M.' These are shaped into a triangle and a left-leaning slant, respectively. The 'A,' with its triangular form, signifies stability, while the slanting 'M' adds a dynamic flair. The presence of these stylized initials makes the logo memorable and unique.
Borders and Star: These stylized letters are further highlighted by wide blue stripes on either side. The blue borders bring harmony to the design, uniting the various elements into a cohesive whole. Including a small five-pointed star in the white negative space adds a touch of excellence and is seen as a commitment to superior service.
Brand Identity: Overall, the logo provides a clear insight into the brand's identity. It's more than a mere design; it tells a story of commitment, innovation, and quality. The airline's choice of colors, typography, and symbols conveys a trustworthy image, while the modern stylization adds an edge that sets it apart from others.
Air Memphis: Brand overview
| | |
| --- | --- |
| Founded: | 1995 – 2013 |
| Headquarters: | Cairo, Egypt |
Air Memphis, an Egypt-based cargo airline, operated from 1995 until 2013. Its primary base was at Cairo International Airport, although it also maintained a secondary hub in Luxembourg. The airline was a product of Egyptian investment and mainly operated charter services, specializing in ad-hoc cargo charters and some scheduled freight services. Its flights chiefly linked Europe, Africa, and the Middle East, ensuring a steady flow of goods across these regions.
Air Memphis utilized Russian-built Tupolev Tu-204 aircraft for its cargo operations, becoming one of the few airlines worldwide to do so. The airline boasted up to seven of these specific aircraft in its fleet during its operation.
Unfortunately, Air Memphis was not immune to financial difficulties like many airlines. Rising fuel costs proved a significant challenge, leading to a suspension of services in 2010. Despite efforts to restructure and revitalize the company, Air Memphis ultimately ended its operations in 2013 after nearly two decades in the aviation industry. At the time of its closure, the airline's fleet had dwindled to two Tupolev Tu-204Fs, marking an end to the 18-year journey of this unique cargo airline.
Meaning and History