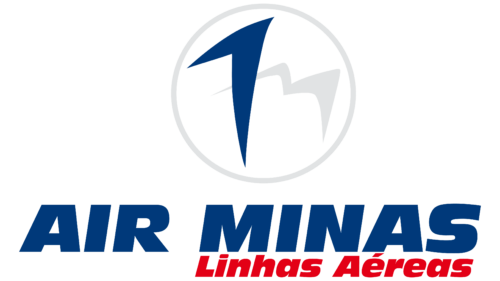 Air Minas Linhas Aereas Logo PNG
Air Minas Linhas Aereas logo embodies a rich blend of color, typography, and symbolism, highlighting the company's vision and identity in the aviation sector. A closer look unveils layers of design intricacies that make this emblem memorable and impactful.
Vibrant Color Palette: The choice of blue for "AIR MINAS" and red for "Linhas Aéreas" adds vibrancy to the design and serves distinct purposes. While blue signifies trust, dependability, and the vast sky, red conveys passion, energy, and dynamism, mirroring the company's commitment to excellent service.
Unified Typography: Using a consistent bold italicized sans-serif font across both lines creates a sense of unity and harmony. The italicization adds an element of motion, evoking the feeling of flight and the dynamism of the airline industry.
Alignment and layout: Text arranged in two rows with the right alignment creates a sense of structure and orderliness. Such alignment, often less conventional in design, gives the logo a unique edge, setting it apart.
Symbolic Abbreviation: The emblem also features a concise version, with an "A" and "M" encapsulated within a white circle bordered by a light gray outline. This minimalistic representation not only aids in easy recognition but also speaks of the brand's adaptability to diverse platforms.
Bird-like' M': The pale shade of gray used for the "M" transforms it into a simple rendition of a bird in flight. This element relates to the aviation theme, representing freedom, expansiveness, and the promise of adventure.
Inverted Check 'A': The dark blue "A," styled as an inverted check with sharp ends, further emphasizes motion. It subtly resembles an upward trajectory or takeoff, symbolizing the airline's forward momentum and aspirations.
Emblematic Design Philosophy: Beyond aesthetics, this emblem encapsulates the brand's mission. Every element has been meticulously chosen, from colors representing the skies and energy to typography indicating movement and reliability.
The Air Minas Linhas Aereas logo is a testament to the thoughtful design that fuses symbolism with aesthetics to convey a brand's essence. It's not just an emblem; it's a narrative of the company's journey, values, and commitment to its patrons.
Air Minas Linhas Aereas: Brand overview
| | |
| --- | --- |
| Founded: | 2002 – 2010 |
| Founder: | Braspress |
| Headquarters: | Belo Horizonte, Brazil |
Air Minas Linhas Aereas, a regional airline based in Belo Horizonte, Brazil, operated from 2002 until 2010. The airline was established as an affiliate of Braspress, a prominent Brazilian transportation company. It was headquartered in Belo Horizonte, from where it operated flights to several destinations within southeastern Brazil.
Air Minas was equipped with a modest fleet of small regional aircraft, notably the Embraer ERJ-145 jets. It connected key cities such as São Paulo, Rio de Janeiro, Vitória, Uberlândia, and other regional hubs. The airline primarily aimed to offer links to markets within Brazil that were typically underserved.
However, the airline encountered significant financial difficulties during its operation, mainly due to rising costs and a challenging economic environment. Despite peaking in 2008 with the transportation of approximately 130,000 passengers, the airline could not sustain its operations and was forced to cease activities in 2010, leaving nearly 300 employees jobless.
Air Minas's cessation was part of a larger trend that saw the decline and ultimate demise of several smaller Brazilian carriers in the late 2000s, painting a picture of the challenging aviation market in the country during this period.
Meaning and History