Air Seychelles Logo PNG
The Air Seychelles logo is a bright and memorable symbol that reflects the beauty and uniqueness of the place where the airline is located. The company name – Air Seychelles – is written across the top of the logo in two lines, with a lighter color on the top line. The inscription of the company in blue is made in a stylish and elegant font that symbolizes energy and professionalism. This highlights the company's core focus on passenger service, delivering them to one of the world's most beautiful and picturesque islands – Seychelles.
To the left of the inscription is a smooth parallelogram resembling a leaf. Inside the parallelogram is a two-color area separated by images of two birds. Graceful white birds floating freely in the sky symbolize the freedom and opportunities that Air Seychelles provides its passengers. The green color symbolizes nature, ecology, and the environment in Seychelles, while the red color reflects the life and culture of the local people.
Thus, the Air Seychelles logo conveys important values of the company, such as nature, ecology, culture, and the life of local people. It emphasizes the uniqueness of the place where the airline is based and encourages passengers to enjoy the beauty of Seychelles.
Air Seychelles: Brand overview
| | |
| --- | --- |
| Founded: | 1977 |
| Founder: | Government of Seychelles |
| Headquarters: | Mahé, Seychelles |
| Website: | airseychelles.com |
Meaning and History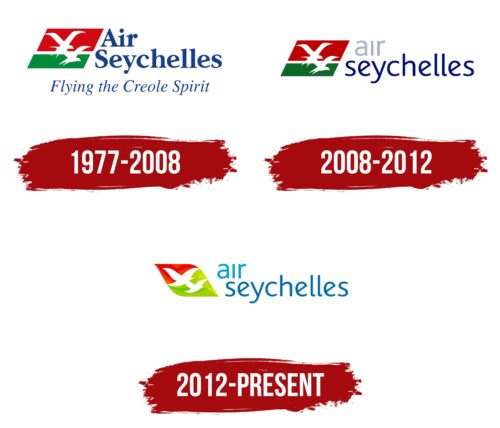 1977 – 2008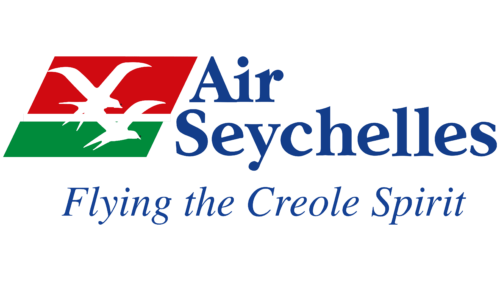 2008 – 2012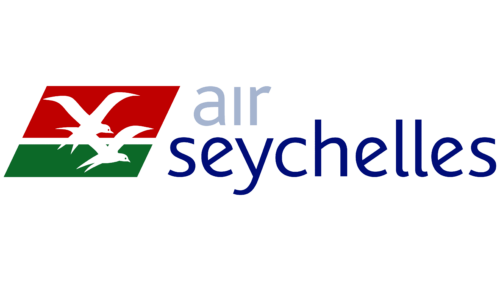 2012 – today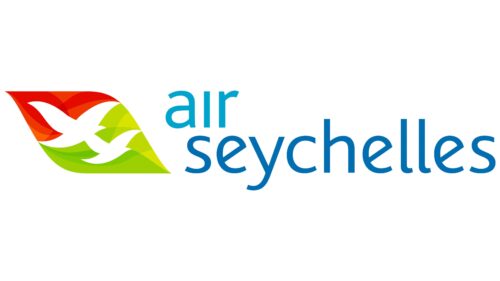 Air Seychelles color codes
Pacific Blue

Hex color:
#00a3cd
RGB:
0 163 205
CMYK:
100 20 0 20
Pantone:
PMS 7703 C
Bice Blue

Hex color:
#006db1
RGB:
0 109 177
CMYK:
100 38 0 31
Pantone:
PMS 7683 C
Orange

Hex color:
#fd5f00
RGB:
253 95 0
CMYK:
0 62 100 1
Pantone:
PMS 1585 C
Lust

Hex color:
#e50a00
RGB:
229 10 0
CMYK:
0 96 100 10
Pantone:
PMS Bright Red C
Pear

Hex color:
#d9e300
RGB:
217 227 0
CMYK:
4 0 100 11
Pantone:
PMS 381 C
Yellow Green

Hex color:
#81c900
RGB:
129 201 0
CMYK:
36 0 100 21
Pantone:
PMS 376 C