Air Transat Logo PNG
Air Transat: Brand overview
Air Transat began operations in 1986 with the goal of offering Canadians affordable international travel options. Although the airline started with only two airplanes, its ambition knew no bounds, making it a pioneer in the airline industry.
Building on its success, Air Transat expanded its offerings by launching scheduled flights in 1988.
In the 1990s, Air Transat embarked on an ambitious journey to expand its fleet and network. By acquiring modern aircraft such as the Airbus A310 and A330, the airline was able to fly to the most sought-after European destinations.
Air Transat's commitment to making international travel affordable has been recognized worldwide. Moving beyond Europe, the airline now connects Canadians to countries in the United States, Mexico, the Caribbean, South America, and Asia, making dream vacations affordable.
Meaning and History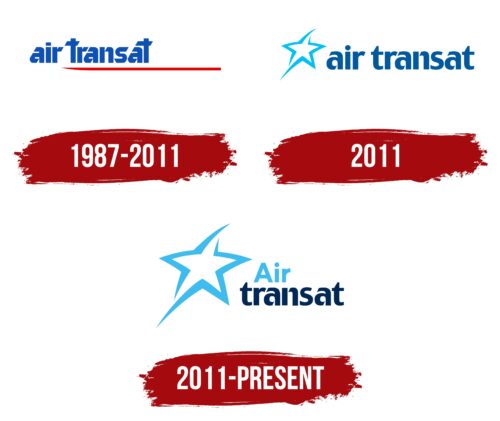 What is Air Transat?

Air Transat, founded in 1986, serves the global community from its base in Montreal, Quebec. Operated by Transat A.T. Inc., the airline has a substantial fleet of 31 aircraft, providing Canadian hospitality to 60 destinations in 25 countries, operating both scheduled and charter flights, and connecting people across continents.
1987 – 2011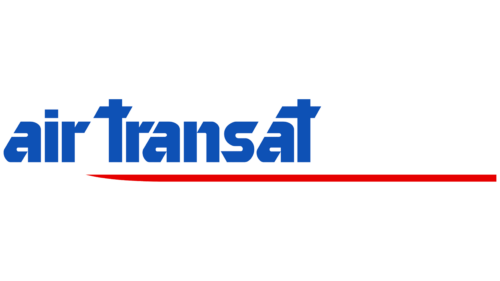 2011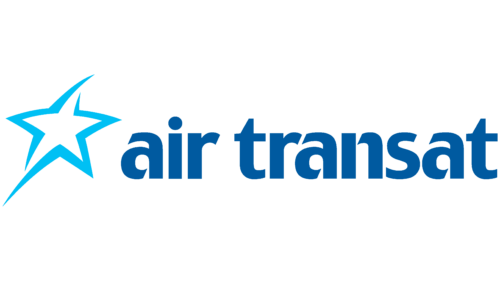 2011 – today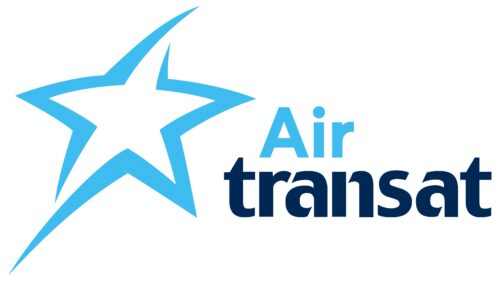 Although Air Transat is a Canadian airline, its emblem does not contain any elements indicating the country of origin. The designers opted for a universal symbol – a five-pointed star. This star has a curved shape and is formed by light blue lines. The contour is not closed, which divides the star into two halves. The curves of the star create a sense of movement, and it seems that the celestial body is rapidly soaring upwards. The brand's two-tiered name has a unique typography: the only capital letter is the initial "A," and the initial "t" in "transat" is lowercase.
The open outline and bifurcated star carry the idea of inclusivity and openness, which is in line with the airline's global vision rather than being limited to Canada. The use of light blue lines subtly hints at sky and flight, closely linking the symbol to aviation. The sense of upward movement created by the curves of the star brings to mind aspiration and progress – relevant themes for the airline. The unique typography sets the brand apart and makes the logo memorable.
Air Transat color codes
Deep Sky Blue

Hex color:
#3ebbef
RGB:
62 187 239
CMYK:
74 22 0 6
Pantone:
PMS 306 C
Cool Black

Hex color:
#002855
RGB:
0 40 85
CMYK:
100 53 0 67
Pantone:
PMS 655 C